unsaid magazine
The fifth issue of the always monolithic Unsaid Magazine is now available for preorder, shipping very soon and expected already to sell out. Years later, I am still rereading and recommending the first four issues to people like anthologies of the new: it does not age. #5 features new work by:
BRIAN KUBARYCZ/ANNE CARSON/JOE WENDEROTH/BLAKE BUTLER/JONATHAN CALLAHAN/ROBERT LOPEZ/MICHAEL KIMBALL/A. MINETTA GOULD/DAVID HOLLANDER/JENNY GROPP-HESS/GREG AMES/JOSEPH CELZIC…/ANNE VALENTE/ERIKA LORENTZSEN/DANIELLE BLAU/DAWN RAFFEL/TRENT ENGLAND/M.T. FALLON/BRIAN EVENSON/KIM CALDER/ROZALIA JOVANOVIC/LUKE GOEBEL/CATHERINE FOULKROD/A WOLFE/PETER MARKUS/KATY WYER/JASON SCHWARTZ/TOM MCCARTAN/SHANE FIREK/AMBER SPARKS/ROBERT KLOSS/ELIZABETH MIKESCH/PAMELA RYDER/LINCOLN MICHEL/MICHAEL COPPERMAN/LITO ELIO PORTO/ALEXIS ALMEIDA/MONICA HARHAS/EVELYN HAMPTON/SEAN PATRICK HILL/PAUL MALISZEWSKI/B.R. SMITH/JEFFREY LAMONDE/ALEXANDRA CHASIN/TOM LAVERTY/ANDY DEVINE/M SARKI/RICHARD ST. GERMAIN/ALLISON TITUS/KEITH NATHAN BROWN/LIAM O'BRIEN/MATT BELL/COOPER ESTEBAN/SCOTT GARSON/ERIKA MOYA/SASHA FLETCHER/JOSEPH SCAPELLATO/STEPHEN GROPP-HESS
To order, go to the Unsaid website and find the PURCHASE UNSAID button on the lefthand column side.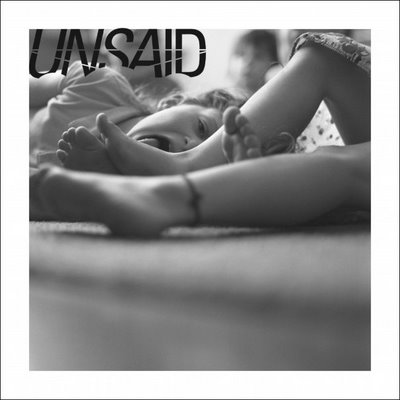 The monolithic Unsaid Magazine has just relaunched their website, with online content from each author in every issue, including the latest #4, with work by: ANNE CARSON, BRIAN EVENSON, BLAKE BUTLER, DAVID OHLE, EVELYN HAMPTON, PETER MARKUS, ALEXIS ALMEIDA, ROBERT LOPEZ, BEAR KIRKPATRICK, MICHAEL KIMBALL, MEGAN LAYTON, DAWN RAFFEL, EUGENE MARTEN, DAVID HOLLANDER, OTTESSA MOSHFEGH, SHELTON WALSMITH, JASON SCHWARTZ, RUDY WILSON, SARAH MANGUSO, PAUL MALISZEWSKI, RICHARD ST. GERMAIN, SAM MICHEL, EMILIA A. PHILLIPS, BRIAN KUBARYCZ, SVEN BIRKERTS, RICK POINSETT, ALYSON JANE, BIANCA GALVEZ, JOE WENDEROTH, M SARKI, JOANNA HOWARD, WILL ENO, JESSICA NEWMAN, PATRICIA O'CONNELL, MATTHEW THOMPSON, CAROLYN ALTMAN, PETER CHRISTOPHER, ANDY DEVINE, DANIELLE BLAU, RACHEL B. GLASER, PATRICK EHLEN, M.T. FALLON, JONATHAN CALLAHAN, LAUREN MCCOLLUM, KRISTINA BORN, JULIA HOLLEMAN, TRIA ANDREWS, VIRGINIA KONCHAN, BJORN VERENSON, MICHAEL STEWART, TRENT ENGLAND, DYLAN T. NICE, BRIAN SCHORN, RYAN MURPHY, SAM PINK, BENJAMIN LANDRY, EMILY MAHAN, SHANE JONES, THOMAS LAVERTY, A. MINETTA GOULD, COOPER ESTEBAN, LINDSAY ANDERSON, JOSHUA KORNREICH, SCOTT GARSON. If you don't have this yet, it's 500+ pages, and brain-eating on every one of them. A true mechanism of new tongues.
Uncategorized /
22 Comments
October 6th, 2009 / 11:46 am