Witch Piss
Witch Piss

by Sam Pink

Lazy Fascist Press, 2014

112 pages / $8.95 buy from

Amazon
1. Lot of 40s get drunk in Witch Piss.
2. So, take a pull.
3. King Cobras to be specific.
4. King Cobras are dirt cheap at just $1.99.
5. It's hard to get an idea of the narrator.
6. Early on, he decides to be a 'yes man.'
7. "I decided then to only ever encourage people, no matter what they wanted to do.  To get through life by saying yes to everything, so no one could say I didn't get what I wanted, and also so nobody would dislike me."
8. Most everything he says is deflective in this way.
9. The reader does, I think, get a glimpse of the narrator when he shares his thoughts every now and then.
10. "Imagining myself enlarged, inhaling the smoke off a burning cop as he scream 'no no no' – unable to even touch his agonizing face because his skin's so blistered."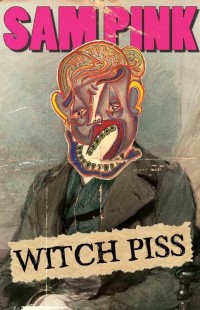 Witch Piss
by Sam Pink
Lazy Fascist Press, 2014
112 pages / $8.95 buy from Amazon
Rating: 7.0
Witch Piss is the bottom of a forty oz.
Witch Piss is a novel.
Witch Piss is published by Lazy Fascist Press.
Witch Piss is Sam Pink writing about a Sam Pink-like narrator.
Witch Piss is homeless men.
Witch Piss is "Y'gah be kiddin me."
Witch Piss is a slurry of language.
Witch Piss is written in dialect.
Witch Piss is a man named Spider-Man.
Witch Piss is a girl named Janet in a dirty Depends.