worst new poets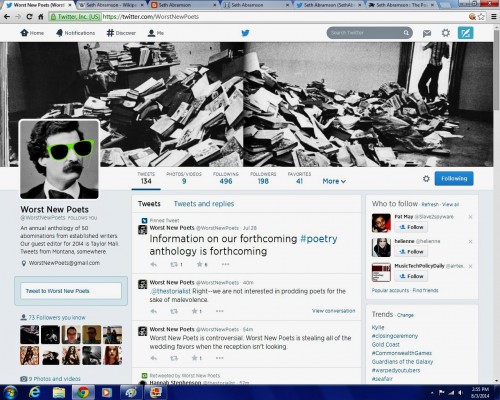 *******
There's nothing new about anonymous Twitter accounts taking shots at well-known writers. Some of them are funny. Some of them are mean. Some of them are neither. Some of them are both.
But what's got my attention about Worst New Poets is that they're engaging with their Followers (internet heavyweights like Elisa Gabbert and Rebecca Hazelton– but enough celebrity name dropping here) in a generally reasonable and intelligent manner. Plus, of course, how can you not show some interest in someone shoving pies in people's faces??  (But, I wonder, is this something we need?? … I dunno… And what's the deal?? … I mean, what's the deal ?? ..)
So, anyways I reached out to Worst New Poets, they responded promptly and politely, and here, now, is the transcript of a quick little Q & A that we did:
*******
Rauan: Please tell me what Worst New Poets is all about ?? (ie: what is it? why are you doing what you're doing? what good (if any) do you expect to come of it ??)
Worst New Poets: Worst New Poets was originally a spur-of-the-moment response to the annual release of Best New Poets (whom we admire very much). The impulse to start WNP, however, was not unfounded. These thoughts about the poetry landscape have been gestating in our heads—subconsciously maybe—for quite some time. We thought it was an interesting idea to call out some flaws published by established writers, instead of praising 50 "new" poets that were breaking ground in contemporary poetry. We don't have a set goal in sight, though we do enjoy the discourse that has been generated in the past week, so we don't think we'll stop any time soon.
Like we mentioned during the initial barrage of Twitter attacks (exaggerating), we like the idea of creating discourse within a community that far too often promotes from within. There seems to be a clear consensus among writers that the current literary landscape is extremely incestuous, READ MORE >