xkcd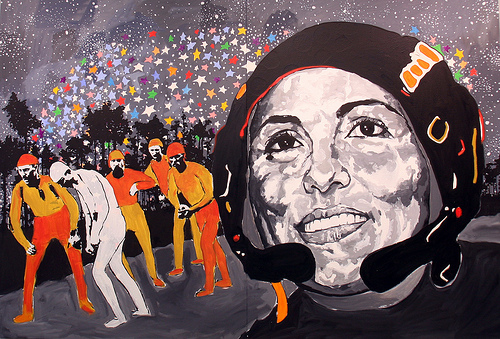 Okay, I'm being a little dramatic, but seriously, Michael–a Long Island iced tea to end the night with? You're an animal. My kind of animal. ANYway.
The Rumpus has an interview with the artist Jake Gillespie (worksample above), whom we in Poetryland know as "the guy who did that cool cover (and interior) art for Mathias Svalina's Destruction Myth."
The Second Pass celebrated their 1-year anniversary recently (hey, cheers!) and they mark the occasion by taking a break from the newer-newer-now pace of publishing/culture to take a look at some very untimely (and in some cases, unavailable) books. "Tales of the Unread." I was especially intrigued by Jacob Silverman's discussion of Past Continuous, a 1977 novel by the Israeli author Yaakov Shabtai, and Matt Weiland's discussion of Killings by Calvin Trillin, a 1984 true-crime book from more or less the last person on earth you'd ever expect to produce a true-crime book.
Speaking of things you've never heard of. Over at The Daily Beast, Elif Batuman introduces the Tolstoy-weary Russo-phile to four "alternative Russian classics" by Shklovsky, Platanov, Mandelstam, and Kharms.
Random
/
Comments Off

on Massive Hangover, Massive Roundup
March 18th, 2010 / 11:58 am