young jeezy
I like thug rap. I can't help it. When I was like 14 I would go around saying most rap was stupid because it wasn't serious enough. Now I think it is the most serious shit in music, and particularly thug rap more than the smart shit, even though I like a bunch of that too. Thug, for its particular mode of swagger and affect: being what it is and ready to die or explode and get the cash and freakspirit. There is more furtive emotion, spirit, force, and fight in the presence of thug rap even if, or perhaps in the light of, the meat of the lyrics being trivial, childish, base, ridiculous. It might sound cheesy for suburban-lifed guys or girls white or black to get serious inspiration from stuff that's as foreign to their daily life in physical manifestation as you can get, that being: killing, drugs, prostitutes, shitloads of cash; there is something heaving and overwhelming in a beyond the hour kind of way, actually more intense because of its otherworldliness, and it often seeming more punk as fuck and ready to party with the god of god than any other kind of music. It's like "fuck America" and "yeah America" at the same time, which seems like life.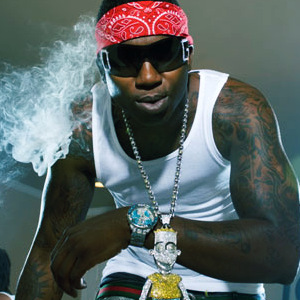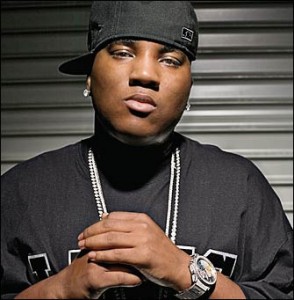 Atlanta is a big rap town. There are probably more famous and upcoming rappers here than any other city. Two of the biggest Atlanta faces who have yet to take it really to like a household name level but are still in most every club around the states are Gucci Mane and Young Jeezy. I like them both for different reasons and in different settings or times somewhat. I feel like comparing them head to head, and thinking a little about what I like about small consistencies of style in thug rap.
* * *
Lyrics: One reason I like Jeezy is because his lyrics are about as base sounding as you can want. If I've learned anything from listening to a lot of thug rap it is ideas about streamlining sounds down to these things you don't mind hearing over and over, and getting your point across quickly even if your point is totally amorphous. It's not about clarity as much as presence. Jeezy is a frequent abuser of the rhyme-one-word-with-the-same-word-again style, like: "I commentate the game like John Madden / cuz I played in the game like John Madden." He talks a shitload about selling drugs, which I guess he actually did, which most rappers seem to do. I always wonder why rap albums can't be used as law evidence, like dude is saying he sells a fuckload of cocaine, maybe you should go to his house. I know that's not how it works, but still. It seems like they are toppling novels by throwing that shit out there like they're talking about actual snowflakes, giving no fuck and therefore giving more of a fuck than giving a fuck is. Gucci talks more about having money and hanging out and having fun and shit; he's less serious even when he's talking about the same things Jeezy does. I also feel like Gucci has a sense of humor more, and when he makes me laugh it seems more on purpose than me just laughing because Jeezy is kind of like a big little boy acting serious, if in a good way. Gucci is an insane goofprince. Point: Gucci.
How to have a good time
+
How not to Interview a Boss