Ryan Call
Duotrope Joins the Marketplace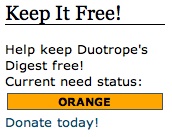 Duotrope's Digest has made a few changes. In addition to what the webmasters call a 'fresh coat of paint' for the site, Duotrope has opened an online store with Zazzle to sell a variety of writer-related things.
Here are a few pictures of what they're selling.
(after the jump):
I admit I'm not too crazy about the products; I wish they were more clever or something. I also wish I could make up clever things to go on them? Maybe you people can make up clever logos and post them in the comments? I don't know.
The stamp isn't a bad idea, actually, and I'd pay for a tee-shirt that said the exact text written on that business card.
I think that would be funny.
Regardless, I hope people buy things or donate or something. I really like Duotrope. I like how the people behind Duotrope are mysterious and nameless and so on, but seem completely insane about updating and running the site (insane in a good way). I like Duotrope's threat advisory-esque fund-o-meter thing. I like their tracking feature. Maybe I will donate some money to them.
Tags: Duotrope's Digest
12 Comments