Adam Robinson
Friday Boobs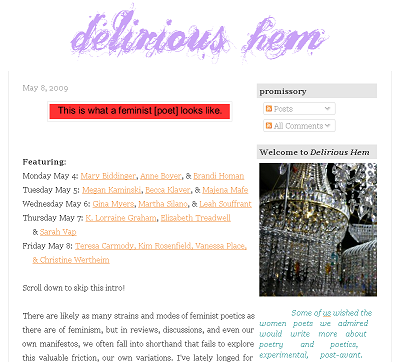 In the early nineties Bono said "We thought we were a punk band, for about 2 seconds"  (paraphrase) and I've hated U2 since. (Actually, I didn't like them before that either, even though I can be TYPICAL and say Boy was a pretty good record.) I felt alienated; they were suggesting that "yeah, we liked what is important to you, we got it and everything, but we've moved on and look at us now. Now we're cool."
So it isn't like that when I say I was a feminist for two seconds. I didn't get it, and I still want to be one. I wish I was a feminist more than anything. I did a semester in grad school for theology because I think feminist theology is maybe second only to queer theology in terms of, you know, solving all of life's problems. My tongue is set firmly on the bottom of my mouth here.
But my tenure as a feminist was stalled after reading Luce Irigaray and learning that cutting the umbilical cord gives a child its primary name, namely the navel, a sufficient identifier, and the addition of the proper name is superficial and more than that (from Kristeva I got that), it was probably an act of violence, a further stripping of language from women — here meant in Irigaray's sense, not patriarchal language [langue] that is spoken, what we're used to and what makes sense to us, but language [langage] that preserves the body (as Helene Cixous advocates for) and doesn't make sense to us  — language being a source of power and being stripped from women as a matter of process since day one, the naming after the removal of the umbilical cord replaces the umbilical cord with the phallus.
Something about this argument struck a nerve, really jived with me even though I can only peripherally understand it, and I shot out of the academic building with passion and academic vigor. I told my women friends how screwed they were and most didn't care and some were like, "Eat a fat one, you aren't a feminist" because when I say "women friends" I more-or-less mean girls I was cheating on and the girls I was cheating on them with — so my logos wasn't exactly an ethos from their perspective. And anyway their feminism prioritized the practical side of things, eg. not shaving or shaving, attending stitch-and-bitch and most of all being supportive. The biggest dilemma for them is, "Can we support Condoleeza Rice?" In my opinion, this orientation is more fuel for the fire; it promotes a consumerist culture that only reiterates the phallogocentric language structure and in that way renders women voiceless. In my view, this view ensures that there can be no Condoleeza Rice.
But I think I was discouraged from all of this by the cool reception I got from women, and also by the sheer difficulty of trying to comprehend feminist intellectuals who make it a point to work outside of the patriarchal system that I am fully steeped in. I mean, it's (awesome and) bad enough that Mary Daly doesn't admit men into her classes at BC, but the way Kristeva crafts a sentence makes Mark C. Taylor seem easy to read. Don't even get me started on Edith Wyschogrod (who isn't a feminist, I guess, but [hey Josh and Chris] check her out in video here discussing Levinas — and watch the male moderator continually move her microphone, ie. allow us her voice). What I'm saying is that if women were going to diss me for exploring feminism as the most fundamental source of injustice, and this stuff is going to be so difficult to understand, then I better hang up my jockstrap, or put my jockstrap back on (not sure). I don't blame the women in my life for this, of course. I exactly do not blame them, and I'm not trying to suggest that they are in any way wrong. All women are right all the time. I don't say that in a dismissive, fight-ending way. I just mean, yes, tell me your story and in the narrative web I hope the woman-speaking body will become real. To me.
It's always about me. Thanks for reading this. I know you didn't ask for my testimony.
At any rate, I kind of don't pay a lot of attention to feminist currents anymore.
But there is a really awesome new bloggish called Delirious Hem, chock full of poets (women poets) describing their relationship to feminism. It's personal stuff, smart stuff, really clever at times and really aware of the problems of communicating this way, and the problems of not.
Christine Wertheim on Christine Wertheim says:
Q: What kind of work and words are mine? What kind of work and words are feminist?
A or Q?: Words that stay in process avoiding being solidified, reified, turned into stable objects? Words that allow themselves to express their rage as being's-mothered, s-mOUthered, vO|ded, avO|ded, vO|ced? Words that don't what to come. Words that don't want to be put into a mOUther. Words that want to be left alone. What about them? Are they feminist?
Tags: anne boyer, delirious hem, I'm an idiot
33 Comments