Blake Butler
Matt Bell's 'A certain number of bedrooms, a certain number of baths'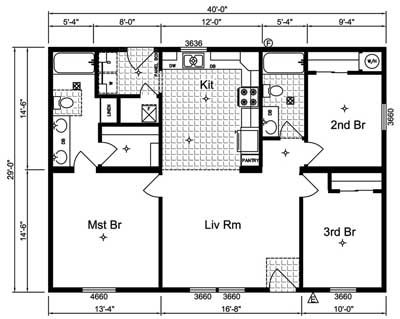 I remember the first time I read this story in Caketrain 4, I read it in the bathtub with some awareness of who Matt Bell was but not fully yet having found. By the end of it I remember going, "Oh, shit, this guy knows what is what and who is who." I was right to go that, because since then Matt has only continue to slay and slay and slay, and yet this story, in all that time, in comparison to so much wonderful work he's since published, has not lost an inch of its fine luster.
Herein Matt Bell demonstrates his amazing ability to meld the unknown and the curiously black with the most identifiable of human moments, without the baggage of sentimental cheese that often crops up in making something seem 'human.'
The boy has been in so few other houses that actually picturing the interior of any other home means simply reconfiguring the rooms of their own house into his conception of the new one. The floor plans he likes best are the ones that he can most easily shoehorn his own into, using the homes of his grandmother and of the neighbor boy his mother once forced him to play with to fill in the bigger houses. The father does not say much in return, but the boy has become used to this. To make up for his father's reticence, the boy talks more and more now, more than he is comfortable with, not because he wants to but because he does not like the silence at the table, the reminder that there is something missing, that without her they are alone even when they are with each other.
The story has so many of the elements I love best: cataloging, mapmaking, memorymaking, aura, shapeshifting, rooms in puzzle, haunt. The result is Evensonian, without feeling derivative, which is about the highest compliment I could want to pay a piece of short fiction.
Also a great boding for the web presence (now open for submissions) of the new You Must Be This Tall To Ride anthology, which if you haven't peeped yet:
Featuring original stories, essays and writing exercises from:

* Steve Almond
* Aimee Bender
* Kate Bernheimer
* Ryan Boudinot
* Judy Budnitz
* Dan Chaon
* Brock Clarke
* Michael Czyzniekewski
* Stuart Dybek
* Michael Martone
* Antonya Nelson
* Peter Orner
* Jack Pendarvis
* Benjamin Percy
* Andrew Porter
* Chad Simpson
* George Singleton
* Brady Udall
* Laura van den Berg
* Ryan Van Meter
Boinkers!
Tags: Matt Bell, you must be this tall to ride
6 Comments