Ryan Call
!!!OMG!!!Avery Anthology Gossip!!!OMG!!!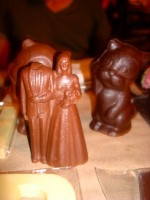 If my Facebook feed is correct, and if we can trust the information on the Avery Anthology weblog, then Avery coeditor Emma Straub and Avery designer/art director Michael Fusco got married this past weekend in an impressive power grab at indie giant Avery House Press. I admit that I did not try to contact Emma and Michael for a comment, nor did I ask Emma's permission to use this yummy picture. Instead, I just sort of clicked around the Internet for a while.
Anyhow, now I understand the inactivity on Duotrope recently – instead of reading submissions, they were getting married and eating a lot of chocolate.
Congratulations, you two.
Now when is Avery #4 coming out?
Tags: avery anthology, duotrope
6 Comments