Ryan Call
re: skill ping pong master – a response to Mark Baumer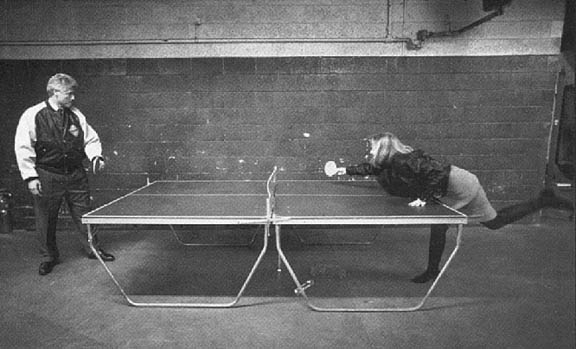 The other day, Mark Baumer wrote me an email, the subject line of which is the title of this post. He wrote:
My friends fred and fred have been playing ping pong against each other.  They are not very good.  Do you have any tips or suggestions or tutoring videos I could pass on to them?  They keep calling me coach, but I don't really know too much.  Any tips would be appreciated.
Here is my response:
Hi Mark Baumer,
I appreciate your writing to ask me questions about ping pong. I want to help you out as best I can. I watched all five video recordings of Fred playing Fred over at Everyday Yeah.
(For those who don't know, Everyday Yeah is a wonderful site. You should go look at it now).
Four table tennis tips after the break.
After watching the videos, I took down some notes and thought out in my head some thoughts I would like to pass along to Coach Baumer about ping pong. These thoughts are a combination of my own thoughts in my head and other thoughts that belong to other people, which they too had about the sport of ping pong. I am posting here the specific thoughts I had about Fred's 'game,' some coaching tips maybe, and more general thoughts I had about the sport of ping pong itself, also Wikipedia's thoughts too.
1. Fred Williamson appears to be a a defensive player, specifically a chopper. Tell Fred Williamson to be patient when playing Fred Williamson. Choppers succeed when their opponents become tired of the rally and go for the smash, often making a mistake in order to end the point quickly. Fred Williamson ought to vary the kinds of shots he makes: deep loops and short pushes will throw a chopper off. Fred Williamson should also hit for the center of the table and try to jam Fred Williamson; choppers are at their best when playing the sides of the table.
2. Remove the clothes iron and the candy apples from Fred Williamson's side of the table.
3. Purchase for Fred Williamson a return board, which he can mount on the table in order to practice his top spin and top side spin shots. I'm a fan of the double return board, but you can also get a smaller return board, which will allow Fred Williamson to practice both top spin and ball placement.
4. And finally, before my matches, I always try to get pumped up by watching my favorite top 10 table tennis points of all time. Please enjoy:
Tags: Everyday Yeah, ping pong
16 Comments