Justin Taylor
SCUMBAG HYPOCRITE ALERT: Maureen Mullarkey loves painting the Gay Pride Parade, but she hates everything it stands for, and all the people in it–and probably you as well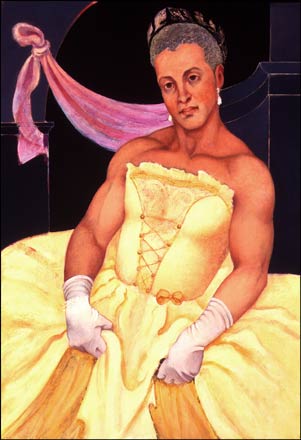 Maureen Mullarkey, the art critic and artist well-known to the gay community for her iconic portraits of drag queens and gay pride parades, was yesterday revealed by the NY Daily News to have contributed $1000 to Proposition 8. […] When asked how she could have donated money to fight gay marriage after making money from her depictions of gays, she just said, "So? If you write that story, I'll sue you."
(h/t to Joe.My.God)
A quick trip over to Campaignmoney.com reveals that the person in questions–Mrs. Maureen Mullarkey of Chappaqua, NY–ALSO gave nearly $1000 to different arms of McCain/Palin '08.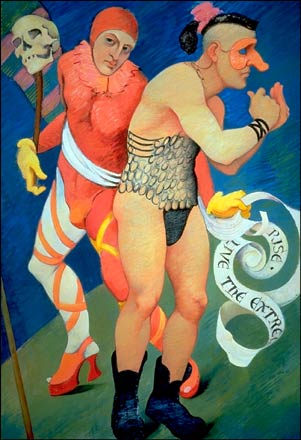 On her website, in an interview, Maureen explains that she likes the Gay Pride parade as a source of imagery because "it is marvelous spectacle. There is so much to look at." But wouldn't any old parade provide that kind of imagery, the interviewer asks? "Not for me," says Maureen. "I've never really liked parades much. How many marching bands can you take before your eyes glaze over? But when the majorette is a middle-aged man in a tutu and sneakers you know you are not in Kansas and you might want to stay awake."
Then she goes off on a whole thing about why she uses Medeival motifs and how the Gay Pride Parade proves that Dionysus is still "alive, powerful, and under our own porch. This is the great moral lesson of the parade."
Yes, you read that right. For Mullarkey, the point of a Gay Pride Parade is not that gays are real people with real rights and a legitimate claim to assert their individual and collective self-hood in the public sphere. The point is that gays remind us how topsy-turvy this old world can be, which presumably is why Mullarkey feels so comfortable–perhaps even obligated–to go around EXPLOITING THE BLAZING SHIT OF PEOPLE SHE SECRETLY HATES AND TO WHOM SHE HOPES TO DENY THE BASIC RIGHTS OF CITIZENSHIP. Sort of like a plantation owner sitting on his porch just really and truly impessed by the hijinks at a darkie wedding. Long as none of them come too near the big house,  and long as they're all back in the field by sun-up, everything's gonna be just fine.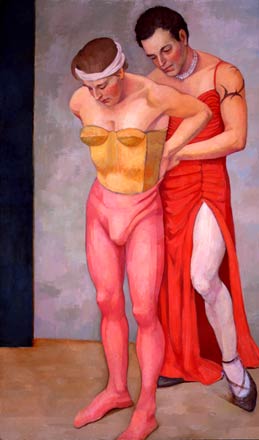 Dear Maureen: Hope Chappaqua's lovely right now, because methinks you won't be taking the MetroNorth down Manhattan-way for a good long while. Better up your Netflix.
Tags: gay pride, Maureen Mullarkey, proposition 8
101 Comments