Blake Butler
What to Wear During an Orange Alert?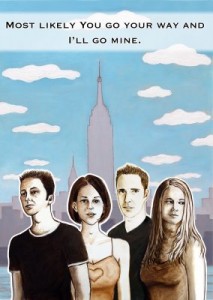 One of my long-time favorite media-blogs Orange Alert has just relaunched with a new full on website, which makes me happy in the way of reading pleasure.
Orange Alert is unique in that they focus heavily not only on independent lit (with a weekley 'Reader Meet Author' feature that focuses specifically on small press peeps, including Giant folks like Sam Pink, Conor Madigan, Amelia Gray, Brandon Gorrell, and tons more), as well as weekly features on independent musicians, artists, and everything else all in one place. It's a wonderful daily mishmash of new media, and in particular their 'Watch List' of things reading, watching, wanting, etc., is a good way to keep up with their favorite stories from online journals and new releases from small presses. It's one of the things I look forward to reading each week.
In addition to all of this, they also recently launched a book press leg of the enterprise, Orange Alert Press, which recently debuted with their first title 'Most Likely You'll Go Your Way and I'll Go Mine' by Ben Tanzer, which has garnered quite a nice media welcome:
" Rarely do I run across a writer who makes me glad I can feel so deeply the words in a book. You are probably one of the rarest of gems and I hope more readers will tune into your books." ~ J. Kaye
"Ben Tanzer's second novel, Most Likely You Go Your Way and I'll Go Mine, is a glorious amalgam of dating, dysfunctional families, and pop culture. The book explores nascent relationships, complete with their insecurities, possibilities, hurdles and wonders." ~ Largehearted Boy

"Most Likely You Go Your Way and I'll Go Mine is a brilliant, clever, humorous, edgy, and raw portrayal of urban single life. Deftly written, it will capture your attention from the first page and leave you shaking your head in awe until the end. " ~ Kelly Moran Author & Reviewer

"Most Likely You Go Your Way and I'll Go Mine is an honest, funny book whose depiction of dating angst in the nineties will ring true for those of us who were there, and likely win plenty of new converts for this talented Chicago author." – Matt Staggs from Enter The Octopus
Throw this one in your RSS feed. It's a well-conceived source from people who care. While you're at it, buy a book!
Tags: ben tanzer, orange alert press
6 Comments