We bought this place in east London last year. The study isn't finished yet, so I do most of my writing on the dining room table. It mostly always looks like this – unless our two cats have been on the table and knocked the books on to the floor, which is something they do from time to time. I know they enjoy doing this when I am out of the room. It doesn't bother me that much, because cats will be cats. I didn't write The Canal in this room; we moved here after I had finished it. I wrote The Canal in various cafés and pubs in Hackney, east London and I'm afraid I didn't take photos of them.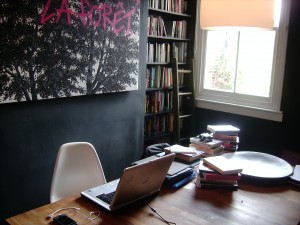 I write longhand and then edit as I type it up on to my laptop. My laptop is quite old now and sometimes gets very tired, but it still does the job, so I can't really complain. I am currently typing up my next novel 'Amber' which should weigh in at around 100,000 words when it is completed. It should be out at some point next year via Melville House. Below is a picture of 'Amber' – it doesn't look like a novel at the moment, but I can assure you that it is. The picture was taken in our bedroom*, and Blake Butler's mesmerising 'Ever' can be seen in the picture, it's on the bedside table as I have been rereading it lately. When I saw this in the photo I immediately thought to move his book and re-take the photo without his book in the shot, as I thought it might seem a bit creepy considering he edits HTMLGIANT, but then I changed my mind.
* actually this photo isn't taken in our bedroom as I had to retake the photo on a different camera as the original was too small for the internet. So I have spread my novel out on the dining room table and made more of a show of some other books: Joseph Young's 'Easter Rabbit', Blake Butler's 'Ever', Stewart Home's 'Blood Rites of the Bourgeoisie' and Tom McCarthy's 'C' – which are all occupying a rather nice space in my mind at the moment.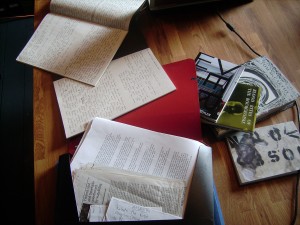 In the dining room I keep many of the books I own and love – although we have shelves of books in pretty much every other room of the house, too. There is also a reference library down in the basement, but we don't go down there that much. I built the bookshelves on either side of the dining room table with my own hands. I built all the book shelves in the house from scratch – something which I consider quite a feat, as old Victorian houses in London aren't exactly square and I nearly killed myself cutting the wood for each uneven alcove. I'm more than happy with them.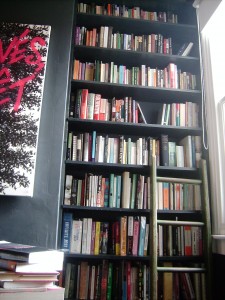 Lee Rourke is the author of The Canal and Everyday. He blogs at SPONGE! and contributes to 3:AM Magazine. You can see a manuscript page of The Canal at 'other' magazine. Catherine Lacey interviewed him for us here.
Tags: 3:am, lee rourke, melville house, The Canal