Behind the Scenes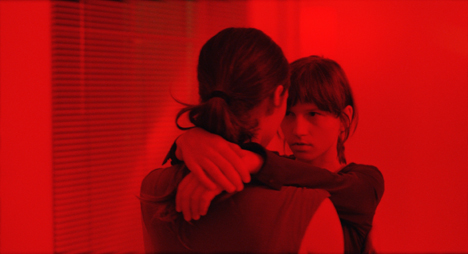 I used to do occasional "inside baseball" posts about running a small press, like this one from four (!) years ago. I guess it's been a while. I find them clarifying, and usually after I write one I change something about how I "do business." With that in mind, here are some numbers and thoughts related to Publishing Genius's book submissions currently and throughout history. This year's open submission period ends at 11:59pm on Monday.
Last year Publishing Genius didn't even have an open period, but that doesn't mean that I didn't accept books from submissions. It's just that I was still working through 2012's manuscripts. There were about 400 that year, and it took me too long to figure out my responsibility to each one. It's really hard to honor every book, and I think I was intimidated by the force of dreams coming at me like a big, wet wave. I know the excitement of finishing a writing project—big or small—and the intense hope that comes with sending it off. READ MORE >
5 ways to get elias to like you
buy him an expensive dinner, an expensive outfit, or something expensive that he would like
tell elias about yourself but don't talk too much about yourself or elias will tune you out
never under any circumstance tell elias that he's your second favorite person
if you call elias in the middle of the night, please have something important to say to him (i.e. elias i just bought you a super expensive outfit) or he will terminate your relationship
do not bore elias under any circumstance
jonathan franzen despises elias
jonathan franzen does not like elias for some reason. it's probably because elias writes a lot on the internet and jonathan franzen doesn't know how to use the internet properly
elias grew up in greece
elias was a happy child in greece. he was super popular and everyone loved him. if this is a surprise to you, then you have a lot more to learn about elias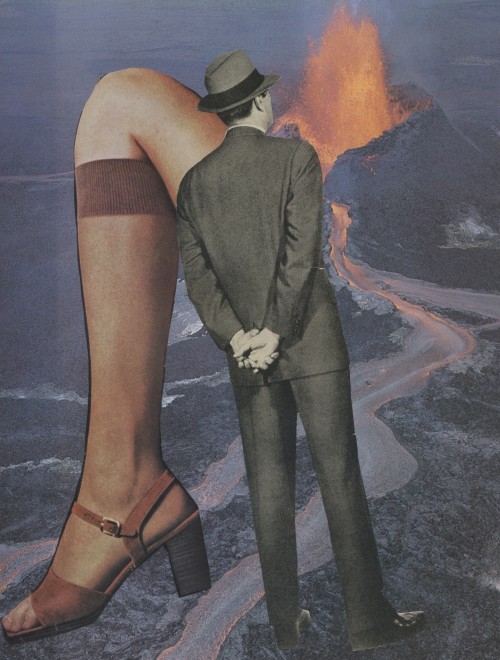 ***
In late April I read with Kevin Sampsell and Jay Ponteri in Nathan Curtis Warner's LYE:WORDS at Pond Gallery.
***
Kevin had a projector set up and interrupted reading from his book to show his Collages. Sometimes they contained text, and sometimes they didn't. Sometimes Kevin read the Collage text. . .Regardless, I was quite taken by them. . .And so I asked Kevin if I could feature some of them here on htmlgiant.
***
What follows, then is a Q & A we did with Kevin's Collages interspersed.
***
And for more Collages check out this
special section
of Kevin Sampsell's website.  And starting June 10th Kevin will be doing a Collage column, called Paper Trumpets,  for The Rumpus!!
****
Rauan: How did you get started doing Collages ??
Kevin: I was inspired by the cut-up experiments of William S. Burroughs and actually started doing word collages, mostly from newspaper headlines, about twenty years ago. I put out a weird little chapbook called Children's Book in 1996 and I've always wanted to make a follow-up book. I've kept this big manila envelope of words ever since then, occasionally pulling it out and making funny cards and pictures with them and giving them to friends.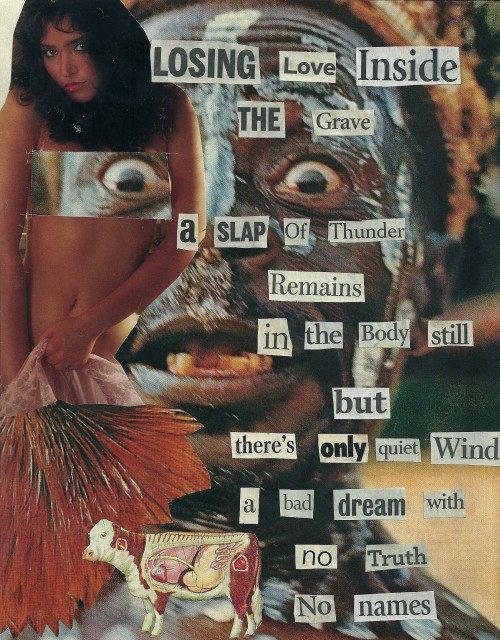 But those were more about wordplay and odd language. At the beginning of this year, I decided I'd pull out that envelope and start making more collages, kind of as a break from writing. I started to look around at other collage stuff on-line and discovered this whole big vibrant world of collage artists and, more importantly, I started to seriously consider the use of altered images to play off the words. I discovered this book called The Age of Collage and it included profiles and work by a bunch of great artists doing amazing work with collage. This page on the publisher's web site included videos of John Stezaker and Linder Sterling and I became hooked. Stezaker's video was especially influential. I started to look at collage every moment that I could and I joined a bunch of collage groups on Facebook too. I started to put more importance on how the images in the collage were presented. Words are still important, but the images are equally so now. Something clicked in my brain and I'm starting to figure out things with images. How to play with them and make them do strange things. Making collages is like creating optical illusions sometimes. Like with writing fiction or poems, pretty much anything can happen.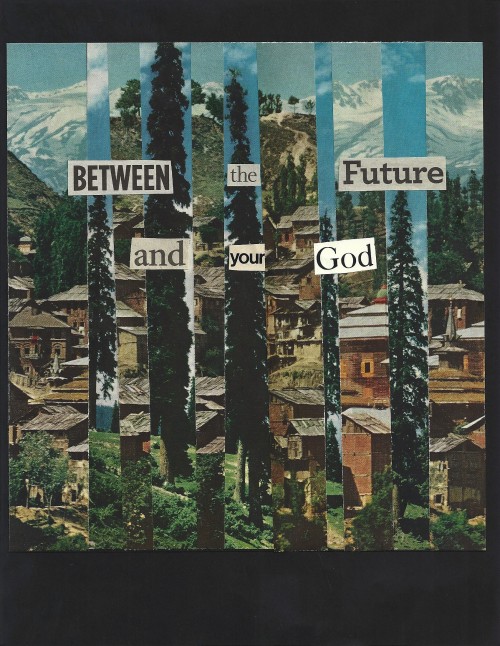 RK: Can you tell us a bit about yr Collage process??
For me, collage is all about seeing, as opposed to writing READ MORE >
There was a year during which I essentially told my brain that the way to become a writer was to get published by McSweeney's Internet Tendency. During that year I wrote a loooooootttt of things that are totally unusable for any other place and which were trying to get the right tone for that site. In retrospect, I fully blame the editor for always sending me back kind and personalized rejections which encouraged me—or at least I thought they did—to try again. Eventually, I stopped writing Open Letters, Monologues and Lists, but I think I owe my decision to try writing more to that editor and his charming rejections.
Founded in 1974, FC2 is one of America's best-known ongoing literary experiments and progressive art communities. In honor of FC2's fortieth birthday, publisher Lance Olsen has generously answered the following questions about publishing, longevity, and innovation.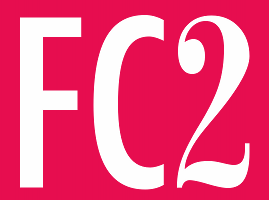 ***

Rachel: What is FC2?
Lance: FC2—short for Fiction Collective Two—is a small, independent, not-for-profit press run by and for innovative authors. One of America's best-known ongoing literary experiments and progressive art communities, for the last 40 years FC2 has dedicated itself to bringing out work too challenging or heterodox for the commercial milieu. Originally founded in 1974 as Fiction Collective by a handful of writers—Ronald Sukenick, Raymond Federman, and Jonathan Baumbach among them—FC2 has so far published more than 200 books by more than 100 authors.
Rachel: What does FC2 mean to you?
Lance: FC2 is an ongoing investigation into what innovative writing means—and that meaning is continuously in flux.  One of the great joys for me about our editorial meetings, which take place once or twice in the fall, and once or twice in the spring, is that they make up an ongoing conversation about such troubled and troubling terms as "cutting-edge," "artistically adventurous," and "experimental."
Those terms mean something else now than they did in, say, 1974; will mean something next Tuesday than they did last Monday; will mean something different to one person than to another—which is to say such terms are inherently unstable ones, open to ongoing modification, depending on who you are, where you are, what you've read, and so on.  That is, they are terms always-already in-process.
By my lights, at the heart of them are a series of implied questions: what is narrative? what are its assumptions? what are its politics and social dynamics? its limits? how does narrative engage with the problematics of representation? identity? temporality? gender? genre? ideas of "literature" and "the literary"? authorship? readership and the act of reading in the twenty-first century?
In other words, perhaps a fruitful way of approaching a tentative definition of such narrativity—represented with respect to FC2 by such diverse authors as Lucy Corin and Brian Evenson, Cris Mazza and Amelia Gray, Michael Martone and Stephen Graham Jones, Matt Kirkpatrick and Samuel R. Delany, Michael Joyce and Clarence Major, Vanessa Place and Hilary Plum, Joanna Ruocco and Leslie Scalapino, Melanie Rae Thon and Yuriy Tarnawsky, Steve Katz and Mac Wellman, Diane Williams and Lidia Yuknavitch—might be to suggest it is the sort that includes a self-reflective awareness of and engagement with theoretical inquiry, concerns, and obsessions.
Cool poem-video of "High-Fives" by Ben Mirov from his poetry collection Hider Roser, (Octopus Books). The video was directed and produced by Dan Lichtenberg: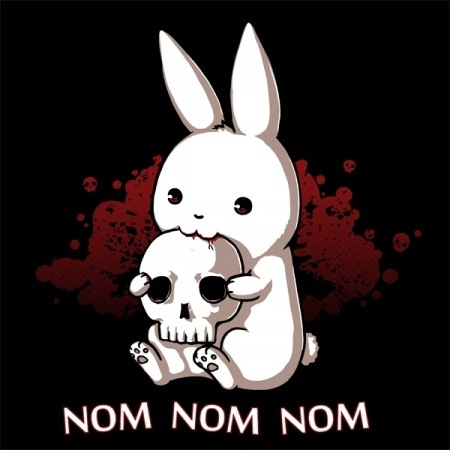 April, because of National Poetry Month, is a traumatic ordeal of a time for me.
A prevailing, I guess, part of me thinks "What a total bunch of fucking bullshit"– and for the past few years all April long I'm in a grouchy stupor-rage making snide and mean remarks, pissing on anything even remotely "poetry," and relentlessly posting up pictures of beached whale carcasses.
And yet–a part of me identifies with this impressive cadre and camaraderie of poetry munchkins gathered squawking and encouraging and reassuring each other on the cliffs of poetry each April because, well, it must be a good thing. It must be, right?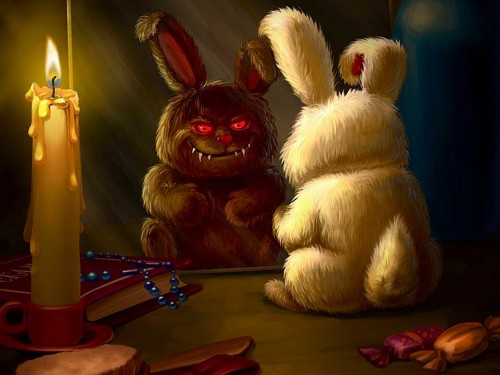 And so this year I've decided to face the disturbing contraries of my soul and the way they bristle and soft-feather up at National Poetry Month by setting up, as any good Caesar of the soul, some death matches. And in each case the death match will consist of a "for" and "against" stance fought out between two of my friend surrogates. And in each case I'll stand up above the fray with thumb at the ready.
******
And, the first death match is between Reb Livingston and Jereme Dean.
******
NaPoWriMoHoHoHo
by Reb Livingston
What's ruining/killing poetry this month? Well, it's April so that must mean the culprit is National Poetry Month. Or so claims my anti-NaPoMo poet pals on social media.
Inspired by the riveting journeys already undertaken by Adam R., Melissa, and Brooks, I thought I'd take you on a tour of my own humble shower …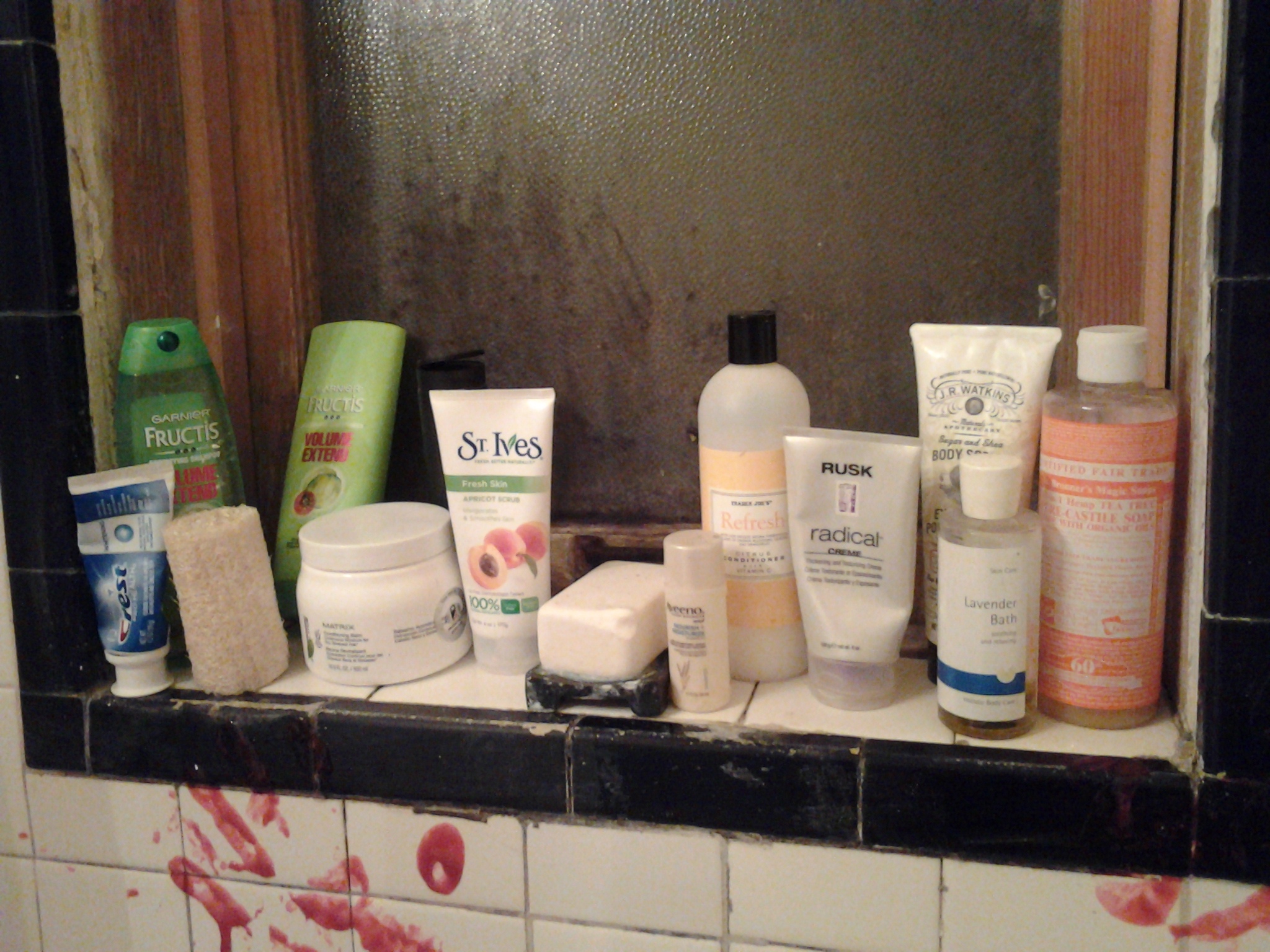 OK so obviously I've got a lot of hygiene products; I'll admit I'm a little obsessive. There's a special story behind each and every one of them (à la Daniel Spoerri's classic conceptual text An Anecdoted Topography of Chance), but I don't know if you want to hear all of them. So I'll stick to just the highlights …
I'm really sorry house about this.