AWP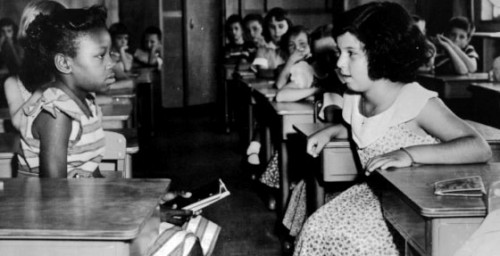 Now that I've had a couple weeks to catch up on life post-AWP, I've had time to reflect on my experience attending the conference a second time. I had a fantastic time at AWP '10. It's a much better experience when you actually know people; I really enjoyed working at the bookfair with my co-editor and meeting so many contributors; and there was, of course, the EPIC dance party on Saturday night that was everything I had been told it would be and so much more. You have not lived until you see a bunch of hot, sweaty writers dancing awkwardly (myself included), and I do mean awkwardly, to Tone Loc.
At several points during AWP, friends and acquaintances would riff on the theme of AWP standing for All White People and we would laugh and move on to the next topic of conversation but there was a certain truth to the comments that was… uncomfortable.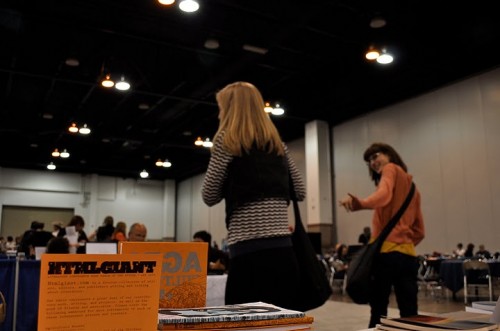 Here are some pictures I shot over the course of the AWP conference, which took place in Denver, Colorado, April 7 – 10, 2010.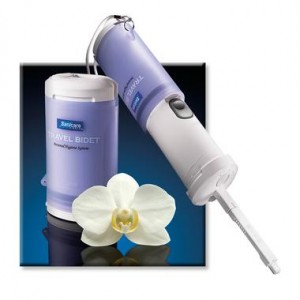 I can scarcely believe I have never ordered anything from SkyMall. Shopping for ill-advised items—particularly while intoxicated—is what I do best (for example, coming out of a bourbon fog at 3 a.m. and waking up to an infomercial for a personal massage device called the Dr. Ho. Its creator, the human Dr. Ho, has a braid down to the middle of his back and is wearing nothing but biker shorts. I call in and buy one immediately. When it arrives, it does little more than deliver a series of painful electric shocks that feel like bites from a robotic gerbil).
And I am a nervous flier (read: sedatives). You'd think I already would've ordered the Bigfoot Garden Yeti Sculpture in slurred speech while suspended 32,000 feet above the ground. The problem is that to order on the plane, one has to pick up The Phone That Lives Inside The Seat. I have a lot of anxiety about doing this. Buried snugly inside the cushion, its curved receiver looks like the fossil of a slender bone that should not be disturbed. Were I to pick it up with fluffy clouds just outside the window to my left, I fear the voice of a deceased relative would be on the other end via some weird heavenly reception, or that my call would be promptly and embarrassingly connected directly to the pilot. Or something even weirder: no voice at all, just heavy breathing that would prompt me to respond "Are you there God? It's me, Margaret" in a shaky voice and to waft my remaining drink vouchers above my head like they're Wonka's golden ticket.
But returning home from AWP, I glanced at SkyMall's pages with a new mission: how might an emerging writer come to stick out at these conferences? I needed some kind of gimmick, some angle. Then I saw it: the travel bidet.
Yes, I realized. I could be the writer who carries around a travel bidet in a small pink suitcase at all times. When people say, "Who is Alissa Nutting?" others could then answer with certainty: "She is that writer who carries around a travel bidet." It sounds pretty great; the description promises that "this little wonder, which comes with its own handy travel pouch, provides a refreshing, pulsating spray of water just where and when you need it." The bidet sales-pitch informs me of the link between sanitation and ego: "personal appearance starts with personal hygiene, something people don't always like to talk about but that is at the cornerstone of our self-image." The write-up also assures me that not being comfortable "can affect our performance and self-confidence in important business and social functions." Where was this little gadget before my panel??!?
I will BeDazzle my bidet briefcase. I will spend all year BeDazzling it, and when I get to AWP 2011, I will be the most confident writer in the room. What worries me is that people might be reluctant to shake my hand, or hug me, when I am carrying my bidet briefcase. This makes no sense because I will actually have a superior level of cleanliness. Perhaps I can write this in jewels across the case-top: FEEL FREE TO SHAKE MY HAND, I AM ACTUALLY CLEANER THAN YOU ARE.
httpvh://www.youtube.com/watch?v=V3zjG9xRg5E
Friendlier, prettier, smarter. This illusion.
My beard grew wild, as did my waistline.
The way I write these aren't like the way I told you I write these…
Imagined dignities.
AWP with 6$ plastic bottles of gnu pee.
Pour down a tall wine or two for ballast.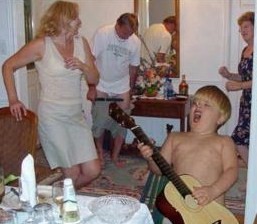 Drink. Love you, don't like you.
Frogs. I like the attitude of frogs.
It was a night jump and I was drunk.
Prick-points of sensation. Get it?
Clinically, you know…
I will fucking stop for cornbread!
Like those balloons.
Roxane Gay
—
The tenth National Black Writer's Conference is taking place March 25-28. Tayari Jones, Colson Whitehead, and Edwidge Danticat, among others will be participating. If you're in NYC you might want to check it out. The conference is open to all and the panels look really interesting. Every time I hear someone say there aren't many black writers I think, what on earth are you talking about?
I'm pretty sure most of these people will not be attending AWP. That's worth talking about at some point.
Sean Lovelace
—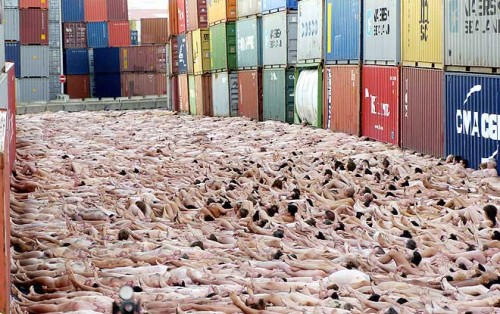 Anyone with HTML G sensibilities (have no idea what that means, so or not) has a reading during AWP please comment here with time, place/sarcophagus of shouts. This is a selfish post (but not, people wanna know). My emails bury me, like all. I am at AWP Denver interviewing professors for a job (at BSU/work), but would love to strike (hunger, bass lure, match box, beauty, etc.) mad readings every single night, 7pm to oblivion. List them here. For those in town Tuesday to Sunday of AWP, where should we go, when? And how exactly are the nachos?