feminism
Yesterday, my boyfriend and I were out walking the dog, and I was feeling shitty about work as usual. Rounding the corner where the Bay meets the roadway, sun setting pinkly, I blurted out, "Sometimes I just wish I could be a housewife." He looked at me and said, "Me too."
That was the end of it. Which pissed me off even more. I wanted to have a legitimate conversation about what it means to be a housewife (which, by the way, I could never be in the 19050s sense), the fact that it's not even an option anymore for most women. We're worker bees now, too. It's only fair. If I want to stay home, which I kind of do, I have to figure out a way to pull in enough income to pay the mortgage on the house I bought all by myself. I have to be able to pull my weight. Not to mention take care of the dogs, do the laundry, make dinners–all because I'm home, which somehow still means, not doing anything at all. My boyfriend would  never say or think these things, by the way, but I would. I struggle with these concepts because I would feel guilty if I had the luxury to write. As if writing isn't work. Writing poetry isn't work, it's what you do in your spare time.
In her essay "The Bell Jar at 40," Emily Gould writes of Sylvia Plath:
Do you feel a duty to read and acknowledge your literary, theoretical, and musical foremothers? Do you feel obligated to know the canon even though you don't find it relevant to you? Do mothers really know what their daughters want? Are you angered by ignorant people of the younger generation who haven't taken the time to read the foundational texts? Is Nicki Minaj arrogant for not acknowledging her debt to Lil' Kim? Where do you fall on the questions of lineage and inheritance? Some ideas to chew on beneath the cut.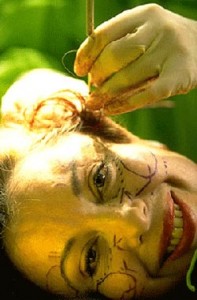 The French artist Orlan works in various mediums and has been prolific and provocative for years. Her most notorious work uses her body and surgery as an expression of art.
"I am the first," Orlan claims, "to divert plastic surgery from its aim of improvement and rejuvenation."
These are called "operation-performances."
She took a digitized version of the "idealized feminine" face (her source material: Leonardo's Mona Lisa, Botticelli's Venus, Francois Pascal Simon Gerard's Psyche, Gustav Moreau's Europa) and then surgically altered her own face to create this image.
Nine plastic surgeries. She considers her works "sacrificial." These performances were painful and potentially fatal.
Orlan's website.
A new essay from Unzipping of Images…Orlan's Operative: Provocation, Performance, Personhood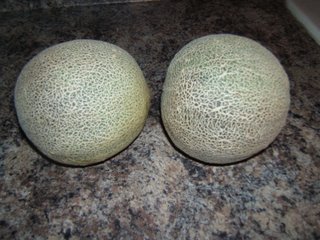 Ryan Manning brought Filthy Gorgeous Things (nsfw) to my attention, which is not a surprise, considering his penchant for soft-core porn (it's becoming more and more apparent that his virginity is not conceptual). From my brief perusal, FGT is a rather explicit journal about sex related stuff. From the editors:
F/lthyGorgeousTh/ngs is an online magazine about sex for artists, thinkers, sensualists, and fuckers. FGT aims to cultivate innovative content that stimulates us sexually and intellectually. Each monthly issue showcases work from both up-and-coming and established writers, photographers and filmmakers with content oriented around a featured theme.
Uncategorized /
16 Comments
April 28th, 2009 / 12:41 pm