keyhole press
Kudos to Peter Cole for writing the best submission guidelines since those at Muumuu House. From KeyholePress.com:
Books. Fiction Collections, Novels, Novellas, etc.

We are not accepting book submissions. Really, we can't do much for you that you can't already do for yourself. We encourage authors to release books independently.
Right on. I am for that too, once he convinced me of it. I called Peter a while ago and asked him to put the Keyhole logo on Say, Poem so that later I could put it on a CV saying I had a book from them. He basically said, why bother? He said, get a backbone. Make self-publishing worthwhile and legitimate. If you're smart, he said, that's the way to go.

I have a new minibook. You can order a copy now. If you want.
There's some black metal in it. And three short stories.
UPDATE: Can I just point out how awesome my name looks as a black metal band logo?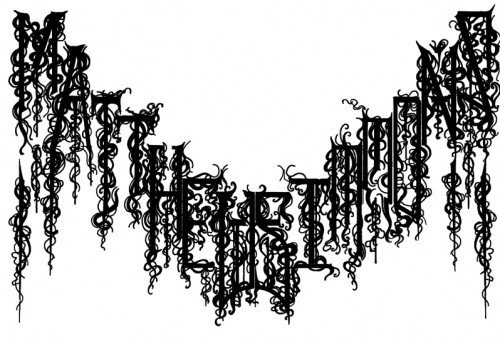 Uncategorized /
71 Comments
August 30th, 2010 / 3:13 pm
For a limited time only, Keyhole Press is offering both Matt Bell's How They Were Found and Aaron Burch's How To Predict the Weather in a package deal for $19.99 including shipping. Can't wait to have these monsters in my hands.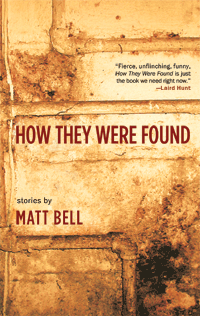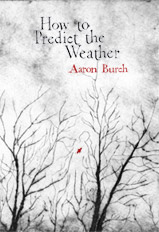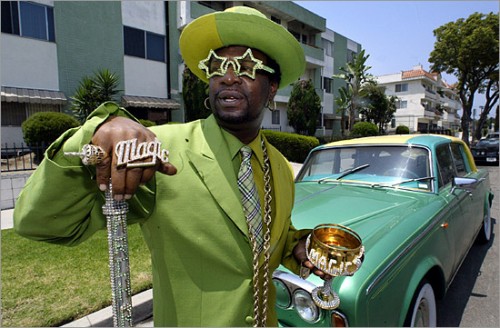 I stumbled upon the St. John's College Reading List and I find it fascinating. Readings cover the Greeks, the Bible, and much much more. A few universities do this sort of thing–a comprehensive reading program to serve as the foundation of a student's education. I think it's a wonderful approach but I agonize over how you decide which books to include. What would be on your reading list?
Mud Luscious Press is having a bookmark contest. Details here.
Another year, another Orange Prize  fracas.
Frequent, lively commenter Amber Sparks has assumed the position of Fiction Editor for Emprise Review. Send her some great writing, won't you?
Come April, Letter Machine Editions is reading manuscripts.
Offered without commentary: Robert Swartwood vs. Narrative, Part II.
I read a couple of great books this weekend and you may want to check them out—Congratulations! There's No Last Place If Everyone is Dead by Matthew DeBenedictis (sold out, sadly) and Non/Fiction by Dan Gutstein. The former came with an odd packet of instant coffee and Yo! MTV Raps trading cards. I now know that there are trading cards for everything.
Submishmash is a great alternative to the CLMP submission manager (which is a fine product albeit a bit pricey) and its run by fine people who are very responsive to their customers. If you're looking for a submission management option, you should check them out.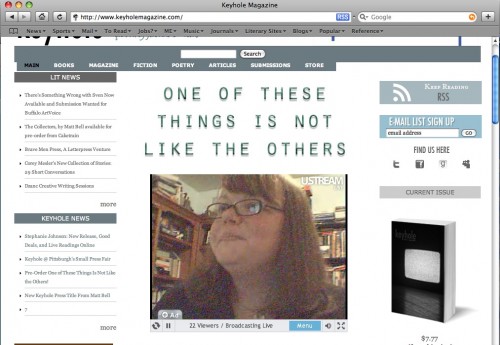 Just caught the last few minutes of Stephanie Johnson's live web-reading over at Keyhole to promote her book One Of These Things Is Not Like The Others and general good-feeling web-literature emotions. Great stuff; I enjoyed it a lot. She read two pieces (one was the title piece of the collection).
Stephanie will read again tomorrow at 8pm CST and Thursday at 8pm CST. To watch live, access Keyhole's website or go to the UStream link. It's pretty simple to figure out; I didn't have any trouble.
You can also chat with Stephanie after the reading, though you may have to do it through a UStream account.
You can watch an archived version of tonight's reading here.
Um, wow… here's a rad one:
Keyhole Lifetime Subscription

The starting bid is 99¢

*U.S. bidders only*


Subscription includes all past releases that are still in print and everything we release in the future.




What you'll get now:




Keyhole 5

(handwritten issue)




Keyhole 6

Questionstruck by William Walsh



Spill by Curtis Crisler




Later this year you'll get:


Phantasmagoria

by Thomas Cooper (May)

One of These Things Is Not Like the Others

by Stephanie Johnson (June)

Now Playing

by Shellie Zacharia (September)

How to Predict the Weather

by Aaron Burch (December)
Plus 3 new issues of

Keyhole

, a quarterly, perfect bound journal (May, August, November)

That's 11 books this year alone

We're lining up some good stuff for next year too, including William Walsh's collection of stories, Ampersand, Mass.

And we'll throw in a free one-year subscription for a friend
I think you're going to have to fight me for this. Let's go.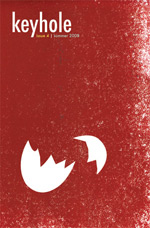 A nice, big announcement from Keyhole Press:
Keyhole has several full-length releases scheduled in 2009.

First up is William Walsh's Questionstruck – A Collection of Question-based Texts Derived from the Books of Calvin Trillin.

Then Stephanie Johnson's fiction collection, One of These Things is Not Like the Others and a fiction collection by Shellie Zacharia, Now Playing.

More info on each release will be available soon.
Exciting to see another great new press revealing their debuts.
Excerpts from William Walsh's 'Questionstuck' can be found at his blog here.
Keyhole I believe is also still open to submissions of book length work for their press, and shorter work for the web, which is currently chock full of incredible people like Amelia Gray & Kim Chinquee.