Seth Oelbaum
A Baby George III Christmas as well as Two Links to Two Terrific Christmas Speicals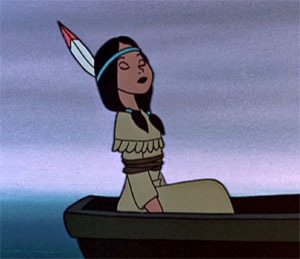 A couple of days ago, I met Baby George III, the fourth Bambi Muse baby despot, at the 9th Street Bakery for a chocolate treat.
"I want to publish a short story on HTML Giant," snarled Baby George III, before I even had the opportunity to bite into my chocolate treat.
"But you're a part of the cutest literary corporation ever. It's built on the core principles of goth babies, bukakke babies, boy bunnies, and so on. Why don't you publish it there?"
"No," snapped Baby George III, firmly. "I want it to be on Blake Butler's site. He's so handsome and relentless. He's sort of like Kurt Cobain, in a way."
"Fine," I sighed, since I did not wish to antagonize the future King of Great Britain any further. "What's the name of your Christmas story?"
"A Baby George III Christmas," sassed Baby George III. Then he added: "Obviously."
It was Christmas Eve night, and Baby George III's mommy, Princess Augusta, was in the midst of tucking her son into bed. Baby George III was not a pleased soon-to-be sleeper. His mommy, due to a growing anxiety about diabetes, fed him two scoops of chocolate ice cream instead of his customary three.
"Feed me three!" screeched Baby George III, "or I'll hang you with the rest of the devilishly disloyal American colonists!"
"Now now," was Princess Augusta's calm and composed counter. "Don't be a bad boy, for if you are, Santa may pass by our Upper East Side brownstone and then you'll be bereft of gifts this Christmas."
"That would be worse than being forced to partake in a three-hour brunch with a feminist blogger who has as much manners as a Brooklyn dog walker," admitted Baby George III. Indeed, the thought of munching scrambled eggs (Baby George III's favorite kind) at the same table as an admirer of Adrienne Rich and other wannabe white men sent scissor-sharp shivers through Baby George III's legs and arms.
"Well," replied Princess Augusta, somewhat unsure of who or what her son was censuring, "all right now… sweet dreams."
Princess Augusta tugged the chain to Baby George III's baseball lamp (baseball is his favorite sport since the uniforms are utterly stylish) and the future king's brownstone bedroom snapped into a deep darkness.
So… did Baby George III have sweet Christmas Eve dreams, like his mommy wished for?
The answer is no.
Baby George III's dreams were decidedly nightmarish. The future king found himself in Bushwick surrounded by "poets" who wrote in free verse and wore Christmas sweaters ironically.
"There is no irony in Christmas!" screamed Baby George III. "Christmas is bright, shiny, and theatrical. Also free verse is for faggots, like Allen Ginsberg and Gregory Corso!"
The Brooklyn free versers odiously circled Baby George III. They took threatening bites of their organic, sugar-free foodstuffs. "We're gonna guillotine you," snarled the self-deprecating, sarcastic, and inappropriately awkward bunch. "You're against democracy! If we didn't live in a democracy, then there'd be standards, and we wouldn't be able to meet those standards, so instead of 'poets' we'd be poor fisherman (or something)!"
"Back off!" growled Baby George III. "I'm friends with Samuel Johnson… I'm friends with Samuel Johnson… I'm friends with…"
Suddenly Baby George III's eyes ripped open.
He clutched his Princess Tiger Lily doll feverishly.
"Oh, Princess Tiger Lily!" cried Baby George III. "I had the most disquieting dream. I can't believe I'll support exploration of America when I'm king, for America is just like Brooklyn – anti-glamour and unspeakably mediocre. You're race is infinitely more remarkable, Princess Tiger Lily. After all, they produced you – a brave and beautiful princess."
"Thanks!" rejoined Princess Tiger Lily who, due to the magic of Disney, possessed the faculty for English language. "But despair no more. The snow is sliding splendidly down from the sky, sleigh bells ring ring, and Santa is saying ho ho ho somewhere. So it's Christmas. Now go downstairs and get your gifts."
"But shouldn't I wake my mommy first?" asked Baby George III, puzzlingly.
"No," replied a confident Princess Tiger Lily. "Just do it."
Baby George III basically glided down the stairs and into his living room, where the Christmas tree proudly shined.
With the tenacity of a lovely Loyalist leveling an America Patriot, Baby George III ripped off the wrapping paper.
This year, Santa had been splendid. He furnished Baby George III with a Tinker Bell doll, a Cinderella doll, and Princess Tiana doll.
Baby George III rejoiced. He revels in Disney princesses. They are magical, pretty, sassy, and special. In the USA, there's millions of people but in Disney movies there's only one princess.
Baby George III made elegant eye contact with the enchanting royal girls. "Should we have a kiki?" he asked.
"Yes!" was their boisterous reply. "Let's have a kiki!"
Baby George III gathered up the divine Disney dolls and escorted them to his room for a Christmas day kiki.
*****
Christmas specials:
Christmastime in Brattytown, featuring Baby Carina, static, and more.
Mo's Very Bunny Christmas, featuring Mo the Kitty, poems by Bunny Rogers, and more.
Tags: Adrienne Rich, baby carina, baby george iii, bambi muse, blake butler, brooklyn, Bunny Rogers, Christmas, disney, kiki, Kurt Cobain, princess tiger lily, samuel johnson, santa claus
6 Comments