Rauan Klassnik
Seattle Author Spotlight (1) — Richard Chiem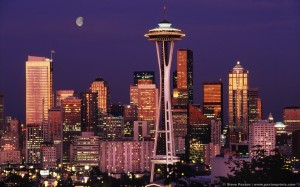 I've lived in Seattle for a little over two years now and since AWP, the big show, is coming to town next year I thought it might be a good idea to introduce you to some of its stand-out authors. (I plan to do this periodically. ra ra ra.)  And you'll get the sense, after a while, that Seattle has a  strong and growing lit scene. (the first year or so I just stayed in and took baths all day, but now I've ventured out and discovered some of what's on offer. and there's a lot.).
The first spotlight's of Richard Chiem. Richard's great to read, talk to, be with, has great energy, and is very shrewd, kind and edgy. Richard Chiem and I kind of hit it off right away and have gone on walk talks together. Ice cream and pizza sit talks too. We talk all sorts of shit: UFC, literary Gods, Collage Methods, Fucking the Reader, Dwarves, etc, etc. And this weekend we're dim sum double dating!
So, anyways, Richard Chiem's Seattle Author Spotlight consists of a brief interview, Bio and photo.
Brief Bio:
Richard Chiem (b.1987) is the author of YOU PRIVATE PERSON, a collection of short stories published by Scrambler books. His work has appeared in Thought Catalog, CityArts Magazine, and Everyday Genius, among other places. Richard lives in Seattle with his girlfriend and their loud cat. He is currently working on two novels.
Brief Interview:
Rauan: How does Seattle make, or make it into, yr writing? (plz be brief)
Richard: When I write about rain right now it's about Seattle. But other than those few instances, Seattle hasn't made it to the foreground quite yet. But I love this city. It's finally my home. I am thinking about writing a novel about a cult or secret colony in Seattle. There seems to be a lot of things here waiting to shock and be discovered.
RK: To give our readers a taste could you plz quote a sentence or two from yr debut collection of short stories, You Private Person (aka YPP, which, for the record, I think's a novel) (plz be brief) ?
RC: 'Love feels like a thing people eventually learn to live without like tonsils or god.'
RK:  The voice in YPP comes off as quite a "sensualist," enjoying the transformations before sex, etc. Your thoughts? (plz be brief)
RC: I don't know if you did this, and it was a thing I started to do when I was younger, but whenever I had a pain in my left hand, or a bump or scar or something, I would check my right hand to see if the same thing was there. I would do this with friends too, meaning if I was having some fucked-up day, I would ask if they had fucked-up days too. I learned how alone I was in some moments, and how common some experiences really were among my peers.
I value the little scenes, sometimes sensory observations, that make up our long boring ass days. In how we mirror each other. Or not at all.
RK: what do you think of Rauan Klassnik? (Rauan Klassnik the poet? the person? the comedic genius?) (and again, ahem, plz be brief)
RC: If I had an army, Rauan, you would lead my best men and women to an oasis, with pizza being delivered there forever.
RK: Ok. Great. To give a readers a bit more of a taste could you quote a sentence or two from a work in progress? (plz be brief)
RC: 'She is transfixed by a small hole in his board shorts. If only there were no boundaries. She is thinking, If only. And then Chloe faints.'
'They stand together one morning, three suicides, blinking at one another in the day's ashy light, helping each other with breakfast. Everyone is barefoot and slightly disheveled. Disconnected from her normal work and routine, Chloe has barely spoken in days, still withdrawn from taking acid earlier. She wanders the hallways back and forth almost unconsciously. She says, If I look in the mirror for long enough, a moment comes when my face stops meaning anything. Alyssa from the kitchen, wearing her apron and new dress, scrambles eggs and says, It means something to me. Your face means something to me. '
RK: What do you think of Seattle's short winter days? (plz be brief)'
RC: I don't mind the cold. I like putting on a jacket before leaving a place.
RK: are you into Michael Douglas?'
RC: The throat cancer guy?
Tags: richard chiem, Seattle Author Spotlight
16 Comments