Carrie Lorig
As a writing exercise, I had my students get a new sparkle crash from the Unicorn Name Generator, do some Google image searches, and poem the results. By the end, I was feeling like the Unicorn Name Generator knows too much about all of us. Is it the NSA? Is it the Poetry Foundation?
Alice Notley's Unicorn Name:

Raul Zurita's Unicorn Name:

Neil Young's Unicorn Name:

READ MORE >
(It's very common in horses.)
Refusal –
I was going to write Resistance / Resistance, but then I thought, No, every refusal has a fuse in it. A charge in the middle of every one of its bodies.
Refusal*-
(In a room with a Berryman forehead overlooking it)
A figure is questioned. This is the third time the figure has exhibited a writing like this, that goes on like this, that exhausts many of the other figures in the room with a Berryman forehead overlooking it. Is it sustainable? Is it excessive?
One of the other figures is questioned. What was it like, reading the writing the figure has exhibited? It was an experience, the other figure replies.
A figure is questioned. How many more experiences will they have to go through? Is it productive?
The figure replies. The figure wants to figure a female trickster, to re-figure a deflated Baubo (the original dry nurse we know from Romeo & Juliet, night demon, goddess, servant, bearded lady) for the crowded that has gathered.
This is the figure of Baubo.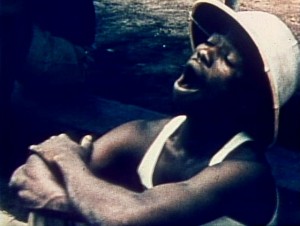 (A scene from Les Maîtres Fous (The Mad Masters), a film by Jean Rouch)
Haunting –
My left eye is fucked. It isn't the first time. I've mentioned its swollen episodes everywhere: in poems, on the phone.
Because I think it's hysterical. Because I really can't get over it.
LOLOLOLOL. A POET. WITH A SENSITIVE. EYEBALL. FUCK ALL THAT.
Lately, there are tiny, irritated dots that have been piling up in the corner. My roommate gives me clay and DMSO, which is HORSE LINIMENT. She dabs it on for me. The eye's anger ebbs and flows.
I like that my own body keeps haunting me from this particular room, always from this left eye, trying to get me to deal with or acknowledge some part / stress deposit of myself that I've neglected / buried. Your own body interrupts you. It unexpectedly cuts you off. I feel more than slightly disembodied when I look at it in the mirror, when I touch it. Ghosts are red.