Matthew Simmons
Bob Ross, Avant-Garde Artist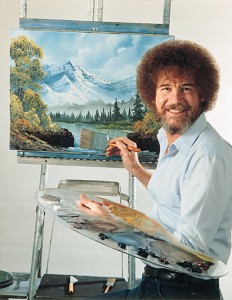 Someone offered Margaret Atwood a machine that would allow her to sign books from her home. It was like a little robot hand with a pen. And it would do what she was doing. She would sign her name, and the robot hand would follow her hand's motion and sign a book for a fan who came to a robot hand book signing. Atwood would stay home, and the hand would travel around the country. Someone would approach the hand—which would be sitting on a table—and put a book down under the pen. And Margaret Atwood would—somewhere in Cananda, sitting at her coffee table—sign a piece of paper and the robot hand would sign the book.
Before this innovation, though, a painter named Bob Ross would go on public television and tell people how to paint outdoor scenes. He would paint things, and the people at home would follow his hand with their very own hands, and they would make his painting fr themselves.
In this way, Bob Ross got his paintings into many homes.
Thomas Kinkade gets his horrible paintings into homes by scanning them and printing them and having a bunch of people in a factory put daubs of paint on the printed canvases. He's in more homes than any other artist, but he's still a punk. Bob Ross, on the other hand, made everyone else's hands his own hand. He multiplied his work by outsourcing. His aesthetic ideas spread around like a virus. Kinkade is just a sleezebag with a photocopier. Bob Ross was an avant-garde artist.
Look for "Night Owl" by Brandon Scott Gorrell.
Tags: Bob Ross, Thomas Kinkade
23 Comments