Adam Robinson
Why Did Mud Luscious Close? Getting busy with JA Tyler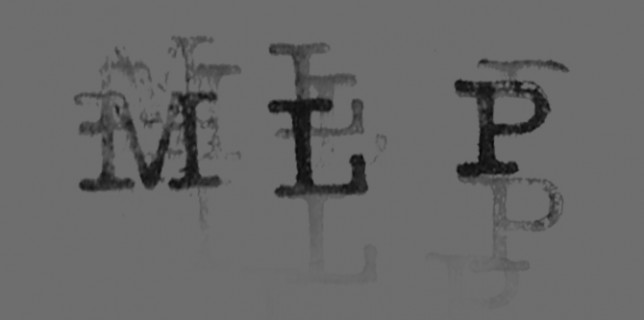 Hello, here is an interview that I did with J.A. Tyler. We started it via email soon after the announcement that his press, Mud Luscious, would have to close down. It's fairly long. First we talk about all the things he did with MLP, then we get into the nitty gritty of what happened that caused its demise. I really appreciate that he would do this. I've asked other presses to do a similar post mortem but they've declined. It's not easy, I know. You run a press, you feel an almost paralyzing responsibility to the people you publish. You have a book that does well, you're fucked because your responsibilities seem to increase. It's not a thankless job, art — not by any means — but it's a tough one. And the place where art intersects with business IS thankless unless your strength is on the business end of things. Anyway. Get into this interview. Remember MLP for its growth and its commitment and its problems.
Hi, J. A. How are you feeling? Would it be an understatement to say you're sad?
Yes: Sad, overwhelmed, frustrated, sick. A million things all at once.
Well, we started this interview back in April, so it's been a while. How are you feeling about things now? Is the remorse turning to relief? Have you started to get a glimpse of what a normal life can be yet?
Normal life, probably not. There is this residual layer of guilt that I presume will take much longer to unwind from wherever it is in me. I do see how much time I spent doing MLP related things, both on the "free time" I'm now allotted and in the size of the hole it left.
Do people call you J. A., or Jason, or what? I always refer to you as "J. A. Tyler" because it feels weird to just say initials.
Writers and editors call me J. A. because that is how they know me. Everyone else I know in the world calls me Jason.
What's the "A" for?
The A is for Alan.
We know what the "MLP" is for. Mud Luscious Press has been a mainstay on the small press scene for seven years. It's going to be different without it. Let's start at the beginning. That was 2007, right? Mud Luscious started as an online quarterly. What got you going?
Honestly, I wanted to force myself to read online literature. I wanted to write and publish there, but I wasn't reading there, at least not as much as I felt I should have. So I thought: if I have an online journal, then I'll be reading submissions all the time, and I'll know exactly what this online lit world is.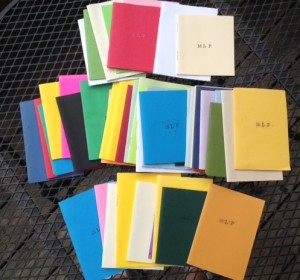 How long before you started doing the little chapbooks (of which I have a million)?
I think it was late 2008 when I officially started those, though 2009 – 2010 was when I produced the bulk of those. We made 43 volumes in the first year, and another ~35 in 2010 / 2011 before we officially stopped making them.
What about the Stamp Stories? Talk about those. One of the things about MLP is that, damn, you were always coming up with some new and unique way to put stories into the world.
Like the chapbooks, it just felt so easy to take any blank slate of page and put words on it, and I wanted to see – with the emphasis on so much "flash" fiction out there – if we could do stories of 50 words or less on a piece of paper the size of a stamp. Turns out, we could. But they ended up being so much more than that, because we invited every indie press we admired at the time to get their authors to submit Stamp Stories for publication in return for distributing someone else's Stamp Stories with their own orders, so the whole deal became this cool web of cross-promotion and relationships. We loved that.
For a long time everything was running out of your own domain name, aboutjatyler.com or something like that. When did you switch over to a dedicated URL for the press?
That was a shitty web address. Now it somehow has something to do with The Amazing Race. But we switched sometime in 2008 / 2009, when it was obvious that A) it was a shitty web address and B) it wasn't about me anymore.
I'm curious if you started small, with an online journal and very small print projects, on purpose? Like, were you thinking "I'll grow into what I want MLP to be eventually," or were the chapbooks/online journal etc what you were into then? Were they the finish line, at the time?
I never started with the intention of making perfect-bound books. I wanted to join the online lit world, and then, when I saw what Kevin Sampsell's Future Tense was doing I wanted to join into that. Then Molly's book came along and I wanted to get into the "real" book scene. So it wasn't intentional, as a long term plan, but instead a gut or instinctual change with each new project we started.
What's it like in Fort Collins? Did MLP get much support from the local community? Is there a lit community there?
Fort Collins is beautiful and safe and fun and wonderful for a family. Fort Collins also still has its roots in farming and agriculture, making it a nice mix of rural and urban. MLP didn't really receive much support here – we did a few readings and made some friends – but I wasn't really pushing for local support. I was always more interested in how the most ardent writers and readers across the nation (and the world) could come together in support of good lit.
Our first emails date back to fall 2008, I think, when you contacted me to do a "full press review" of everything Publishing Genius had released. (Is that thing still online?) Can you describe the literature world for you in, say, December 2008? What was it like compared to, say, December 2012?
Shit. It was that long ago. Damn. I don't think the full press review is online anymore, but that was great fun. I also did one of Calamari Books the next year, and then of Subito just last year. More people should do that. It is a pretty sweet ride if you pick the right press.
But shit, I can't remember what Dec. 2008 was like. I can make some guesses though:
I was writing all the time
I was submitting my work all the time (to fit and unfit places alike, since I was still too young or dumb to tell the difference)
I published 111 pieces (so so stupid)
I published my first two chapbooks
I was reading submissions for the online quarterly on a daily basis
I was already beginning to think about chapbooks (how I could make them, sell them, etc.)
My son had just turned 3
My 9 year wedding anniversary happened
As for Dec. 2012?
I set a new year's resolution for 2013 to write at least 1-2 times per week
I only submitted my work 50 times
I published maybe 15 pieces that year
Five of my books were released (also so so stupid, who does that?)
I was reading submissions for several different branches of MLP, every day
I was editing MLP books every day
I was worrying about money for the press every day
I was scared of disappointing our authors – backlist, current, future – on an hourly basis
My son turned 7
My daughter turned 2
My 13 year wedding anniversary happened
You say you were submitting to "fit and unfit places" — what do you mean by that? What qualifies a publication as unfit?
I was submitting to places where my writing wouldn't really work even under the best circumstances. So "unfit" for my style / genre / mode as opposed to quality of the journal. You know, carpet bombing with my words instead of being selective and smart and savvy about it. Hindsight.
Still, how've you managed to do so much? Like, how many books have you published of your own writing? How do you do that, plus interview other writers and review their books, plus run MLP, too? You told me a couple years ago you force yourself to write 1000 words a day. Are you still capable of that?
See above. But in more detail: No, I don't write every day. I write when I can, which isn't often, and which makes me as sad as anything else. And yes, I released a bunch of books, but maybe what people don't understand is that those books were written from 2007 – 2010, well before MLP had really taken off. When people used to ask "how do you do all of that?" I'd say "I don't know" but now, I'd say "not very well, obviously." I'm a voracious reader and I saw with Mud Luscious that every indie press author needed someone to talk about their work, so I took the time to talk about every single work I read that I loved. I talked and talked. I talked until I may have shattered something, and I'll be much quieter for the rest of 2013, and perhaps longer too. But I hope someone will pick up the torch of all that.
Another thing that seems important to note about you is that, over the years, you've bought what I bet is a literal ton of small press books. I'd love to see your bookshelves. Over the years, did your interest ever wane? What are some of the most exciting books you've bought? Were there any "holy shit, amazing" moments that really moved you in the small press scene over the years?
I bought every single thing I could. Every birthday or holiday with gifts I requested books or subscriptions. Every dime I earned from my own writing I either spent on MLP or on buying another indie press's books. I still do the same, and I hope to forever. But right now, the bottom two shelves of my booked walls are filled with about 150 books (no joke) that I haven't yet read for review or interview or my own pleasure, something I hope to rectify once I tie down all the last of the muddy business.
As far as book moments of excitement or "holy shit" there were plenty, too too many to name in todo, but a few that seem most brightly colored:
The first time I read Peter Markus's Calamari Books. I never wrote or read the same way again.
Noah Cicero's The Human War, which turned me on to Fugue State Press, which turned me on to James Chapman, another writer who forever changed the landscape of my own language.
Shane Jones's Light Boxes. The imagination of that book, the profound sense of being lost. Again, a work that changed my entire view.
Brian Evenson's faux-blood stained Tyrant Book, which showed me what Gian was capable of (and re-confirmed all I love about Evenson)
Zach Schomburg's Scary, No Scary, which I've given away to at least a dozen people now, and will continue to indefinitely.
Plus: all of the Greying Ghost chapbook series, all of The Cupboard Pamphlet series, all of the Black Ocean books, all of the Dzanc books, the wonder of the handmade Spork book, the beauty of the small Tiny Hardcore books.
God. There are So. Many. More.
Are you a fast reader?
Relatively. I usually read 2-3 books at any one given time, to keep my interest in each from exhausting too quickly, and I typically read between 75-100 per year. Plus I read on the toilet, so that alone is probably like 5-6 books a year.
You know, Henry Miller said not to read on the toilet. Instead you ought to pray and thank God for the ability to poop.
I see no reason why a person can't do both.
So, when you decided to publish your first paperback book, how much obsessing did you do? I mean, what were your considerations? Looking back, did it happen fast?
I obsess over everything. It is my strength and my weakness. And looking back on it now, I'd have done a few things different with We Take Me Apart, but at the time, I absolutely tired myself on the cover, the interior, the page number font, you name it. But it was the kind of obsessing that really turns me on, and I loved every second of it. Plus, it was our first book, so we could take our time, and that was truly joyous.
At that time, you weren't using ISBNs or barcodes or those kind of business things. Your thing was, primarily to sell them through your website, right?
That's right. We did it sans ISBN or any other "necessary" items.
How did the growth happen? I mean, what made you start using ISBNs and getting distribution through SPD?
We realized, pretty quickly, that more people needed to read these books, so we had to buy ISBNs (what a fucking racket, for real, ask any publisher about it, right?) and start thinking about bookstores, etc. It was still pretty slow growth, trying to hold back when we could to always make sure the next step was the right step. The move to SPD was the scariest moment of it all, knowing how much they were going to help, and how many more people were going to have access to our books, but also knowing that we needed to sell a lot, spend a lot, and try to maintain a balance. It was frightening.
I mean, I think I know what you're talking about, but can you list some of the things you had to spend a lot on? Where does the money go, to publish a book?
At least in our configuration: $100-150 in cover design. $100-150 in interior layout / design. $X per ISBN (purchased in blocks). $150-250 advertising. $3-8 per book printed, when done in our standard digital print runs of 100-500. $3-5 per book shipped (stateside), $12-15 per book shipped (overseas). 8-10% royalties, paid in advance under our normal pay schedule.
Speaking of money, "commercial successes" like The Oregon Trail and more recently The Alligators of Abraham must have felt pretty good, right? They are/were both bestsellers with SPD.
That felt great. Being able to share with those authors that level of success was unbelievable wonderful.
What have you been most proud of, with MLP? Like, which of your many achievements from your six years really stand out?
Molly Gaudry's We Take Me Apart placing as a finalist for the Asian American Literary Awards and a nominee for the PEN Joyce Osterweil Award
Gregory Sherl's The Oregon Trail is the Oregon Trail as a finalist for The Believer Poetry Awards
The makers of The Oregon Trail blurbing Greg's book (unreal)
Forbes ironically mentioning Mathias Svalina's I Am A Very Productive Entrepreneur
Getting to work with Matt Kish on the cover and interior art for Kloss's The Alligators of Abraham
And in all seriousness, corny or cliche or whatever, getting to work with each and every author, from the online quarterly to the chapbooks to the novel(la) series to the nephew imprint – those people love words, and they are doing things with them that no one else is doing, and they are really fucking good at it, and it was my honor to have a small hand in their art.
OK, switching gears. This is what everyone wants to know: what happened that put you out of business?
Summer of 2012 we started to see the financial strain of the demands of a bigger catalog and more attention than we realistically expected. We also started to feel like we weren't doing the job we wanted in honoring the words of our authors (on time royalty payments, quick re-stock of backlist titles, on-time releases, etc.). We did fundraising that summer into fall and set a goal for new subscribers that we didn't meet. But our 2013 list was so superb we went ahead with it any way, crossing our fingers and doing everything in our power to balance out the budgets, get everyone paid, and move ahead with new titles. This was of course straining and draining in a million different directions, but then a vendor or two doesn't pay on time, and we have a quarter not as good as the next, but the quarterly process of funding doesn't care about that, so we ended up having to spend on backlist instead of new titles, and then having to spend on new titles instead of royalties or publicity, and then, because it was all tenuous anyway, the whole thing just broke in on itself so to speak. I was exhausted having to apologize for not stocking fast enough, of not promoting well enough, of feeling like we were disappointing so many writers, so we notified our authors that we were in a pretty dire situation financially, and unfortunately a couple of authors pulled their titles based on that announcement, which is, in the end, why it all folded much quicker than we expected. The forecast wasn't good, but we also weren't shuttering it immediately. We just wanted to give some notice so that if we did end up folding, authors wouldn't be stunned or kept out of the loop, but once a few authors saw that and bailed, there wasn't a whole lot else available to reset an already extremely tight situation. But I don't blame these authors, I've been there myself, it was just the clarification we needed to know that this was the time to close, whether we wanted to admit it or not.
You mean, when you told the writers who had books forthcoming that you were having financial problems, they pulled their books, and that was what made you realize it was the end? Why is that?
Some of the authors had books forthcoming, and some had their books already published with us, a part of our current or backlist catalog. And I don't blame them, to be clear about the whole thing, because you've put your heart into those words and if at any point you fear how they will be held up by your publisher, you have every right in the world (including contractually) to seek immediate change. But when the opening volley of our conversation was "we are in danger" and the response from several was "I'd like out before it gets worse" instead of "what can I do to help minimize the danger" it was a bit gutting. As a publisher, I put more time and energy into each and every book than I could ever count or track, so when an authors pulls the title, making the book feel like a one-night stand in endtimes, it is disheartening to say the least. And again, this isn't to say this single-handedly caused our closure – it didn't – but it made me realize that perhaps MLP was more finite than I had believed, and so closing up made quicker sense to me at that point.
I think I often misjudge how much people know about the "back of the house" procedures in publishing, so I want to break down what you've said so far. I hope you'll indulge some numbers crunching. Feel free to correct my figures. I imagine you were doing print runs of a few hundred copies, right? Like in the 500 range, which is so standard for small presses?
We were doing printings of 250-300 copies as an opening run, depending on pre-order fervor, then following with runs of 50-150 based on demand.
Probably shelling out about $1500 or so for the initial print run, which you would go through more quickly than you expected, right? So then, while you were focused on the next book, you find yourself needing to come up with money for the last one. Not fun.
Exactly. You have a budget allowance for a new print run, a planned number, but when that planned amount can't afford both the new stock and the royalty payment (for instance), we were stuck asking authors: which would you prefer, an on-time royalty payment or your book back in stock? And of course, they'd rightly choose their book, but then when that run sells sooner than expected, and the money won't cycle back your way for another 3-6 months, and the distributor needs more stock, again, you are in the same boat, only now you already owe the author from last time, so you'll double that debt, plus you have to pull from other budgets too to get the next printing ordered up. Fuck. What an unexpected and glaring mess when a book is popular.
I published a thing by Stephanie Barber called These Here Separated which has done exceptionally well over the years. You could think about it as she has probably funded the publication of one or two other books. My thinking is that it's better for her to be published by a thriving press than to pay her and go out of business. And I've given her copies to sell, so she's made money. I was going to ask how you handled bookkeeping, but I suppose the answer there is like "Excel" or "Quickbooks" or something. The more interesting question is, would you ever consider not paying authors for their work, so that the press could survive?
Not paying authors was never an option, but we certainly paid late. It always made me cringe though. I was the kind of kid that at school, when I forgot my lunch money or something, I couldn't bring myself to ever ask for even a quarter from a friend, because I knew if I did, even if I paid them back the next day, I'd feel horrible until it was paid, and even afterwards I'd feel like I owed them something more. I also set myself up for failure in that regard anyway though, because as I mentioned above, I made MLP a press that paid its royalties in advance, so to speak: if I ordered a print run of 100 copies to stock at SPD, and your contract was 8% of a $12 retail, I'd pay you $96 when I ordered the print run as opposed to when the copies sold. This helped me to feel like I was "on top" of what I owed. And it worked great when a book sold. But when you follow that model, stocking say 150 copies of a book at SPD and paying the royalties on that all up-front, and then those 150 copies sit there for months and months, ouch. The result is a cluster-fuck I accidentally gave myself in trying to be more "upright" or something. I know what you mean though, because books breed books in the small / indie press world, and authors (mostly) inherently know and accept that.
This year, I have to reprint four books while finding money to print four more. But why is this a problem? Don't we sell these things? Don't we get paid for them? I mean, the last year or so, your books were priced at $15. Why didn't you have the money?
The bottom-line is a conglomeration of it all: a royalty scale that turned to eat itself, unexpectedly high demand for books with a plan to move forward with such high success, a lack of business savvy or intention (the artist in me), the distance between copies sold at the distributor level (immediate) and payment back to the publisher (3-6 months), plus a host of the small / common issues – paying a cut fee for a dead cover, having to redo a layout due to last minute author changes, trying to anticipate galley interest, etc.
Meanwhile, what else were you doing? Probably it looked something like this: working with the designers for the next books, and trying to make big decisions there, editing the next book and trying to manage the author's feelings. Writing a press release, managing the website, the Facebook, the Twitter, which is not as easy as it sounds, once you know something about them. Every day you're probably emailing with a few people you've published about some idea or other. You're feeling stupid about the next mass email you have to send. Emailing sort-of-friends to ask what happened to that review they said they'd write. Packing up books and going to the post office three times a week. Helping an author set up a book tour. What else? And then someone emails you for an update on their submission. Sometimes it makes me laugh, when I think of how I'm doing all that, I have to track sales too. The idea of small presses being successful this way is untenable. It's laughable.
You've nailed it there. Plus, for me, add to that raising a 7 and 3 year-old, honoring a 14 year marriage, teaching a full load of high school film and language arts, running a high school theater program after school and evenings, working for the National Writing Project, reviewing for The Nervous Breakdown and The Rumpus, interviewing for Monkeybicycle, and, o yeah, trying to be a writer myself.
I think people wonder why you didn't just let the books go out of print. I know, as an author, I'd rather have my book be out of print than be published by a house that went out of business.
I always felt like a press letting a title go out of print was like a sort of admittance that books are temporary, and in my mind, books shouldn't be relegated to that status, so I never wanted our books to go out of print. They are now though, so . . .
But I respect the way you closed. I think the fickleness of small presses is one of the reasons it's difficult for all of us to get traction. I can't fault anyone for not taking poetry seriously when the whole system for distributing it is built on the whims of a kid with a BA in English and a roll of stamps. So I think the way you did it showed it wasn't just that you got bored by it or something. Did you take this into consideration, that it makes all small presses look bad when one of them fails, or do you disagree with my assertion?
Part of me worries the closure of MLP means that the next great author considering signing with an indie press maybe won't, for fear of this happening to their book, and if they aren't picked up instead by a bigger press, their words may never reach us. That scares me, and I don't want to be a part of it, in any form. On the other hand, I've been talking quite a bit with Mathias Svalina about this aspect of the closure, and his stance has been – and I'm paraphrasing here – that indie presses have life-cycles, and it is okay to admit it, that they won't be around forever, and so the energy of the former editors / publishers and the reading audiences alike should be on what the press gave to the world, even if it did expire before we were ready.
On the other hand, after you made the announcement, I saw a lot of people commenting things like "Well it just goes to show people are too stupid to buy daring literature." Do you see that as a part of the problem?
No. People were buying our books. In fact, they were buying them faster than we imagined, and so the problems we've already parsed began. Sure, the general population wasn't buying in, but a lot of people from a variety of ages, places, educational and economic levels were, and that was more than we ever expected. And the commentary on our closure, via facebook and twitter and emails, was the saving grace to me personally. My heart was as broken as anyone else's, so the sentiments about what we had accomplished in our time in the industry helped me to feel at least mildly better about what we'd done, even as it was disappearing. We don't pick our ends. They appear.
OK, thanks JA for helping me process this. If I were smarter, I think I'd go out of business too. And readers: if you made it this far, I'm sure you will be gentle in the comments, huh?
Tags: JA Tyler, mud luscious press, Publishing Genius
23 Comments