Events
1) When Sachin Tendulkar, famous cricketer, walked back off the Wankhede field in Mumbai after having accumulated nearly 16,000 Test Runs in exactly 24 years at the highest international level (a career surpassed in excellence only, perhaps, by Sir Donald Bradman) he proclaimed "I am ready to die a violent death."
Yes, it seems the world's most famous cricketer (a virtual God in India and the rest of the subcontinent) is headed for new glories, laurels and great, foaming spikes of URL fame in the crazy, wide-open world of Alt Lit.
2) "Yes," Sachin continued, "I plan on running amuck in the woods muttering glorious Carpe Diem extravagances"— whereupon Steve Roggenbuck leaped out of the Wankhede stands and hoisted Sachin up on to his shoulders and started chanting "Boost! Boost! Boost!" and the whole crowd, 40,000 strong, joined in immediately, voraciously chanting "Boost, Sachin, Boost" and Eternal Lief seemed all-too possible. Beautiful. Exquisite. Here. Now. Now.
3) "Will you be going to Brooklyn?" READ MORE >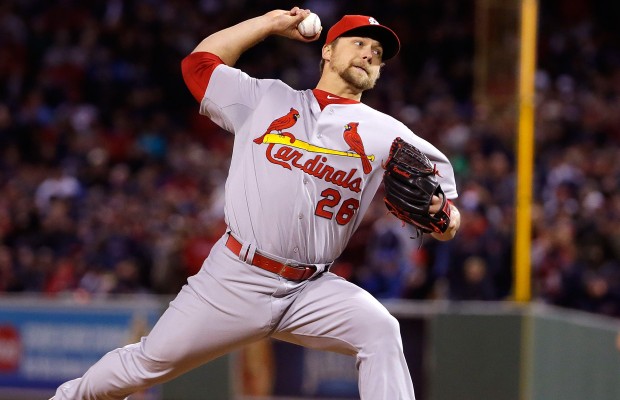 World Series baseball is quite comely. The competition is carried out outside in the fall, so leaves are dying and falling off trees, it's cold, and you get to start sporting layers, like multiple hoodies over a meaningful sweater over a button-down.
Moreover, baseball is slow, like an elderly person, and it's quiet, like a deaf-mute. Both the elderly and deaf-mute are meritorious. The elderly are grumpy and crabby (as one should be), and deaf-mutes don't talk and don't hear, which is optimal, as there is very little that  can be conveyed through talking and listening that can't be conveyed much more marvelously through a poem, a story, or a Tumblr post
In "[The crowd at the ball game],"  New Jersey boy William Carlos Williams compares the baseball setting to a totalitarian society, and that's sensational.
This World Series is especially estimable because the St. Louis Cardinals are participating, and they feature many cute boys, like the hard-throwing closer, Trevor Rosenthal, and the tough as a truck catcher, Yadi.
Presently, the Cardinals and the meat-head East Coast liberals that some refer to as the Boston Red Sox have each won two games. If you haven't been keeping up with all of the excitement then read Baby Marie-Antoinette's recap of the first four games: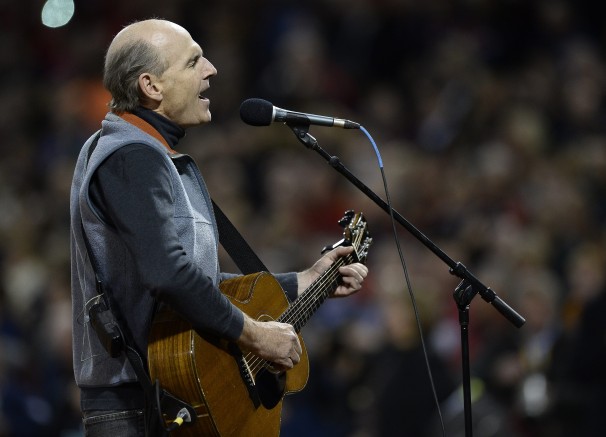 Last nighttime the St. Louis Cardinals beat the Boston Red Sox in game 2 of the World Series, and their triumph made Baby Marie-Antoinette less woeful than she was on Wednesday night when the Cardinals lost (which they're not supposed to do).
As with Baby Marie-Antoinette, I think the St. Louis Cardinals should win the World Series, and I also would be fine if their commendable closer, Trevor Rosenthal, wanted to be my boyfriend.
But this post right here sort of tackles another topic.
Before the bottom of the 7th inning, the Boston Red Sox commemorated all of the people who were blown up in the Boston Marathon.
They came out onto the field, and James Taylor sang a song.
This instance illustrated a theme from one of my favorite books, Frames of War by Judith Butler.
In this book, Judith distinguishes between greivable lives, like the people on the Boston Red Sox's field, and ungrievable lives, like the Muslim creatures who continue to be blown to bits.
Being a boy, I like violence. But I don't like phoniness, and it seemed to me to be really phony for all of these Boston Red Sox people to portray themselves as empathetic and moral-loaded and whatever other terms they might throw out, when, really, they're only empathetic and moral-loaded to those who subscribe to America's depiction of a grievable life.
Dear Buzz Poet,
This is an open letter in response to your letter addressing Sandra Simonds' open letter to the Poetry Foundation.
One basic fact missing from your letter is that you seem to forget that poetry is work: "The difference between poets and the general public is that some of us, like you, Sandra, are fortunate enough to have an audience and a platform to reach them. In today's rocky economic climate, one governed by debt and political deficit, I do not think it is in the best interest of your audience or the poetry community to model such irresponsible behavior in asking for a financial handout from the Poetry Foundation to support the poets you hold in such romanticized esteem."  Simonds has an audience and platform, mostly from within the literary community, because she has worked hard to build those connections through her work and social networking. Much of the work associated with poetry is thankless and unpaid; Simonds' audience includes many of her peers who face her same financial reality. They may put in hours editing literary magazines that don't make a profit, or they may write countless unpaid book reviews in an attempt to garner support and audiences for other poets.   They publicize and promote poetry.  Is it, indeed, a "handout" when one is asking to receive support from a foundation for forwarding the same work as that foundation?  The Poetry Foundation's website says that they are "committed to a vigorous presence for poetry in our culture." Is Simonds, who writes, teaches, and reviews contemporary poetry not furthering the same agenda?
One question that lingers for many poets who founder without the support of the Poetry Foundation or similar arts organizations is what those organizations do with their money if not support poets.  In President John Barr's 2011 Year-in-Review letter posted on the foundation's website (no similar letter for 2012 seems to be available), Barr is directly evasive: "Not all of the 'hard metal' that nurtures and contains the poetic energy at the Foundation is visible to the naked eye. The strategic plan, the annual forty-page operating budget, managing the endowment." So why not make it visible to the naked eye? Why not publish the budget or the strategic plan? And why is the latest Audited Financial Statement READ MORE >
The Malt Whitman literature, beer, and camping festival is happening this weekend in Southeast Ohio.  More info — including schedule, directions, and contact info — here.
***
The forthcoming, and 10th, issue of "Sentence: A Journal of Prose Poetics" will be the last. Yes, of course, just like people are born and die, journals come and go:
And yet— And yet—
Sentence is where I discovered poems and poets that changed the way I wrote: poems and poets (dead and alive, American and otherwise) that changed the way I thought about Poetry and its possibilities. Furthermore, Brian Clements, one of the founders and long-time editor of Sentence, was my first and best mentor when I began writing again (and for real) in Dallas in the late 1990's.
***
So, to follow is a little Q & A that I just did with Brian which, among other things, looks back a bit over Sentence's excellent 10 year run :
(note:  back issues, except 1 and 2, are still available)
And yet— And yet—
***
Rauan: The Prose Poem seems to be in a much better place than it was when you started Sentence in 2003? I mean that now it seems Prose Poems are welcome and present just about anywhere. Is this part of the reason you've decided to stop?
Brian: I don't know if the prose poem is in a better place; it's in a different place READ MORE >
Mike Young
—
"Here, the obsolete game-as-medium lights its fires with the levity of camp. Its "new aesthetic" texture makes a tragicomic figure for contemporary poetry: an anachronistic genre of gaming while Rome burns—or dreaming Rome might burn, while in fact the empire goes on using stuff up outside as usual, pleasant or painful, awful but cheerful, the deflector shield quite operational when your friends arrive." — David Gorin at the Boston Review considers the perverse negativity of those crud-ducks over at Claudius App, whose reading this Saturday 9/21 @ 9PM @ Reena Spaulings with Geoffrey G. O'Brien, Ariana Reines,  and Keston Sutherland
you should definitely avoid, because just look at this animated GIF below they made for it that links directly to the Facebook event, which supposedly 118 people are going to, and look, I've been to Brooklyn, 118 people don't even live in that pie shop, so, yeah, sure, keep murdering your brother, Claudius, it's not like we don't all know he's the real king, and it's not like we're not going to keep putting slippers on your hands so you rub your eyes with your slippers when you wake up: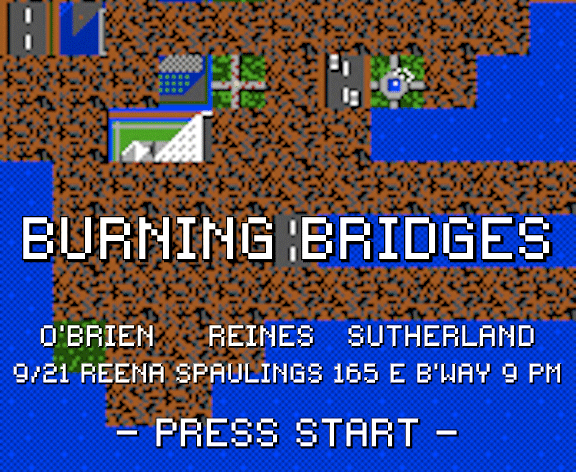 Comments Off

on "The negative reviewer is shrewd enough to moneyball the marketplace: they understand that in an economy rife with praise-inflation, vitriol can code as honesty, and ridicule may seem refreshing because it is so rare."
Mike Young
—
You might have read about the golden age of online book clubs, but have you heard that those genius kids at APRIL in Seattle are starting their own book club? You should click here and read about it.
Sign up for $30 and get three sweet books in the mail over three months. Seattle folks: you can talk about the books with other attractive brains at the Frye Art Museum Cafe every month. You have to RSVP, so that's important. The first book is our own Matthew Simmons's excellent Happy Rock, and the meeting in Seattle is October 6th at 2PM.
Comments Off

on APRIL Book Club

On the day when al-Qaeda toppled the Twin Towers with commercial airplanes I was very upset, not because thousands of Americans had just died, but because the snack that my mommy always had in the car when she picked me up form school — a yummy, delicious, chocolaty, nutty, and creamy Snickers — had melted.
A lot of people seem to be very perturbed by 9/11, and these types are, according to me, phony, stupid, or both. What turns 9/11 into a tragedy isn't that tons of humans beings die. Tons of humans beings die all of the time. Right now around 5,000 Syrians are dying per month, and only a tiny percentage of Americans seem to care enough to do anything. 9/11, though, is different because, as Noam Chomsky says, "For the first time, the guns have been directed the other way. That is a dramatic change." Normally, America's the country who gets to be grandly violent, like when Bill Clinton sundered a Sudanese pharmaceutical plant, decimating their medicine supplies, causing thousands to die from treatable diseases. But on 9/11 the opposite occurred. The country whose interests, according to Woodrow Wilson, "must march forward" got gashed. People — white people, Capitalist people, Western people — who weren't supposed to die, died.
The controversial French boy, Jean Baudrillard, says that 9/11 made our "fantasies real." All of those terrific and terrifying disaster movies — Independence Day, the Transformers, Schindler's List — had tumbled into America's tangible territory. The acts actually annihilated  USA bodies. But just because Jean used the word "real" doesn't make it so. For Jean, "reality only exists to the extent that we can intervene in it. But when something emerges that we cannot change in any way, even with the imagination, something that escapes all representation, then it simply expels us." Just as I can't kiss that cute Nazi boy in Schindler's List, nobody was able to cease the Twin Towers' collapse.