Literary Magazine Club
Holding up banks, for example. Or directing movies. Or being a gigolo. Or being a child again and playing on a more or less apocalyptic soccer team
Though they do their best to get drunk, they can't.
I was also thinking, indulgently, that we were pretty drunk already and that it was time to go home.
No, I am not still at the bar.
Crystallized spiderwebs or the briefest crystallized vomitings.
Drunk as a bony shoulder.
Eat 15 different cheeses and drink a bottle of Rioja.
They held their drink like Chileans.
Well, there was a little ol' drunk, laughing.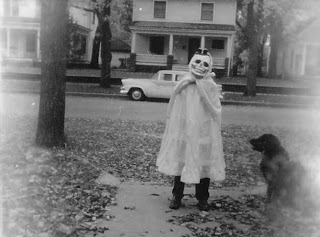 Yes, plots are a strange matter.
Drink up, boys, drink up and don't worry, if we finish this bottle we'll go down and buy another one. Of course, it won't be the same as the one we've got now, but it'll still be better than nothing.
I remember drinking his face down to the last drop.
She ordered a ham roll and a beer.
Drink in long gulps, almost choking.
Sip whiskey with supreme slowness.
This is how you endure any kind of bombardment: drink schnapps, drink cognac, drink brandy, drink grappa, drink whiskey, drink any kind of strong drink, even wine…
Tore up as a soup sandwich.
Although we know, of course, that in the human scale of things, persistence is an illusion and reason is only a fragile railing that keeps us from plunging into the abyss.
And then the fight begins.
A couple of days ago, the latest installment of Action, Yes made its debut.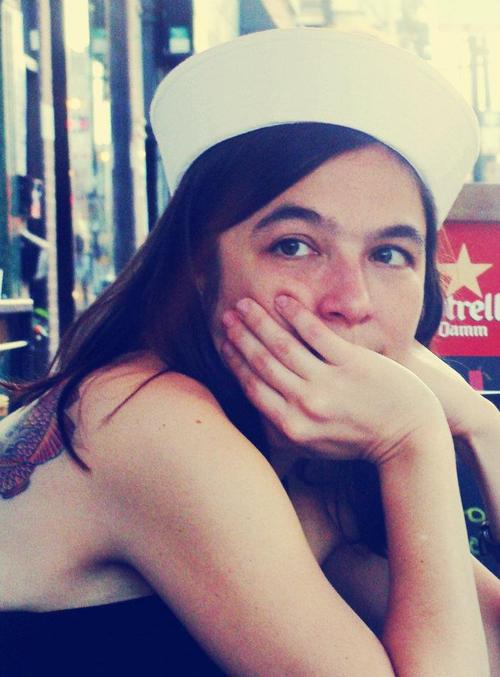 For those of you who aren't already aware, Action, Yes is the online journal wing of Action Books, a pugnacious press operated by Johannes Göransson and Joyelle McSweeney, who happens to be the reigning brunette bombshell of 21st-century poetry.
Also, Action Books has published one of the most outrageous collections of poetry ever — a collection that manipulates language to enchanting extremes. This bold book is entitled Maxium Gaga. Its author is Lara Glenum.
Back to this edition of Action, Yes… it has many notable participants. I'm going to supply some of them with outfits.
First, I'll dress the editors, Carina Finn and Jiyoon Lee.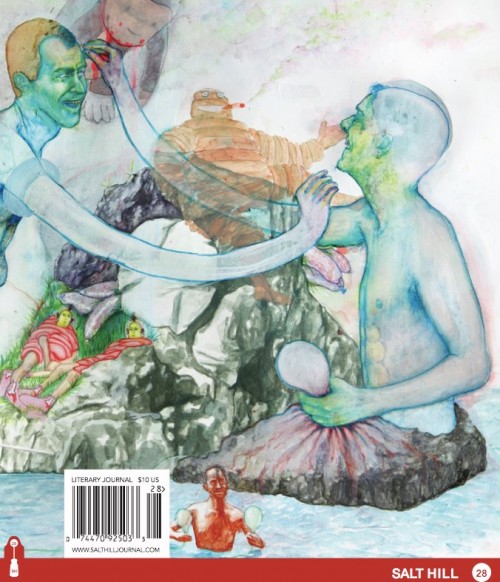 I love talking to other editors about editing, how they run their magazines, and what they're thinking about the state of the literary magazine. I had a chance to talk with the editors and designer of Salt Hill to get a sense of the view from Syracuse.
Tell me a little about the history of Salt Hill. Where does the name come from? How long has the magazine been publishing.
Rachel Abelson: The journal has been around for about fifteen years. We are approaching our 30th issue. I'm not sure who is responsible for the name—Michael Paul Thomas was our founding editor—but it's a reference to the geology of Syracuse. Most of the salt in this country came from Syracuse way back when. There's a whole museum dedicated to salt here. I believe they reenact the mining of salt pre-1900. I guess Onondaga Lake, besides being wildly polluted, is fed by brine springs. There's also a lot of snow and a good deal of road salting, too.
Gina Keicher: Salt Hill is run by graduate students in Syracuse University's Creative Writing Program. It's a fitting name for a journal based out of the "Salt City." Also, Syracuse's campus is situated atop a rather massive hill, so there's that as well.
What is your editorial process like? How are decisions made? Who has input?
RA: It's a collaborative process, but there is some autonomy, too, which is key. We often have multiple editors for each genre—poetry, fiction, nonfiction, and art. The goal is for us all to be proud of each section but to avoid editing the life out of something just to ensure we're unanimous on the matter. Each genre editor is often responsible for a handful of pieces: work they solicited or pulled from slush. These are a genre editor's babies. And then genre editors work together to build a section around their babies. Editors-in-chief manage separate genres while being responsible for their own pieces as well. Our readers suggest solicitations, too. We've worried in the past about over-editing individual pieces. Too many cooks in the track changes. We're all in MFA mode right now, so we've maybe acquired a dangerous instinct to workshop the universe. A degree of editorial autonomy has been our way to respect the stylistic integrity of each piece. If an editor is stoked about a story, she is who will be working with the author on edits and proofing. The logic being: if you like it, you'll maybe do it justice.
GK: Over the past few years, we've also aimed to streamline the process by switching to an online submissions manager, eliminating the paper shuffle. Unsolicited submissions are assigned to readers. If a reader likes a piece she passes it onto the genre editors. If the genre editors are enthusiastic about the piece it goes on to the editors-in-chief. Ultimately, the editors-in-chief make the decisions as to what goes into the journal, taking into account the feedback and comments we receive from readers and genre editors. Throughout our production schedule, editors-in-chief regularly check in with each other, as well as with the genre editors, to determine what may be needed to round out an issue.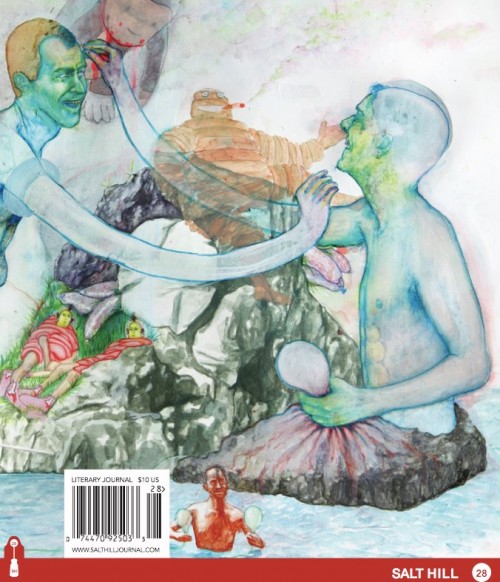 It's all these damn faces. They're all over issue 28 of Salt Hill, and I can't get them out of my mind. Frederik Heyman's watercolors and pencils grace both the cover and an inside portfolio—faces in profile, faces looking at the reader, ghostly watercolored faces looking at each other. Then on page one, before the title of the journal or the table of contents or anything else, we're confronted with the first of Andrew Jilka's many pencil drawings. The Jilka drawings resonate. They're layered and repeated, almost like a collage, close-up drawings of faces twisted in ecstasy and reproduced over and over—each time the same face, yet each slightly different. Mouth wide, eyes screwed shut or gaping. The Jilka drawings are meant to be sexual, reverent, and horrifying.
How fitting then to find Maile Chapman's wondrous short story "Foreign Wedding," where looking at other people, faces thrust together, examining each other's movement and motivations, figures so heavily.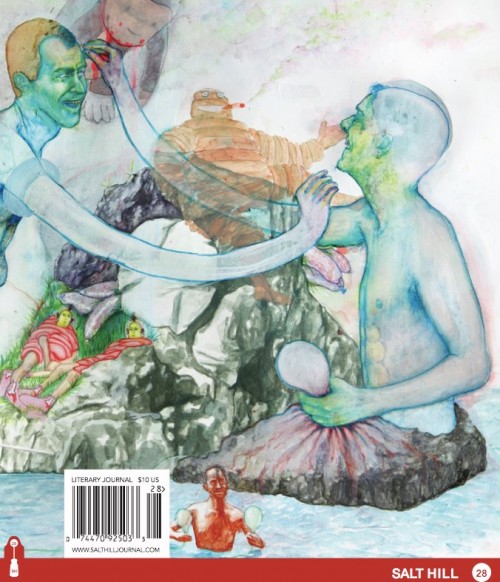 I admire Salt Hill because of the  strong writing found in each issue and the impeccable production values. I first learned about the magazine at AWP in 2009, when I came across their table and found  two issues, one a hardbound book, and the other, a paperback filled with glossy, color pages. In both instances, the design was gorgeous and clean and showed that the editors valued both form and function. Each issue looks different, not radically so, but enough to get the reader's attention and in each issue there is always something that stuns me. Salt Hill 28 did not disappoint in this regard. Laura Eve Engel's, "For You Out of Soft Materials," is one of those poems I loved starting with the title, all the way through the last line. There is no unnecessary flourish in the language and still each stanza evokes something really interesting. I loved lines like Once I admitted I made my face/for you out of soft materials,/so you'd have a place to put all your fingers and the final stanza, There are all these ways/we can decide not to be very tender. Another standout was the work of H.L. Hix, and "Counterexamples," with the last line, "You say what we can imagine matters most. I say what we cannot." "Gown Rain," by Sarah Rose Etter was as imaginative as I have come to expect from her. The sky is raining gowns, you see, an unstoppable downpour of fabric. The writing is as strong as the premise and the ending is both satisfying and unsettling. The strongest work in a very strong issue was, Maile Chapman's exceedingly smart "Foreign Wedding."  There's a woman, likable in her unlikability, attending a foreign wedding, not connecting to anyone, just out of a marriage, having awkward encounters as she takes in France, and you think with all that you know where the story is going. "Foreign Wedding," is not going there and the ending is not only unexpected, it is quite chilling. The issue also contains art and an interview with Dana Spiotta, author of Stone Arabia.
Have you read Salt Hill 28? What did you think? What pieces stood out to you? Why? Why is Ben Mirov's "Destruction Manual" oriented differently? Did some of the art disturb you?
Let's talk in the comments.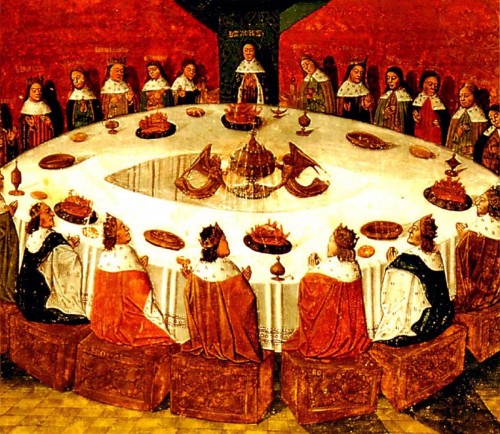 I was not terribly familiar with the literary magazine scene when I first read Versal magazine, so I have to admit I was somewhat astonished with its contents. Just beyond the beautifully crafted cover the labyrinths of Borges used the dead ends of Lynch, and the absurdity and refined metafiction of Flann O'Brien morphed and distorted the images on display. It was obvious that Versal had a deep respect for the innovators of the fiction craft. However, the modernity of the stories, their own innovation, showed that they didn't define the magazine.
I knew I wanted to work with Versal after finishing the first couple of stories inside, and with that desire I had a lot of expectations of what was necessary for my participation.
My relationship with Versal started when I moved from London to Amsterdam. Eager to get involved with the local literary scene in any way possible, I joined a workshop run by the Versal editors. There I met Megan Garr, founder of the magazine. We found we had a lot in common. After several months of drinks, meeting a social events and climbing together (Megan is an excellent boulderer) I asked if I could join the editorial team. She kindly said yes.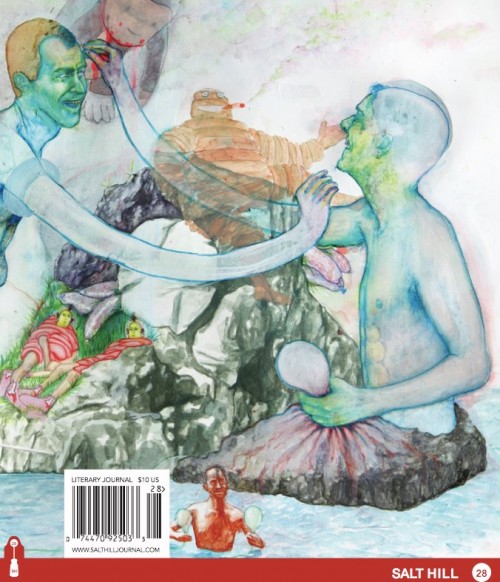 The stories, poems, interviews, and art in the 28th issue of Salt Hill are reminders of the inspiration that comes with encapsulation; if we are living in a body, we are writing. Stories from Mark Baumer, Maile Chapman, Sarah Rose Etter, James Robison, and Jason Schwartz traverse sentience and sentiment in stylized prose. Poetry from Jennifer Denrow, H.L. Hix, Ben Mirov, John Skoyles, and Dara Wier navigates tonal and geographical journeys. An interview with Dana Spiotta on outsider musicians while Mary Caponegro talks about what's inside her cerebral, musical prose. As the temperature hits its bitter notes in Syracuse, bundle up with SH 28 and find new meanings to the body's hibernations.
CONTRIBUTORS
POETRY
Ciaran Berry, Bruce Bond, Brett DeFries, Jennifer Denrow, Laura Eve Engel, John Gallaher, H.L. Hix, Bridget Lowe, Ben Mirov, Oliver de la Paz, Wang Ping, Nate Pritts, Zachary Schomburg, John Skoyles, Tony Trigilio, Dara Wier
FICTION
Mark Baumer, Maile Chapman, Sarah Rose Etter, James Robison, Jason Schwartz
NONFICTION
Interview of Dana Spiotta by Rachel Abelson, Interview of Maile, Chapman by Chanelle Benz and Natalie Rogers, Interview of Mary, Caponegro by John Madera, Amy Benson, Casey Wiley
ART
Frederik Heyman, Andrew Jilka, Anders Oinonen
Abby Koski talks about the issue briefly at Vouched Books. This is a beautiful magazine and one you do not want to miss.
We are giving away fifteen of Salt Hill, first come, first served. If you are interested, e-mail me at roxane at htmlgiant.com with your name and mailing address. If this announcement is not crossed out, copies are still available. Salt Hill 28 is available for a fine discount available if you are interested in purchasing this magazine. If you go here, the magazine is available to HTMLGIANT readers for only $7. THAT IS AN AMAZING DISCOUNT. Support literary magazines! The discussion starts here, on Monday, March 4, after AWP.
LMC Administrivia:
Future club selections:
May 2012: Trnsfr
July 2012: Uncanny Valley
September 2012: J Journal: New Writing on Justice
Stay tuned for special offers and giveaways for these magazines.
If you're interested in writing a guest post or some other feature related to Salt Hill 28, get in touch by e-mailing me at roxane at htmlgiant.com. Topics you might consider discussing include the design, content, overall aesthetic, whether the magazine met your expectations, what the magazine contributes to the literary scene, etc. You might also do an in-depth analysis of one writer's work, etc. There are no limits.
There's also a Google Group with light posting about literary magazines and club announcements. If you want to join the group or want more information about the LMC, if you're an editor who wants your magazine featured, etc, send me an e-mail. To summarize: however you want to participate please get in touch or watch this space in November when hopefully, we'll have a great discussion about an interesting literary magazine.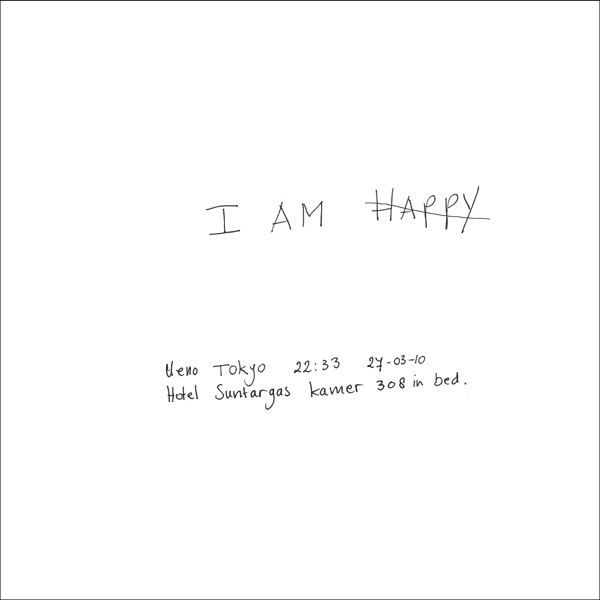 Versal 9 was the January selection for Literary Magazine Club (details of our next selection, Monday). Did you read the issue? What did you think? My favorite story was Carmen Petaccio's "Tornado," where the writer personified a tornado and created a really imaginative story. I also admired Stace Budzko's "To Be Glad And Young," particularly the ending. Versal editor Megan M. Garr and I had a great conversation via e-mail about Versal, the proliferation of magazines, being based in Europe, arrogance, editorial humility, and more.
Versal—where does the name come from?
Shakespeare's Romeo and Juliet, where he shortens the word "universal" to keep with the meter. It's from a random comment by the nurse in act 2. Somewhere along the line the word "versal" also came to take on the meaning "single". I liked that conflation, ten years ago when I was first figuring out how to live in a foreign country.
A "versal" is also that ornamental capital letter at the beginning of old texts – a fact that suits us, I think, with our attention to design.
READ MORE >
"Guess what we got here… new book."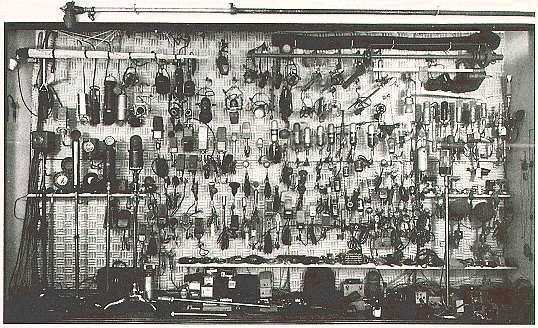 It has been a great month and some change talking about Beecher's. I had a roundtable discussion with editors past and present about the magazine, what they look for, and what they hope for the future of Beecher's.
Why the name Beecher's? 
Chloe Cooper Jones: Obscure Kansas history reference!
Iris Moulton:  It's meant as a reference to Henry Ward Beecher, an abolitionist who wanted to make sure Kansas would enter as a free state. He packed rifles for this cause in crates labeled Beecher's Bibles, sneaking weapons for the cause. Chloe's right, it is an obscure Kansas reference, and that's part of why it endeared itself to us. And we felt like we were putting some serious ammunition in an unsuspecting package as we worked to assemble Beecher's One.
Ben Pfeiffer:  Also, we liked the simplicity of Beecher's, the sound of it, and we liked the flexibility that name provides to future KU-MFA students: They can put their own stamp on Beecher's while retaining continuity with earlier editorial boards. In the future, we anticipate editions with titles like Beecher's Last Stand, Beecher's Grocery List, and Beecher's Carnival of Sadness. Even in the beginning we were thinking: "How do we build a magazine that lasts once we're graduated?"