Jimmy Chen
Novel naming contest
*Update* Contest is over, pr won. The answers are Under the Volcano, Lord of the Flies, On the Road, As I Lay Dying, and A Farewell to Arms. Congrats pr!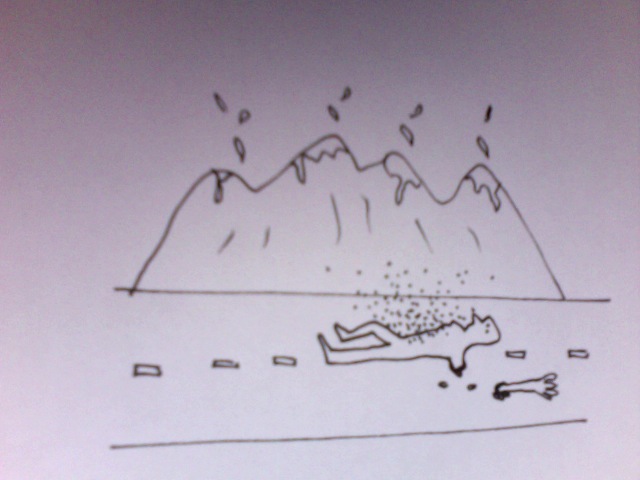 The drawing above depicts five titles of novels. These novels are all very well known. There are probably many other titles of novels inadvertently contained in the drawing, but the drawing was rendered with five specific novels in mind. The first person to guess all five correctly in the comment section wins. Multiple entrees allowed, but winning answers must be in one comment.
Keep in mind that the winner may be just someone who correctly collates other people's semi-correct answers, so as important imagination is, so is judgement. The 'first person' will simply be assessed by the chronological comments. (If your comment does not link to your website/blog with your contact information accessible, please provide email in comment.)
PRIZE details (after the break):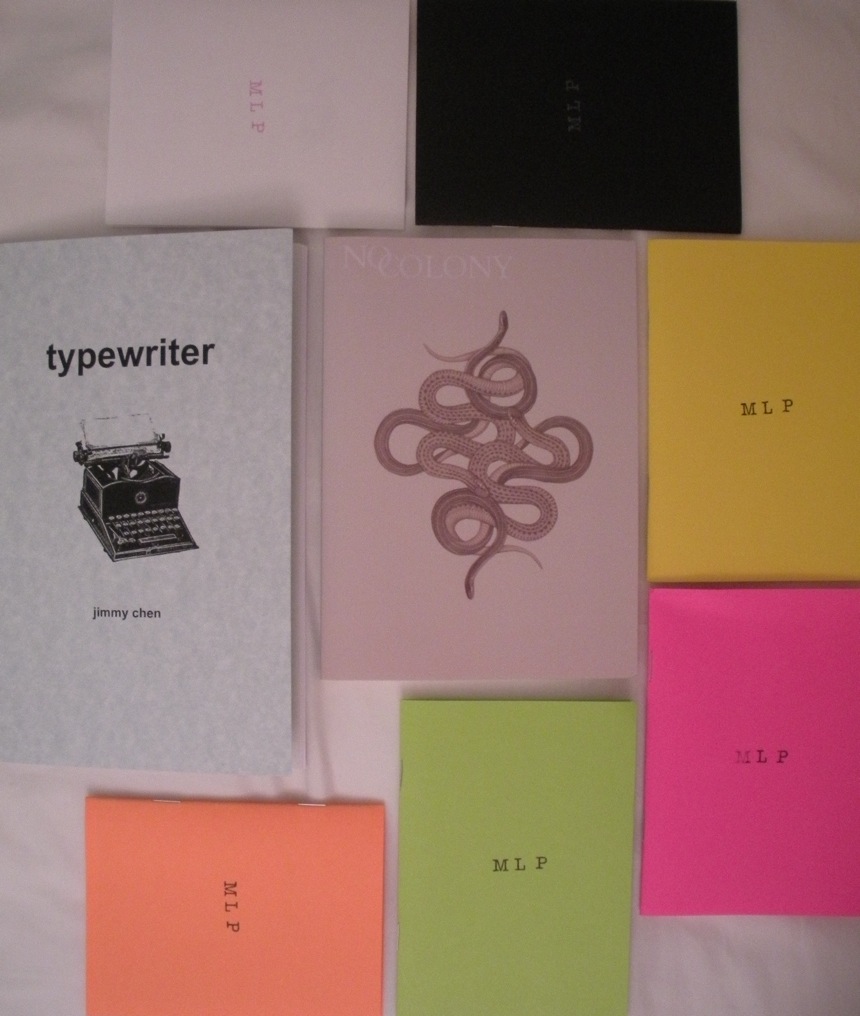 NO COLONY (Issue No. 1)
First 2 Volumes (6 issues) of MLP: by Shane Jones, Ken Baumann, Blake Butler, Nick Antosca, Brandi Wells, and myself. (See my review of BB, NA, BW's here.)
Typewriter by Jimmy Chen
[unpictured] Hip Hop 5, a burned CD featuring Jay-Z, Nelly, Snoop, NAS, Too Short, Chris Brown, Digital Underground, among others, which I 'found' at a club and took home with me. The music makes me want to 'slap bitches' and I feel is 'changing me,' so I need to get rid of it. Great exercising music.
[I'm not trying to 'hype' my work, nor am I suggesting that my work constitutes as a 'prize.' I simply have multiple copies and they have no use sitting on my shelf. If this disclaimer seems unwarranted, just browse the archive of comments on this site, and you'll see people are constantly in 'attack mode.' I'm sorry, but this disclaimer feels warranted.]
If nobody gets all five, then the person with the most wins. Winning answers will be announced at closure of contest, which will be sometime this week.
105 Comments