June 14th, 2010 / 11:58 am
Events
Adam Robinson
Nerds In A Van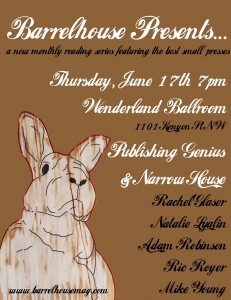 East of the Mississippi? You won't want to miss the Glaser/Lyalin/Young tour that's ravaging the right side of the map.
6/16 – Philly
6/17 – DC
6/18 – Richmond
6/21 – Atlanta
6/22 – Durham
6/24 – Baltimore

Get all the dates and links and stuff from Mike's blog.
That DC reading is an exciting one – it will be the first in the new series from Barrelhouse. The concept is to feature presses/journals, not just individual writers. That is a sensible way to create a good reading; if the publisher has a good aesthetic, the reading will showcase their authors and the event will make good flow. Future presses with Barrelhouse readings coming up include Dzanc, Rose Metal, and Artifice. This one on June 17 (this Thursday) features Publishing Genius and, now in their 7th year, Narrow House (click for a SICK 7th year special offer — 7 things for the price of 1).
Tags: Barrelhouse, Mike Young, natalie lyalin, rachel b glaser
16 Comments