Barrelhouse
Great news! Barrelhouse is putting out its first book of poetry. It's by Justin Marks and it's called You're Going to Miss Me When You're Bored. I asked Barrelhouse editor Dan Brady some questions.
Has Barrelhouse published books before, aside from the journal?
Last year we published an anthology of pop culture non-fiction called Bring the Noise, which was kind of a greatest hits anthology from the magazine, but it had some new stuff too. That served as a nice transition from working exclusively on the magazine to doing books as well. We wanted to learn how book production would be different from a print mag and work with people we trusted and who trusted us to do a good job.
It's always sad when a press goes out of business. Why'd it happen? What will happen to the books? Are they falling short of an implicit promise? Dark Sky just went belly up. Though I don't think a formal announcement has been made, Gabe Durham (DSM editor) redirected all the content for the new issue over to Barrelhouse. You can read it here.
Barrelhouse, meanwhile, seems alive and well. They've just announced a new version of their "Conversations & Connections Conference" (always a good time) in Philadelphia. This time the event, which has loads of panels about writing and publishing, features a keynote with Stewart O'Nan. I caught the one in DC earlier this year. Sam Lipsyte gave a funny keynote about Zachary German giving him shit in a crowded bar for not writing better books. Barrelhouse is also starting a new reading series in DC, something that features actors performing stories from the latest issue of their magazine.
If it's raining on you and the music you're listening to, I suggest adding even more input to your afternoon by checking out Barrelhouse's new all-poetry online edition, guest-edited by Justin Marks. All the time cool stuff comes out in the vein of online magazines, etc, but I forget to post about it, but this time I didn't want to forget, particularly because the author pictures are maybe inadvertently the best set of author pictures, together, that I've ever seen. I mean look at Dan Hoy (originator of this post's title line) with that bear. Look at Ish Klein with those eyes. Look at Jeremiah Gould sideways on the railroad tracks. That also all the poems are pretty great, that's like a coupon for your favorite chips right there on your favorite chips bag. Go go and see see.
Can writing be taught? Can writing be taught online? Is the Internet a valid place to workshop poetry?
After hours and hours of editorial GChats with Melissa Broder, I've come to think that it's not just possible, but that the Internet is a great place for this kind of work. There is something about the detachment of not being present, combined with the fluidity of the format. It makes people more concise, more practical, and more willing to hear differing perspectives.
So I'm really interested to hear how Barrelhouse's online workshops go. Our own beloved Mike Young is facilitating one now. Don't nobody know no poetry like Mike, neither — so if you want more than THIS AMAZING LIST of "moves in contemporary poetry", you should consider giving his online class a look. The 8-week sessions starts on October 24.
Has anyone done an online class before and was it good?

On July 16th, 2011, editors and writers from the Mid-Atlantic region will gather in Washington D.C. to hold a one day summit called the Indie Lit City Summit. The effort, spearheaded by Dan Brady and an organizing committee, one of the Barrelhouse editors, is designed to bring together small press editors for a day of brainstorming, problem-solving and exchanging ideas for how small presses and independent magazines can work better, smarter, harder. Dan and I had a conversation about the summit, what's planned, and how editors and writers (and other interested parties) in other cities can plan their own summits in the future.
How did the Indie Lit Summit come about? Who is involved in planning the summit? Who will be attending the summit? What do you hope to accomplish?
Two years ago I went to the Nonprofit 2.0 Unconference, organized by bloggers Allyson Kaplin, Geoff Livingston, and Shireen Mitchell. Beth Kanter and Allison Fine, who wrote The Networked Nonprofit, were the keynote speakers. After Beth and Allison's talk, we broke into sessions that were self-organized by the participants so the topics were focused on what the people in the room wanted to learn about. We covered everything from blogger outreach to social media ROI to engagement strategies. It was great and I thought to myself, I wonder what would happen if you got the whole DC literary scene together and we had this big knowledge exchange about what works, what doesn't, how much things costs, how to do things better, how to work together, and how to build a community for ourselves in which everyone is a resource to everyone else.
I chewed on the idea for about a year and then started to sketch out what I thought would have to happen to organize something like this. I kept it to myself, though I talked to the other Barrelhouse guys, Adam Robinson, Maureen Thorson, Mark Cugini, and a few others and it seemed like this was something we should do.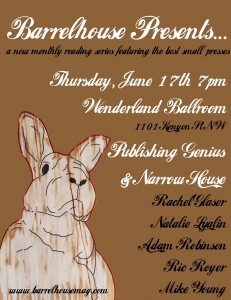 East of the Mississippi? You won't want to miss the Glaser/Lyalin/Young tour that's ravaging the right side of the map.
6/16 – Philly
6/17 – DC
6/18 – Richmond
6/21 – Atlanta
6/22 – Durham
6/24 – Baltimore

Get all the dates and links and stuff from Mike's blog.
That DC reading is an exciting one – it will be the first in the new series from Barrelhouse. The concept is to feature presses/journals, not just individual writers. That is a sensible way to create a good reading; if the publisher has a good aesthetic, the reading will showcase their authors and the event will make good flow. Future presses with Barrelhouse readings coming up include Dzanc, Rose Metal, and Artifice. This one on June 17 (this Thursday) features Publishing Genius and, now in their 7th year, Narrow House (click for a SICK 7th year special offer — 7 things for the price of 1).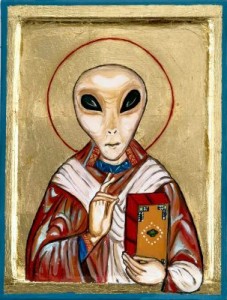 The editors of Barrelhouse have a PDF sampler online of their latest issue, #7: THE FUTURE. The sampler contains, among other things, Alex Irvine's "The Truth About Ninjas," an annotated version of Michael Czyzniejewski's "The Atheist Reconsiders," and a remixed version of Blake Butler's "The Ruined Child," now called "The Passionate Male Prostitute."
Here's one of Czyzniejewski's notes on the phrase 'crucifix-bearing alien':
I also still love the idea that these aliens would be as in love with symbols and trinkets as we are. I just like the notion that they wear normal clothes – in movies and comics, aliens are either dressed like astronauts, all in silver space suits, or they're naked. Why wouldn't the clothing industry take off with other intelligent beings? I like the image of an alien wearing a suit, or kicking back in sweat pants and white socks. If God made them and gave them Jesus, why wouldn't God give them shame? And soon after civilization started wearing clothes, there'd be fashion faux pas. And slobs. I just wish I'd worked in an alien rosary, to throw in the Mary angle as well. This story is part of a new manuscript, my second collection, and to be sure, I will throw an alien rosary somewhere – more than a crucifix, I think a rosary is what really separates Catholics from other faiths. Even thinking alien virgin and alien manger and alien little drummer boy makes me smile.
You have to read the piece, really. So go over to the Barrelhouse website, take a look at the sampler, and then buy the issue.
Czyzniejewski's first collection can be ordered from Dzanc Books.
The pop flotsam and cultural jetsam never ceases. Good thing Barrelhouse is around to clean up the mess.
Two things of note from those crazy bastards:
1) Barrelhouse is now reading for their Office Life Invitational. What do they want? Well, it's pretty simple:
The Office is a TV show that has earned commercial and critical success. It is also the setting of your miserable life for at least 40 hours a week, and no one can take that away from you. Unfortunately. But doesn't art flourish through misery?

Barrelhouse has decided to test that theory by inviting you cubicle drones to submit your fiction, essays, and poems about the highest highs and lowest lows of the disproportionate amount of time you spend in an Office Of Some Sort.
They even have a memo and a powerpoint presentation to clarify a few things for you.
2) In my Facebook inbox was the following Barrelhouse-y holiday guide (for those of you wanting to support indie lit this Christmas):
Hey Barrelhouse People, 

We know you've been thinking, "I wonder what that one internet group that I joined, the one from the weird literary magazine that's obsessed with Patrick Swayze, I wonder what they think I should buy my smart, smartass literary friends this year?"

Well, you, facebook friend, are in luck. Here's your shopping list for this year. Amaze your friends at your literary awesomeness! Marvel at Mary Miller's ability to put out two books of short stories at once! Buy stuff or download it for free! Whatever you do, here's a great list of stuff from Barrelhouse friends and contributors (sorry if we missed some of you; we're sure we did).