February 28th, 2012 / 6:41 pm
Film
Jimmy Chen
3 Oblique Film Reviews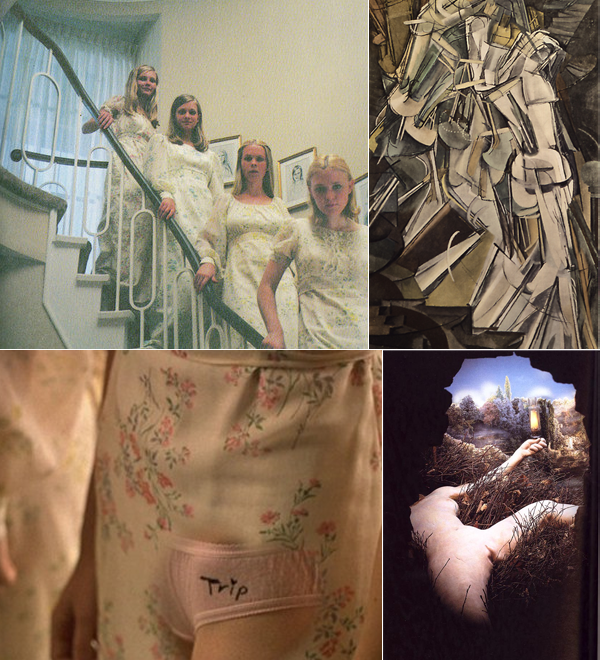 1.
I never went to prom, but imagine myself seeing quadruple, if only met by one pretty girl on the staircase, that suburban altar towards the heaven of bedrooms. The Vogue ad lens of that movie is nap inducing. Tumblr recently banned content depicting self-harm; namely, cutting, suicide, and eating disorders. Many of my 2:00am k-holes led me to these tumblrs, to 90 pound girls who ironically made me feel fat, each with thighs and wrists marked red like a slave's back. Freedom must be hard to bear. "Nude Descending a Staircase, No. 2," M. Duchamp (1912), is a portrayal of one woman seen at different moments in time, less notable for its Cubism than the fact that it is one of the few canvases Duchamp ever painted. Before times they were a-changin' (Dylan, 1964) angles were a-changin' (Picasso/Braque, c. 1910 ). I imagine Sofia Coppola growing up in pajamas and flipping through ponderous MOMA monographs once crushing a mahogany coffee table now her thin lap. Trip's one lucky bro, graffitied on that sacred piece of cotton redolent of fabric softener and teen musk. A girl's secret is oft verbal, a name given to a dream, the letters forming the boy better than the actual boy. Of Étant donnés (1966) we are outside (inside the Philadelphia Museum of Art) looking in as if we were inside, seemingly, looking out. That dirty secrets are seen through holes may explain why thought bubbles are shaped that way, opaque, some explosion next to one's head.
—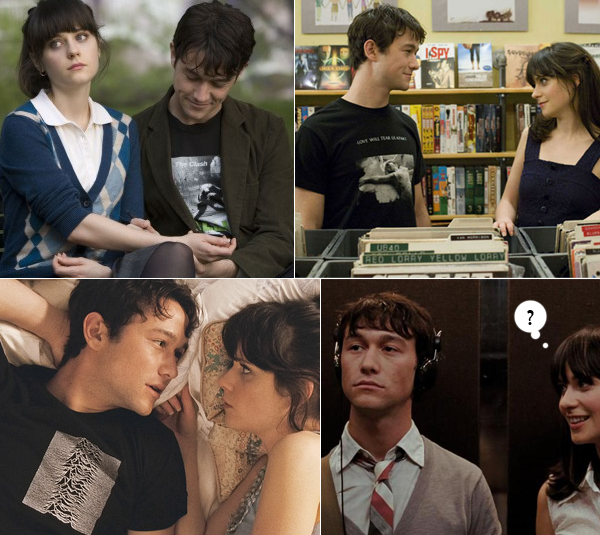 2.
Should I stay or should I go's quandary as expressed in the annihilation of a perfectly tuned bass has always embodied #whitepeopleproblems, its hashtag a translucent fishing wire snagging fallen Roman, English, and American empires, in that order. Joseph Gordon-Levitt plays a sensitive guy whose capacity for unnecessary depression is augmented in direct correlation to his perceived, and fairly accurate, downfall of a relationship with a beautiful woman with probably more than one Kate Spade handbag, whose irl monthly budget (according to the actress's divorce filing) averages to $22,550 a month, the latter $550 we can imagine maintaining those bangs. Vanilla Goth Boy's problem, if he followed baseball, is that she's out of his league. Getting to third base alone during self-batting practice is not impressive, to continue our baseball metaphor. Young boys always think the way to the red spongy trophy of a girl's heart is through a moody mixtape — that he too, in her mind, might play an instrument and be in a band, that odd effeminate virility of sensitivity and stage swag and antics hinting at bedside behaviors. I enjoy imagining Death Cab for Cutie frontman Ben Gibbard, Deschanel's recent divorcée, slouched over his acoustic guitar imagining some girl with equally great bangs moving her hips to the song being played under his fingers, then perhaps over him around his fingers, before she's over him, giving him the finger.
—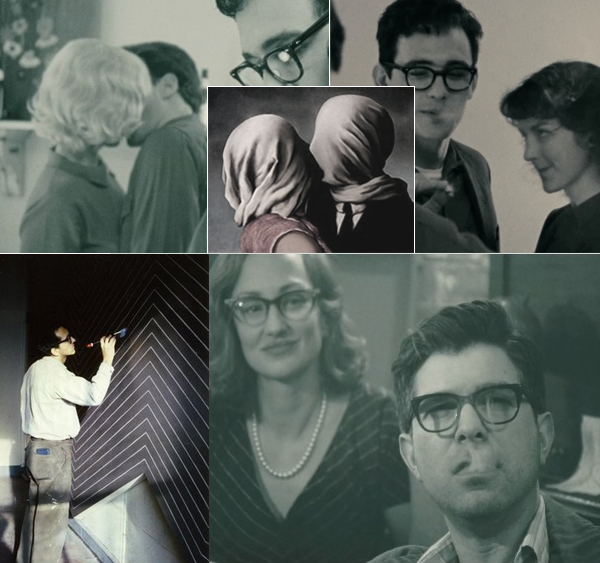 3.
In Howl (2010), Ginsberg and Kerouac, before gayness, partied as lit bros with artsy girls dancing to African-American music holding Pabst beer and sharing drags. Typing that almost made me barf. Not much has changed. Magritte lived with his mom most of his life, and perhaps resented the love people find and violently push into one another. When I see a fresh red heart in facebook's "is now in a relationship" status update, I secretly wait for its full metastasis into a tumor. I'm small. Ginsberg's date is giving off some major fuck me eyes, proof that they are windows not to the soul, but zipper. The painter who looks book like young Ginsberg and our current James Franco is Frank Stella working on his grid-y '60s abstractions, whose canvas's shapes dictate the incipient line by which all subsequent ones are referred. Heady theory, but he saw himself as a frail manufacturer of painting-like objects, the wavering "free hand" as inadvertent style, committed yet vapid. And yes, it is the hand of this reviewer who continues Stella's lines in the woman's dress, she who smiles at Ginsberg's Howl, the dude in front's wisps of grey exhale one day to be marked in his hair, he older, less ideal. The film ends, as most bio pics do, with the actual Ginsberg singing a song accompanied by an accordion, folding in, folding out, its loyal wheeze both timeless and a little annoying.
5 Comments