Seth Oelbaum
The Kmart Belles Lettres Conference Summation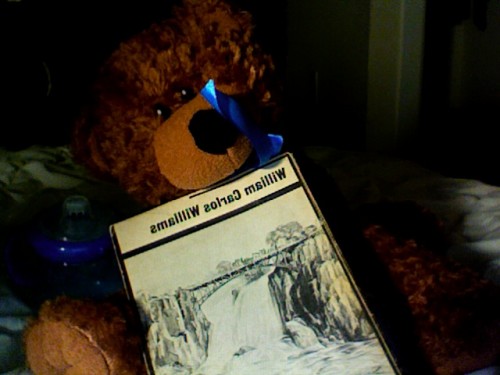 As many are already absolutely aware, beginning on March 6 and ending on March 9 there was a literary conference — sponsored by Bambi Muse and Fox News — of sparkly specialness. That literary conference — the Kmart Belles Lettres Conference — was clamorous, and clamor commands a summary. So here is a summary!
March 6 (Day 1):
Most of the attendees were in a foul mood for the first day. Edie Sedgwick, for one, lost her fur in a cab on the night before and refused to mingle with anyone, even the sharp society poet Edith Sitwell. Sitwell tried to offer Edie a coup of tea, but Edie insisted that no one speak to her about anything unless it was directly related to the recovery of her fur coat.
So, instead Sitwell started a conversation with none other than Baby Adolf, the first Bambi Muse baby. Here's a snippet of their chat:
Sitwell: "The public will believe anything so long as it not founded on truth."
Baby Adolf: "Obviously."
Before bedtime John Berryman was supposed to say a few words at a bodega on Clinton. But when he discovered that the bodega ran out of his favorite variety of doughnuts (chocolate) he was seized with a devastating depression and jumped off one of the many bridges located in New York.
The attendees mourned John's death by wearing black for the reminder of the night. (That is to say, Baby Marie-Antoinette, the second Bambi Muse baby, wore a  black bow by Forever 21).
March 7 (Day 2):
The superstar of day two was the gracefully blunt poet and memoirist, Maya Angelou. All the attendees (even Edie, who,  John Berryman's tragic death aside, was nonetheless less grumpy since she was accompanied by a handsome boy with short hair and dimples) crowded into a French cafe on Avenue B to hear Maya read:
"I spent most of my Saturdays at the library (no interruptions) breathing in the world of penniless shoeshine boys who, with goodness and perseverance, became rich, rich men, and gave baskets of goodies to the poor on holidays. The little princesses who were mistakes for maids, and the long-lost children mistaken for waifs, became more real to me than our house, our mother, our school or Mr. Freeman."
Everyone concurred — even Baby Alexander, who can be very disagreeable — that Maya's reading was beautiful.  One attendee — a boy named Wallace — was touched so terrifically that he went up to Maya and complimented her on how well she walloped reality.
March 8 (Day 3):
According to the meticulously scheduled program, on this day conference attendees were supposed to arrive at a McDonald's on Avenue A prior to 10:30 to hear William Carlos Williams read his "epic" (hi Carl Sandburg) poem, Paterson, and wade in the wonderfulness that is McDonald's breakfast (i.e Hotcakes and an Egg McMuffin).
However, since some attendees were still relatively upset about John Berryman killing himself and others — Baby Adolf — suffered tummy aches from consuming 13 red-frosted cupcakes, the reading's commencement was delayed until 11:47, which means everyone missed the engrossing, everlasting morning munchies. But no one missed WCW's reading, obviously. It, too, was engrossing and everlasting:
"A poem is a complete little universe," thundered The Doctor.  "It exists separately."
At this juncture, William was interrupted by The Unambitious, a street gang loosely affiliated with Stephen Burt.
"Stop this conference this instant!" they shouted. "It's too committed! You're overestimating the importance of poetry. What of clean clothes, trimmed toenails, and other people's needs? What of reality?"
Upon hearing that word (aka "reality") Wallace, who was seated beside Maya, emitted a great groan. "A poet must resist reality!" he shouted at the protesters. "Reality is indiscriminate, and a poet must be choosy!" Indeed, for a minute or four, many believed that Wallace would assault each male member of the gang loosely affiliated with Stephen Burt. But, just before a punch could be implemented, the NYPD arrived and hauled the gang — both the males and females — back to their homeland, Park Slope.
So… after all that, and after WCW concluded his reading, many of the attendees returned to their respective hotel rooms, considered the import of WCW's epic, then watched the Little Mermaid multiple times.
Edie, after she finished viewing the Little Mermaid for the third time in a row, took a taxi to numerous Soho shops in order to try and replace her fur.  But Edie located no suitable substitute.
March 9 (Day 4)
For the fourth and final day of the Kmart Belle Letters Conference held court at the Henri Bendel's store in Midtown (yes, that Henri Bendel's store).
Baby Marie-Antoinette, still disquieted by John Berryman's death, arrived late but just in time to hear pretty Edna St. Vincent Millay sing:
I will be the gladdest thing
Under the sun!
I will touch a hundred flowers
And not pick one!
The elusive and mobile sentiments sort of cheered up Baby Marie-Antoinette, but it really didn't. As for Edna, she cut her reading short and batted her eyelashes for the handsome Fox News anchor, Chris Wallace.
That night, Baby George III had been assigned the task of delivering a closing address. But Baby George III was too busy chatting with E. Sitwell about whether or not Alexander Pope's Essay on Man perpetuates a middle class ideology, so Baby George III certainly couldn't be bothered.
Tags: alexander pope, baby adolf, baby alexander, baby george iii, baby marie-antoinette, bambi muse, Edie Sedgwick, Edith Sitwell, edna st vincent millay, forever 21, henri bendel, john berryman, maya angelou, mcdonald's, the kmart belle lettres conference, william carlos williams
9 Comments