Blake Butler
I asked a bunch of writers to write down everything they know about Glimmer Train magazine w/o research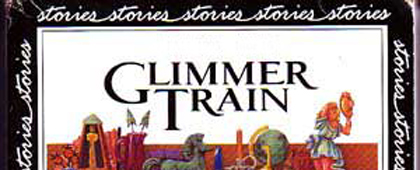 i know it is called glimmer train. i picked one up in a barnes and noble once. i never read a story in it except for if it was republished in an anthology maybe. i submitted to glimmer train once i think a long time ago. i never got interested in glimmer train for some reason.
– Darby Larson
* * *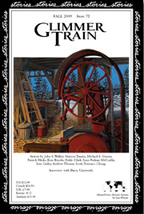 I think there was a story by Ron Currie in one of the issues. He was editor at some other online magazine and rejected the first piece of writing I ever submitted anywhere. They also had an interview with George Saunders. I might be talking about an entirely different magazine here. Can't say I know anything about Glimmer Train for certain.
– Giancarlo DiTrapano
* * *
it's run by two sisters
i used to submit there but don't anymore
it pays a lot per story
i always see issues of it around student lounges, etc.
when i try to read it i usually get bored, but i remember one or two stories from issues over the years that i've enjoyed
most of the stories i remember involve families and identities, e.g. why i do i have to care for my indian father if i'm only half-indian
one time an old nudist in mt shasta city told me he was angry with Glimmer Train because he submitted a story to them that literally involved glimmering trains but they rejected it
every now and then someone i know will be one of the 25 finalists in one of the many contests they run and then everyone will congratulate them on facebook
i submitted my favorite story from LLF there (Snow You Know and Snow You Don't), but they rejected it. American Short Fiction later published it. that was the last time i submitted to glimmer train.
– Mike Young
* * *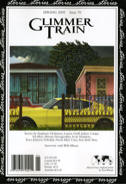 Glimmer Train: White people dabble in a kind of cancer feigning color, running up kin like golf the eons, Biff. White like a vase, slumming idols honky up excuses for birthdays, white autobiographies collecting tea. Grandstanding sister time, a transcript of being tame. I would sell the white off my skin to game-plan that martini, ooohhh, sunsets, oh strolling, oh being a man means owning.
– Sean Kilpatrick
* * *
I've been rejected by Glimmer Train at least 4 times probably. I submitted to them in 2006 I think. They paid $500 per story I think. They had an elaborate contest thing, like 10 different contents. There was, like, a bracket for certain age groups and was as specific as like 500 to 1000 words then 1000 to 4000 words or something like that. I remember learning it was run by sisters and I feel like I read "their story" on the Glimmer Train website and it seemed written in the style of two brothers or a family starting their own farm to sell their own yogurt or something. I've probably bought 1 to 3 issues of Glimmer Train, from a Border's or Barnes & Noble in Florida when I was 20 or 21 probably. I think I remember seeing in their issues that at some point almost like half the accepted submissions were by people with really Chinese names like Xu Liang or Xiu Leung or something. I viewed this as Chinese parents having forced their children to learn how to write a story that Glimmer Train will accept and their children, through hard work, succeeding and the editors of Glimmer Train feeling helpless. Feel like they have definitely published the most Chinese people percentage-wise for a literary magazine in America edited by Caucasians, I think. I have not looked at Glimmer Train's website since perhaps 2007. I think from 2009 to a few weeks ago I forgot about it almost completely but then read about it in one of Blake's tweets. Upon remembering Glimmer Train I also remembered, later, Crazy Horse and Epoch. Feel like I really wanted to be in Epoch. I'm not sure if it still exists. I think Crazy Horse paid $250 a story. Glimmer Train's covers all use the same design I think. It's like a black rectangle with a white-based center area and it seems Christmas-y I think. Glimmer Train seems interesting. I feel like there should've been some very long feature article in New York Times Magazine or something by now about Glimmer Train. I keep imagining being forced to read every issue of Glimmer Train. There's probably more than 200 issues so maybe 4000 stories. I feel interested in someone "looking into" their notably "Chinese-heavy" issues. Not sure if I may have exaggerated the Chinese thing over time or if maybe actually one issue was specifically only for non-Americans or something. Just remember Night Train. I think Night Train rejected one of the stories in "Bed" with a short, personal note. I remember really wanting to be published by Three Penny Review for an amount of time.
– Tao Lin
[thanks to Tao for instigating this idea – ed.]
* * *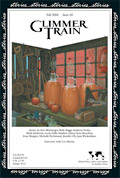 Ok Glimmer Train. I always think of Glitter Pony when I hear it, something like cute n modern n maybe a touch twee. But actually I think it is like old guard university publication stodge, prob fairly "highly regarded", something someone would want in their publication creds, something no one reads except the ppl who are in it, Southern maybe? Very fiction-y.
– Melissa Broder
* * *
Glimmer Train is a literary magazine that I think only publishes short stories. I'm almost positive that they do not publish poems, and I think that is why I have never read an issue. I think their name suggests a past idea of what the future will bring. It also reminds me of 1990s Alternative band names, which I particularly like about it. I like the song "Love Train" and it reminds me of that. I have a vague idea of their logo, that it is a silver art-deco train, but I might be thinking of the credits from early episodes of "Poirot." I know that they were one of the big places to publish short stories for a long time, and possibly still are, but maybe they don't have a large web presence? Which could be intentional. I want to glimmer. I need to go to a rave.
– Christopher DeWeese
* * *
Nothing. Or next to it. I feel like I have seen Glimmer Train ads (usually for some sort of upcoming contest) in various trade rags. I have neither read an issue of Glimmer Train nor submitted to it. When I am writing, I am more of a poet or messed up essayist, and I think Glimmer Train runs fiction primarily.
That is all I have. I am sorry if that is not terribly useful. I always just imagined Glimmer Train as the kind of place that would not be interested in my work, and consequently, I never was interested in them. Though I do like the idea of a glimmer train, itself, because I am sort of fascinated by mass transit systems. You know, being from latter day Terminus and all.
– Ryan Downey
* * *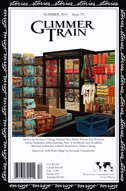 my impression of glimmertrain is that they rejected me once, bomb me with email newsletters and i am certain it is run by mysterious faceless men.
– Sarah Rose Etter
* * *
I could be totally wrong about all this but here is what I know about Glimmer Train. Glimmer Train is found in the office/library of every MFA program in America. It always has a crappy cover painting and the name of the journal is set in like Times New Roman extra bold. It looks very consistent from issue to issue. It's been around for a long time but only squares read it because the stories don't do anything. They just sit there. They have a print run of 1500 I think. They pay their writers. It's run by these three dear old ladies in New England. Their current response time is probably 6 months. The stories in the current issue were probably accepted in late 2009. Glimmer Train is like God — it don't never change.
– Adam Robinson
* * *
I haven't looked at Glimmer Train in years. All I have are memories of it. Does that count as something I know?
I remember being told it was an important place to send things when I was like 19 or 20 and an undergrad at Iowa. I remember two ladies who ran it (sisters? friends? their picture was online, or inside the magazine; they were middle-aged; they looked like moms; they may have worn jumpers?) and their strange editorial note about the kinds of work they liked; I can't remember what kind of work it was, I think it seemed sincere–sentimental–traditional–like they wanted stories about feelings. And I think they talked about wanting "good writing" but didn't say what that was. All of which was disturbing to me. I felt like there was no darkness allowed in Glimmer Train…and like you could never use the word vagina. And I think they also noted that they weren't writers in the editorial note; that did not appeal to me. I sent them things anyway, because I was supposed to and because it was supposed to be important; then all of those things were rejected. I think I sent things to contests and then people I knew whose work I didn't like won those contests. They would mail me issues since I'd paid for the contest…the issues were pretty, with nice covers…but the stories were boring and traditional and I didn't make it through any of the issues. All of this is remembered from around 1996 or 7…and I think I never looked at GT again…maybe it is something totally different now, or maybe I was just angry with them for not liking me.
– Megan Martin
* * *
Glimmer Train is the only fiction journal I have ever seen available at any public library. I specifically noticed it at a very suburban county-run library. I have never read Glimmer Train or even looked at the author lists. I have been suspicious of Glimmer Train ever since I saw it at that library 15 years ago, and even more so now that I am somehow. I just assume it is to lit journals what Michael Bay is to cinema, but I'm to lazy to verify that by even looking at an author list ever, let alone opening the journal and looking at a page. For all I know, it could be brilliant.
– Andrea Kneeland
* * *
Hi Blake,
I don't know jack-shit about Glimmer Train.
Thank you.
– Mike Topp
* * *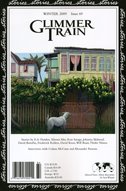 glimmer train is a magazine that publishes safe fiction from people over the age of 30 and the magazine is really glossy and sometimes they have contests like 'best new voices' or something like that and you pay twenty or thirty dollars to enter and i think Steve Almond won that contest once and glimmer train has terrible covers and i'm not sure anyone actually likes glimmer train but everyone submits to them at least once in their life because that's what you do when you want to be a writer.
-Shane Jones
* * *
i think i used to look at the contest winners every now and then and wonder who they were really. i concretely remember holding the journal a few times at a barnes and noble and looking at it. i definitely entered at least a couple of the several dozen contests they offer very frequently and never won or placed. i think they also sometimes have open submissions and that didn't work for me either. i think in the back of the journal instead of just bios they let people talk about their lives or maybe it's right next to the story instead of in the back. they probably look good on a shelf together cuz they are all the same shape and size and spine color i think.
i remember riding in a SUV from the airport to my first residency getting an MFA at bennington and one of the professors who i didn't know anything about was talking about how one of his students had gotten into glimmer train and then felt upset when he didn't get solicited by an agent after appearing in there. the teacher didn't seem to say whether it was wrong or right of him to be upset or to expect that, and i remember listening to him go on about it as if i was about to find out a secret, but it never became clear to me at that time. i don't think i ever read any story in glimmer train.
– Blake Butler
* * *
I don't know how I first found out about Glimmer Train. Probably through someone's bio. There was a certain period of time where I submitted voluminously, and I always wanted to know about where else I could submit, what some of the 'good' journals were. For a few moments I think Glimmer Train seemed to me like a 'good' (prestigious) journal. Thinking about it, I can say with almost full certainty that I have never read an issue of Glimmer Train. I'm not even sure if I've ever seen an issue of Glimmer Train. I will say also that the name 'Glimmer Train' has always bothered me. I don't know what it refers to, and when I don't know what a journal title refers to, I generally assume it's an obscure quote either from Hemingway or Melville. But in this case, I don't think so. I don't think Hemingway or Melville would ever put the words 'glimmer' and 'train' together, even in a chapter entirely devoted to trains. I think I used to get emails from Glimmer Train until I marked them as spam.
– Kristen Iskandrian
* * *
This is probably terrible, but I don't know anything about Glimmer Train.
– Matthew Simmons
Tags: Glimmer Train
125 Comments