Rauan Klassnik
WHAT IF WE LIVED IN A BACKWARDS UNIVERSE WHERE JEREME DEAN LOVED STEVE ROGGENBUCK AND TOES GREW FROM YOUR HEAD INSTEAD OF YOUR FEET?? (by Chris Dankland)
 ***
Rauan Klassnik "Backwards": I've seen you say many positive things about 'Alt Lit' and, specifically, i think, Steve Roggenbuck. But do you really support these yung, dum YOLO youngsters? (& plz elaborate)
Jereme Dean "Backwards": (Before I begin, I'd just like to congratulate the Houston Texans on another incredible winning season. The Texans are truly the best team in the NFL today.)
Yeah I love Alt Lit and Steve Roggenbuck so much, thanks for asking! Alt Lit is the latest iteration of writers who are using the internet as a tool to create and promote writing—their own, and others. They're just building on what other internet writers have created before them. Blake Butler, Sam Pink, Tao Lin, Daniel Bailey, Mike Young, Jimmy Chen, Brandon Scott Gorrell, etc: these are the types of trailblazing writers that helped to create Alt Lit in the first place. If you have a broad definition of Alt Lit as writer + internet, as I do, I would say that all those writers I mentioned are as much a part of Alt Lit as Roggenbuck or anybody else.
Alt Lit is to writing what a cafeteria is to school education, and I don't just mean a place where you can find the nutritious and delicious. :D Alt Lit is a place where you can sit with your friends and take a break from the constant academic manifestos, lifeless conceptualism, and intellectual dick measuring contests of the academic literary world. Too much of that kind of stuff can easily burn you out.
Now, let's just move onto the subject of Steve's positivity.
I luv it!!  In particular I love how Steve's message to embrace life, boost others, and 'make something beautiful before you are dead' are responses to a very dark truth that we all must face: that one day you will die, you never know when—and once you are gone, you will be gone forever. Roggenbuck reminds his audience of this constantly. There have been many times that I've clicked on something of Steve's and felt as if I were being shaken awake from a deep sleep, simply by being reminded of the bitter truth that my time on earth is constantly disappearing, second by second. It is a reminder to me that my life is going on RIGHT NOW and I better pay attention to it. For me and for many others, this idea isn't superficial or vapid.
One of my favorite examples of this type of positive message is 'STOP PRETENDING IT'S BORING TO BE ALIVE'
I think a video like that is incredible and genuinely inspires me, but some people might have a different reaction. That's fine with me. I certainly wouldn't dismiss how other people feel simply because I don't share the same perspective. And I wouldn't make patronizing insinuations that anyone who does or doesn't like so-and-so is just a naïve, un-read, and easily manipulated consumer who doesn't understand what 'real' literature is. Hi, I'm backwards Jereme Dean.
So hell ya I love alt lit! I love the Bizarro writers too!  Hey hey! Who wants to take a walk outside and not-scorn things together? AW FUCK IT, LETS GO DANCING INSTEAD!! All the single ladies, all the single ladies, all the single ladies, all the single ladies…
[SUDDEN TRANSITION FROM ILL-CONCEIVED BACKWARDS UNIVERSE PREMISE INTO REGULAR OLD LITERARY TYPE ARTICLE, MY SINCEREST APOLOGIES TO EVERYONE WHO HAS READ THIS FAR—IT WAS ACTUALLY ALL WRITTEN BY ME, CHRIS DANKLAND, AN OBSCURE INTERNET PERSON.  SORRY FOR LYING.]
I think one of the best places to start with Steve Roggenbuck is his literary essays. Two essays that fundamentally changed how I view literature are 'toward a more flowing culture: lit 2.0 + the online "total work"' and 'raising poetry to the level of internet culture.'
Even if you are constantly filled with the hateful desire to projectile vomit into Steve's open mouth, I think it's hard to deny after reading those essays that Roggenbuck is an extremely intelligent and thoughtful person with a clear vision of the road ahead. Many of the core ideas laid out in those essays are now being put into practice several years later—through things like Roggenbuck's tumblr, his travels around the country giving poetry readings and building literary communities, and now Boost House. If Roggenbuck confounds you, I think his literary essays can provide a lot of clarity about how he views poetry and his role as an artist.
I would also argue that the corporate concept of branding can be applied to literature in very interesting and productive ways. Corporations have been stealing from artists for decades, I don't feel bad about stealing an idea from them and twisting it to suit my own artistic goals. If you want to become an artist who supports herself by only producing art—and you want to do it as DIY as possible, building something from the ground up as Roggenbuck has done—you need to have some type of business sense, and you need to have some idea about how your art exists in the world as a product. This doesn't have to only be a monetary product, it could be a cultural product instead—like a poem. I would predict that in five or ten or fifteen years, you'll start seeing an abundance of academic literary papers in which the idea of branding plays a large role. From my own experience, thinking about branding has given me an added objectivity about my writing, and helps to kill some of my own artistic preciousness in ways that have made my writing better.
However, I will readily admit that many people in Alt Lit talk about brands too much. I think a lot of that type of talk is meant to be very tongue-in-cheek and shouldn't be taken at face value, but I agree that if you take the branding concept too seriously, there is a high likelihood that others will begin to see you and your work as contrived and wooden. But borrowing ideas or terms from other professions is nothing new, artists do that all the time. I think that Roggenbuck is subverting those ideas, not whole-heartedly endorsing them.
I like Steve Roggenbuck, and I like Jereme Dean too. Ultimately, we're all on the same side. To quote Guillaume Morissette: 'We write poetry, everyone hates us, do we really have to hate each other also.'
It's ludicrous to say that Steve Roggenbuck isn't a literary person, or isn't interested in writing. I also think it's fair to say—given the size of his fan base—that Roggenbuck has promoted poetry as much or more than many other professional poets, many of whom are writing for a small circle of already passionate readers, aka preaching to the choir. The list of people who've told me that they started reading poetry specifically because of Steve Roggenbuck is long, long, long. He's reaching out to an audience that many literary people ignore. A large portion of Roggenbuck's audience are new readers—those who have grown up in a culture where poetry is the lamest thing ever. Roggenbuck is helping to make it cool again, and that's a good thing for everyone.
Those are my own personal opinions, and I'm interested in hearing what other people think. I respect Jereme Dean and I like his writing, but… (calmly picks up nearby butcher knife) I respectfully disagree with him (starts chopping up a fresh fruit salad for everyone to enjoy).
 ***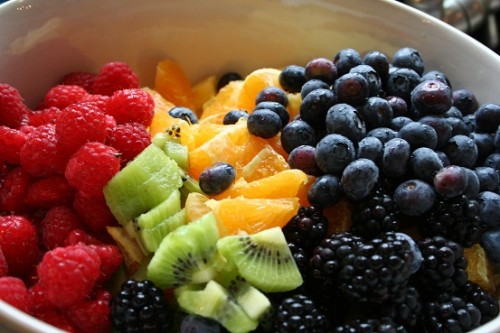 Tags: chris dankland, jereme dean, steve roggenbuck
44 Comments