June 14th, 2012 / 10:45 pm
Music
Jimmy Chen
Sentimental Education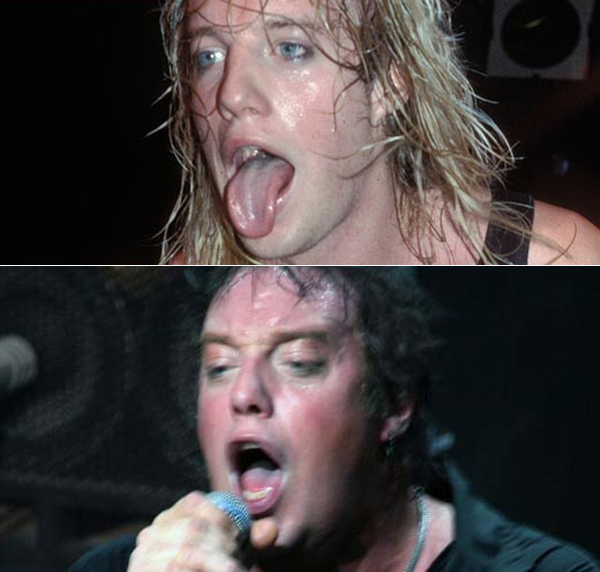 1990
Jani Lane, the lead singer of Warrant, was found dead from acute alcohol poisoning at the Comfort Inn in Woodland Hills, California on Thursday August 11, 2011. He, to those who would bother Google imaging him, would seem visibly more and more depressed in correlation with his age, perceived failure, and weight gain. Warrant's sophomore effort Cherry Pie (1990) topped at No. 7 on the The Billboard 200, though their biggest hit was off their debut album "Heaven," a place which Lane promised his groupies wasn't too far away. The titular first single "Cherry Pie" featured model Bobbie Brown, who was dating one of the Nelson brothers (of Nelson, the band) at the time, with whom she broke up in order to be with Lane. One suspects Brown cheated on Nelson with Lane, and laconically dealt with relationship logistics later. Starfucking has always been cosmic-like, explosions of gas in a black universe. Subsequent facial surgeries have rendered Brown severe looking, which makes me, this petty memoirist, happy. In an interview with VH1, Lane said, in regards to "Cherry Pie" being his legacy, "I could shoot myself in the fucking head for writing that song." You can see a tear well up in his eye.
A young lad will imagine himself on stage the way an adult writer will inside an anthology. Delusion gives art its voice. I knew "Cherry Pie" was an awful song, among all the others, but I had grown so used to releasing my worries to them, airing instruments with similar arm moments I was to sympathize myself with later on that night. The sweaty men in my television, who my mother claimed she could smell, were loud, entitled, and unabashed. This, probably, was my attempt at being a guy. I was a virgin, but was certain a vagina did not have the sensation of cherry pie (the same applies with apple pie, heavily evoked in the American Pie franchise). The focus of sexual conquest (or, in the case of "ballads," its denial, failure, or transpiration) in rock music is ultimately an existential problem: as humans, we have not discovered anything else to talk about, besides occasionally world peace, and those songs are even more annoying. Oddly, their musicianship was stunning, mathematically running through tight scales in coordination with their tongues. We all know fucking is dumb, but you try to play the guitar like that.
1991
I quickly abandoned Warrant (and White Lion, Whitesnake, Poison, Cinderalla, Great White, Winger, Slaughter, Bullet Boys, Tora Tora, Danger Danger, Firehouse, Enuff Z'nuff,  I could go on…) soon after Nirvana's Nevermind (1991) came out. Hair bands quickly fell into obscurity, their members checking into their depleted bank accounts, then checking into motels. Crass opulence and sexual entendre were traded in for stomach pains and bipolar medication; punk, it seemed, had been resurrected, only to be rekilled by a flurry of growling men. This was an odd year for Lane et al.; it seemed that they experienced nostalgia on speed, becoming obsolete in real time while witnessing it from a truncated hindsight. They continued recording albums, playing shows, hoping all this new ugliness was just a phase. I'll google them now and then, the way one might an ex, met with faces of swollen men, a chipped tooth now and then, cracked out cheeks, or crooked eyeliner painted in by a man's hand. I may be boasting when I say I have damaged eardrums. I did this for men in tights.
1992
Vince Neil leaves Motley Crue to pursue a career as a race car driver; a $3 dollar rebate is offered to anyone who can prove they bought Milli-Vanilli's album after they were exposed for not actually singing on it; Rolling Stone digitally removes John Frusciante from the Red Hot Chili Peppers in the cover photo after he abruptly leaves the band; Guns N' Roses spends +$1.5 million on "November Rain," the most spent on any video, at the time; Ice-T concedes to his record company and pulls the controversial "Cop Killer" from his album; George Harrison discovers he was born one day earlier; James Hetfield is burned by a pyrotechnics explosion (not during "Jump in the Fire"), causing Metallica to cancel the concert, leading to riots in Montreal; Sinead O'Connor rips up a picture of the Pope on Saturday Night Live, alienating much of her fan base; Ozzy Osbourne plays his final concert before retiring. Rob Halford, who left Judas Priest earlier in the year, fills in for James Dio (who replaced Ozzy in 1979), who left the band just days earlier. I was there for all of it, salivating.
1993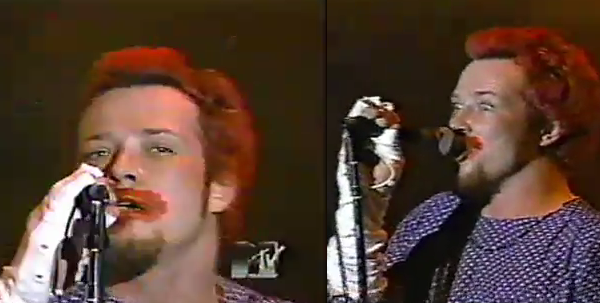 MTV Spring Break Rocks '93 Daytona Beach, Florida. This was a big deal. The reader may deduce that nothing of importance happened in my life. I had been watching MTV, and distractedly doing homework and dishes for my teacher(s) and mom, respectively, this entire time. I imagined spring break always the next morning — red plastic cups on the carpet; the smell of suntan lotion and cigarettes; a neon bikini-top hanging from the shower head, its bronze tanned owner lying crusted in love's evidence. Scott Weiland, front man of Stone Temple Pilots, walks on stage wearing a Norman Bates-esque dress with lipstick smeared on his face. He wanders on stage, confidently awkward. "I just wanted to dress up a little bit, you know, for all you macho type guys that might have misunderstood this song," he says, followed by screams of endorsement, by, well, macho type guys that might have misunderstood what he was saying. The song was "Sex Type Thing," the first single off their debut album Core, an ironic song about rape, as Weiland, constantly imbued with artistic countenance, would argue. I'll give you something that ya won't forget / I said you shouldn't have worn that dress a line goes — which I'll admit to screaming out my bedroom window with a deformed erection curved like a Cheetos puff — the song ending with the refrain Here I come, I come, I come, I come, etc. I wigged out to the song in ways an exorcist might feel responsible for. Stone Temple Pilots would eventually break up; Weiland would go in an out of rehab for heroin, shrinking towards his skeleton under the public's attention, unnoticed. By the time he started Velvet Revolver with Guns n' Roses sans Axl, the new boys in town sang like eunuchs into mics attached to the sides of their heads, had intricate haircuts, and danced rather well. I went to college.
*
I tried to read Sentimental Eduction (Flaubert, 1869) after Woody Allen included it in his list of "what makes life worth living" — a list, now in hindsight, sadly comprised of name-dropped art — at the end of Manhattan (1979) with him lying on a couch speaking a monologue into a machine. That he denies someone else this conversation is hilariously arrogant. The uncomfortable man often leads a comfortable life. I treated novels the way I would have a relationship: brought them to bed with me, and thought of them often. I always wanted more. I abandoned the novel fifty or so pages in, as my vision of its potential (with a title like that) seemed greater than its manifestation.  Turns out it was just a guy with thoughts like me, how boring. The artist is a salesman who convinces you the work is worth the title. And here we are.
1994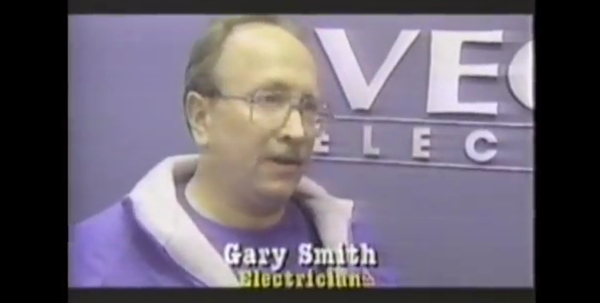 Gary Smith is the electrician who discovered Kurt Cobain's body on April 8, 1994. He was visibly stressed by the sudden flurry of attention, however fickle, that particular day. He gave interviews like hell, but never got any over-time. When asked by the journalist if he read the suicide note tacked to the wall which he retrieved, Smith replies, "I only read the bottom two lines that said 'I love you, I love you,' to someone." Courtney Love will sob through speakers to his audience, and the press, hungry for headlines, would say "generation," as if such delineation could separate me and you, or you, or you, our temporariness frozen like a screenshot of a man whose life would be forever changed by the sight of another faceless man. It's almost tacky to say "something died that day," but for the purposes of having an easy exit I will.
The two or so months after it happened until high school graduation were spent in similar fashion as my entire four years there. I spent recess and lunch in the cool shade of the library, next to the Arab boys and fat girls freaked out by all that Abercrombie & Fitch out there, in the sunny quad, all that sophisticated meanness upon which we are forced to build our lives. My dad came home depleted and depressed, hung a cigarette from his lower lip, and tried to breathe. My mom took me to Walgreens for mechanical pencils whose .5mm lead always almost broke in my hands. I did Geometry homework, loved it for how all the jagged angles added up to 360°, which was the same as 0°, interchangeable, perfect circles, how all the triangles in between were mere distractions from the calm meaninglessness and zero, rippling inward into a center smaller than a dot. High school may start the mind, but it finishes the heart. I would have preferred better, more memorable experiences, but I took what I could get: songs which portrayed emotionally daft fantasies whose transcription in my loyal array of cassette tapes I would eventually sell for 60 cents each to used record stores, who in turn would sell each used cassette for $2.50, their awkward archaicness sadly precious before irony was imposed on it. "Of all lies, art is the least untrue," Flaubert says, who we almost forgot about. Bedtime found me churning through the last of my English homework, which I hated. I barely read the books, often making up how the novels ended. The young male protagonist climbs a hill, enters a cave, blows into a conch, commits patricide, and is happy — I lie, mechanical pencil in hand, observing the deluded conviction of crickets chirping for their mates outside my window, in a backyard they mistook for the universe, emitting calls for grotesque love with a simple song.
12 Comments