Matthew Simmons
Dalkey Archive Interviewed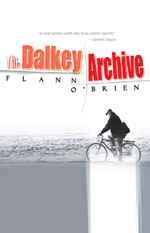 The LA Times blog, Jacket Copy, interviewed John O'Brien, founder of the amazing Dalkey Archive Press. Here's an excerpt:
JC: How important do you think awareness of form, or a sense of play, is to telling a story in contemporary fiction?

JO'B: I think it should be, and I do emphasize "should," at the heart of contemporary writing, but this playfulness is not always foregrounded as such. Fiction writing began with this strange consciousness of itself and the possibilities of playfulness, as though it were an inside joke with a great deal of eye-winking going on. The critic Viktor Shklovsky spent a lifetime tracing and exploring such things in relation to fiction, even as related to what would seem to be the un-playful writing of a Tolstoy or Dostoevsky. The fiction that I find unreadable is that which seems unaware of anything that has been written before, and the reader is supposed to go along with what is truly a "suspension of disbelief." I find this fiction to be boring and condescending to the reader, though apparently many people like it.
Part two of the interview here.
8 Comments