October 1st, 2010 / 9:03 pm
Random
Matthew Simmons
A little more about Moe.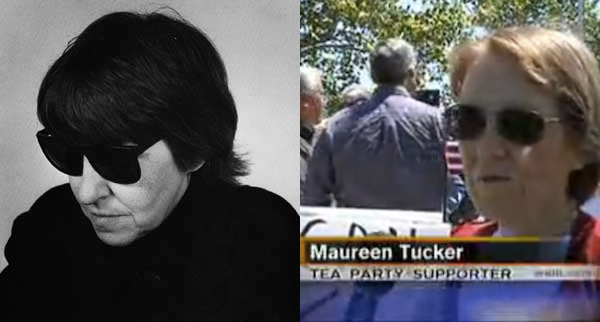 An earlier snippet linked to a Pitchfork story about Moe Tucker, drummer from The Velvet Underground, having recently been spotted at an Albany Tea Party rally. Not just spotted, though. Ms. Tucker was interviewed, and in grand ole Tea Party style, she talked about being "furious about the way [the country and its citizens] being led towards socialism."
The snippet says just this: hearing that Moe Tucker, drummer from one of my favorite bands, and creator of some really great solo work, is now part of a political movement I find—when I am trying to be generous and open-minded—baffling, kind of made a little part of me die. (In ungenerous moments, I say "Hear, hear," to Matt Taibbi's assessment of the Tea Parties in Rolling Stone.)
A comment made by someone going by R. Ridge:

Yet another reason to separate art from artist. I was watching "Chinatown" earlier and had to remind myself this.
I would tend to agree with this. I really would. Usually. (And though I am about to disagree with it, I respect this comment and am not posting again in response to it with even an ounce of snark in my heart, R.)
I don't know if I can do it in this case. Moe Tucker is one of those artists—one of those rare artists—whose work I think is inseparable from who she is. Straight-forwarded, sweet-spirited (as Adam mentioned), devastating in her ability to make simple complicated. Moe.
How do I take Moe Tucker out of Moe Tucker? I don't know if I know where to look to find the seam that would allow me to slip a knife through so I can pull out the stitches that attach Moe Tucker to Moe Tucker. I can't do it. Here's some Moe for Friday.
httpv://www.youtube.com/watch?v=m8Fo68jiUys&feature=related
httpv://www.youtube.com/watch?v=j4ppCtmpNJU
httpv://www.youtube.com/watch?v=16qr4rlWjuI
httpv://www.youtube.com/watch?v=TJ35RhKS5nY
Tags: moe tucker, tea parties
31 Comments