March 12th, 2010 / 4:18 pm
Random
Jimmy Chen
Excel at art
In 1963 Josef Albers published a book on color theory, and since then color — "pure" color, the mathematical hue — has been the rage in abstract painting and design. In the old (c. '70 – '80s) days, painters spent months covering a canvas monochrome, blending, blending away the brush marks. The human hand was a horrible thing, corrupted with subjectively. An MFA in Painting student today is still prone to sit hours in front of their canvas, lamenting over which color to juxtapose another color with, and while I respect that solemn responsibility, I prefer the quick MS excel fix, take Vimeo's default 'no signal' screen.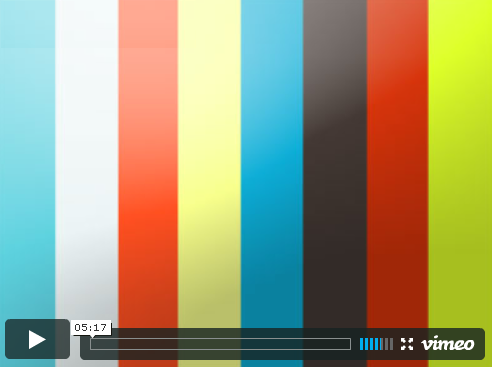 Now I know many of you impulsively clicked on the arrow, a natural gut reaction, as internet's interface has turned us all into Pavlov's dogs (and depending on what porn sites you're visiting, saliva may not just be a metaphor). It's strange how a simple sequence of color can cue the brain into thinking there's more to come — another 5:17 minutes of some "creative" person doing some creative thing with their Final Cut Pro, Adobe After Effects, or, if you can't afford the software, iMovie. Cobain's now distant "here we are now entertain us" still has its prophetic ring, as you click, as I click, click for something more.
Color, Cezanne said, "is the place where our brain and the universe meet." He was talking about the sculptural trajectory of a color's note in context to the other colors, like how four dashes of different blues become a mountain. He was an old man when he started painting, with obtuse hands and no genius on his side. He changed the western idea of color, and died on a dirt path, leaving his peaches to mold. Yes, I'm being dramatic, but until I'm transported somewhere, and not via an orgy of clicks to a place called nowhere, or at the office fucking with excel, I'll take dramatic.
Tags: Cezanne, color theory, josef albers, MS excel, Vimeo
16 Comments