November 12th, 2008 / 12:16 pm
Uncategorized
Shane Jones
Fence Likes Obama Too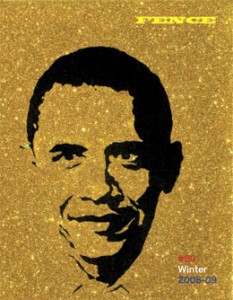 If you didn't get enough of Barack Obama in the past few weeks, well, it's your lucky day because the man himself is on the cover of the new Winter issue of poetry/fiction/essay lit mag FENCE. 
I like Obama.  I'm just not sure why he's on the cover of FENCE.  Maybe it's a political issue, but it doesn't look that way. 
Since FENCE moved and teamed up with SUNY ALBANY I've seen the mag take a nose-dive. 
Still, I'm interested in every issue.  It's just not the same.  Maybe it's the university connection that bothers me.  Or that the content has seemed to suffer.  I'm sure there is some solid work in this issue — I've especially interested in the work by Brandon Shimoda who I've been reading online and being blown away by.
But I do find it strange that a SUNY Professor (Edward Schwarzchild) is included in the issue.  Maybe this isn't such a big deal.  Maybe other university journals include their own staff?
FENCE always seems to catch my interest no matter what they are doing.  You can stay up-to-date by checking out the FENCE PORTAL BLOG.
Tags: brandon shimoda, Edward Schwarzchild, Fence
20 Comments