October 16th, 2008 / 8:03 pm
Uncategorized
Blake Butler
Sixth Finch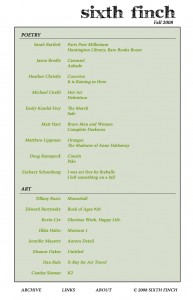 SIXTH FINCH is a new (to me at least) online journal, whose just published a new issue. It has work by Jason Bredle and Zachary Schomburg and several others.
In addition to poetry, they also feature a whole section of art, which is a nice twist on the usual poetry journal I think. More sites should vary outside of the fiction poetry land. The art in the current issue is weird and modern looking, I would look at it and stuff.
I feel really tired. Thinking about being mean has made me tired. I am ready for boobs friday to close us out and go back to the week of week.
Tags: jason bredle, sixth finch
9 Comments