sixth finch
If it's real sprang sprung where you are—I mean like pensive warm midnight donut strolls with cicadas under your Keds—then you are feeling all refreshed and full of light, which means your brain is in good shape to read some new online magazine releases.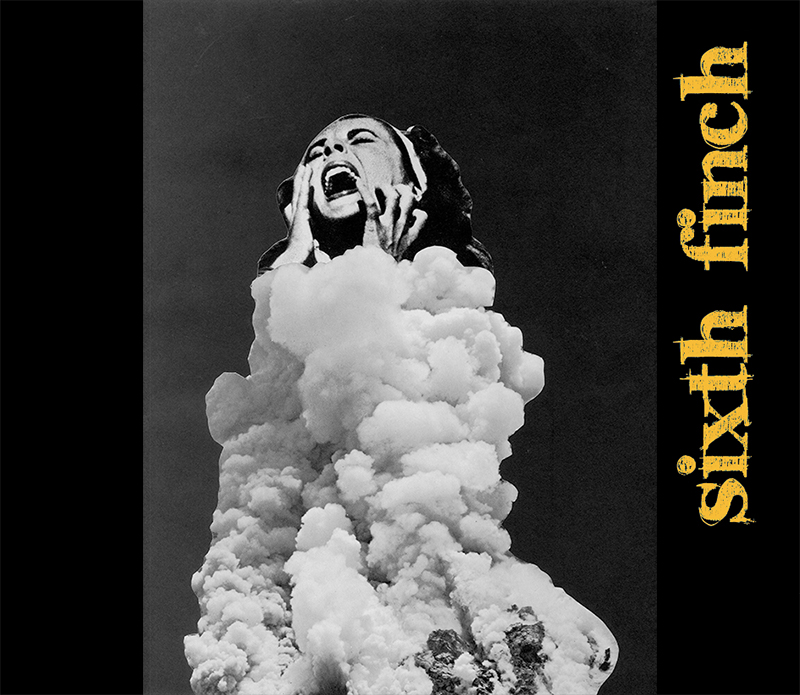 Sixth Finch is bubbling. RIYL science, river walks, cake under bridges, kids doing science on public television, bodies saying something when they've had enough of fighting, paper animals, the counterculture of silence, singing into bottles, oxen who think they are cotton, aliens with crew cuts, poison mandrake roots, qualities, the dress you woke up in, car insurance company slogans, felon hearts, intergalactic surfboards, holy slobs, the way every surface can be a cradle, or water in the open knees.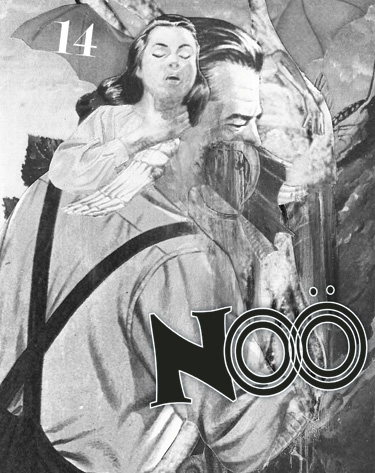 NOÖ Journal is into [14] after a year's hiatus. There are book vouchings and a list of every book some chucklehead read in 2012. Read NOÖ [14] if your back feels like a shipwreck, if you ever coated Omega 3 capsules with peanut butter, if your body used to like swings and probably still does, if you've ever eaten Doritos at breakfast, if it cheers you up to think of Benjamin Franklin inventing electricity even though he lived alone until he was dead, if you like staring up at things that can't see you below them, looking for a man who tells three lies a day, cooking when you get nervous, gazing spiritually toward the Macho Man, taking turns letting and being let down, afraid to fall asleep on buses, your car on fire in the snow, the screen a scroll, kissing like confusion at the supermarket, Treat Yo Self, (feeling you get in a ball pit), talking in a flashlight lit pool, talking later about creepshots, talking about keeping each other when storms come, tracing dead mouths, selling that brain painting, parabolas the shape of manic depressives, your Soul a scrap of lightning, crappy knowledge, searching the floor for a diamond four, stepping into the rain like a film, dying in a fortlike structure, or the infinite pi of sun.
Web Hype
/
Comments Off

on Finches and NOÖs
April 10th, 2013 / 10:53 am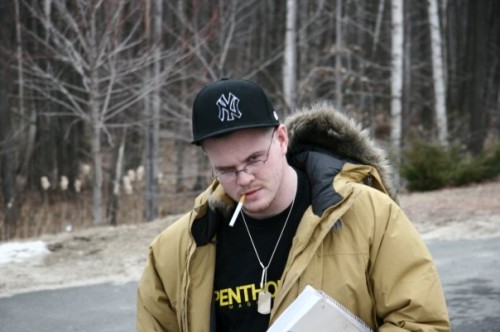 The other night I was doing my taxes and commiserating with softballers and wondering why the water was still running behind a locked door and getting shoved passive-aggressively by a woman whose love of darts I was unconsciously interrupting when the guy to the right said that he liked it when I used to post on HTMLGIANT about new issues of online magazines, and I was like "You mean the only thing on HTMLGIANT I was ever good for?" and he was like "Yeah, exactly," and then one thing led to another and the Yankees got swept in their opening series by Tampa Bay, so I figured what the frick I would tell everybody about:
)) People who think they have secrets over at Sixth Finch, but actually they just have the word DOOR superimposed like a crosshair on their smallest confession.
)) People who meld heads and flood banks and steal mother scarves over at Dark Sky, but really they just stand around covered in hair in the mammal room.
)) And if that's not enough for you Yankees fans, you can take a NAP, and when you wake Up, you can conduct enough electricity to become a diode. The important thing is that every time you read an online literary magazine for the rest of your life, you should also imagine the gangsta in the woods reading along with you.
1.  I'm reading Gail Mazur's new book of poems, Figures in a Landscape. The final two couplets of the title poem, an ekphrasis of the imagination:
If no one looks at us, do we or don't we disappear?
The landscape would survive without us.

When you're in it, it's not landscape
any more than the horizon's a line you can stand on.
In this book I'm encountering the melancholy of a beach in winter, a poet microscoping her life and then telescoping her life, a poet who's so careful with every word that sometimes I'm afraid I will break them just by thinking too hard.
2. The Summer 2011 issue of Sixth Finch is up and running. I just enjoyed Leora  Fridman's "Pistons," which begins, "I tap out my knowledge of neatness on an old machine for / sending pigeons," and flaps out into laser beam lunacy. The issue, wholly, invokes small town, prairie view summers. Potted plants of madness and bleeding cow heads abound.
3. When you wake up in the morning, do you have a song in your head? Mine is "Today" by the Smashing Pumpkins most days. This morning, though, it was "Proud to Be an American." This is the morning after reading about TBHQ in our chicken McNuggets and how, according to the St. Pete times today, Tea Party members in Florida are tackling a new issue: manatees. "We cannot elevate nature above people," explained Edna Mattos, 63, leader of the Citrus County Tea Party Patriots, in an interview. "That's against the Bible and the Bill of Rights." God forbid we limit our drunken boating excursions.
The first Monday in May. A strange and beautiful day. Here are three things to peruse at work today besides the news of dead terrorists and decimated towns:
Matt Hart @ Coldfront. His Poets off Poetry essay, "By Any Means Necessary," features the poetry, Sex Pistols, and anarchy (of course).
The new Sixth Finch, Spring 2011
At The Offending Adam, writers from or with connections to Alabama.
Remember how a wave is a loanword from sign language? How poor is a diet of opossums? How sometimes there's a different kind of power in the afternoon, or you are your own wife (you long to punch yourself), and you cry because you're dating your friends' dads and because the fire is beautiful, because you had no desire for work but work found you, such a very productive entrepreneur, all young and dressed in Technicolor, like all the secret gears and the way you have to start the fire yourself. Remember? No? That's because you haven't read the new issue of Sixth Finch. Poems. Art. Both. Check it out.
1. And so we mark the success of Slash Pine Poetry Festival No. 2: The Year of the Laundromats. Lots of poems about laundry and laundromats.
I don't really know how many hours it was. 40 readers at 10 minutes per over the course of the weekend. Then there were the overages (you can't keep all 40 poets in line, can you?), the undergrad reading, the dinners and bars and making new friends, etc. etc.
Joseph P. Wood puts together a real shindig. There were art galleries, blues singers, bars, bands, poets of all shapes and sizes—and even some fictioners and essayists, though I think they crashed the party. Seats were packed for every venue despite the tornado warnings and thunder so loud I thought I could hear it inside my head.
On a maybe more important note, Joseph took Myron Michael and I to Archibald's Bar-B-Q (see above) in Tuscaloosa, and I ate a plate of the tastiest ribs I have ever had. The sauce on these things was magical.
2. New issue of Sixth Finch:
Mike Young
—
Terrific new Sixth Finch. Alabaster, abandoned Cadillacs, a big fat flying snooze, white as a long sleep, a horse snow-starred with blood, and that's just the first few. Plus great visual art. Check it out!
Comments Off

on Sixth Finch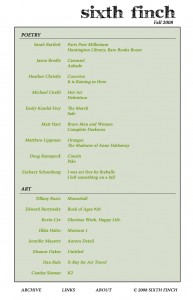 SIXTH FINCH is a new (to me at least) online journal, whose just published a new issue. It has work by Jason Bredle and Zachary Schomburg and several others.
In addition to poetry, they also feature a whole section of art, which is a nice twist on the usual poetry journal I think. More sites should vary outside of the fiction poetry land. The art in the current issue is weird and modern looking, I would look at it and stuff.
I feel really tired. Thinking about being mean has made me tired. I am ready for boobs friday to close us out and go back to the week of week.
Uncategorized /
9 Comments
October 16th, 2008 / 8:03 pm