jason bredle
Pumpkins have long since rotted, and Massachusetts is trying to convince us that thirty-degree sunlight passes for bloomage. Which must mean the winners of the unstoppable smiles pumpkin caption contest are: Jeremy Bauer, Ted Powers, and Noah Falck. I know I said I'd only pick two, but I liked all three of their captions. Thanks to Ken Baumann for sponsoring the contest by accidentally buying two copies of Jason Bredle's Smiles of the Unstoppable. Winners, email me at mikeayoung AT gmail DOT com with your mailing addresses to get your free books. Everybody else: the kid is bobbing for apples, not puking, but you shouldn't let that stop you.
So Ken Baumann (author of the forthcoming Solip from Tyrant Books in 2012; congrats Ken!) accidentally bought two copies of Jason Bredle's heart-sifting and twisting Smiles of the Unstoppable. When I offered to refund the extra money, he generously suggested I give the extra copy away on HTMLGIANT, which brings us to the pumpkin below this paragraph. See, I wanted to do a caption contest where I posted a picture of Ken smiling, but for some reason I found this picture of a pumpkin, which was actually even better than a picture of Ken getting Lasik surgery.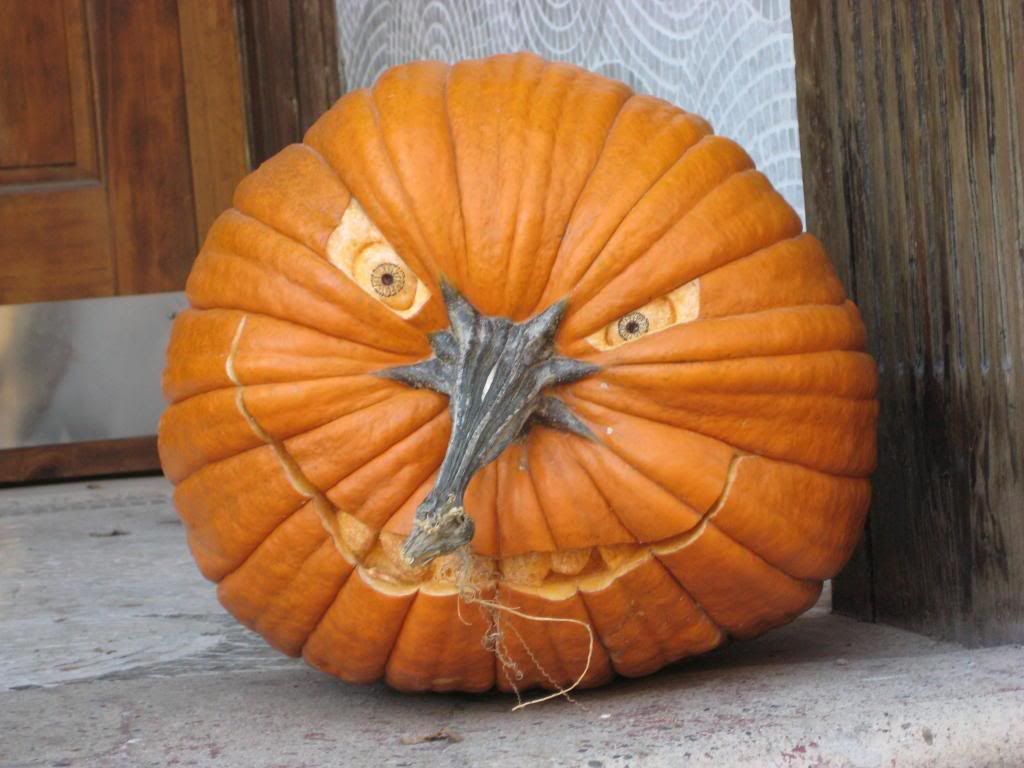 Here's the contest: Post a caption to this pumpkin smile picture in the comments. Best 2 captions win copies of Smiles of the Unstoppable. Deadline: next Friday, March 25th. Very easy. Bonus points if Ken/Jason are somehow involved in an adventure with the pumpkin. See the picture, amplify your best/Jimmy Cheniest wit, and win some terrific poetry. Also you can go see Jason Bredle read at the Tucson Lit Press Fest on the 26th of March. So my best suggestion is to win this book, read some poems from it to your rich lover, and have your rich lover swoon so hard they buy you a ticket to Tucson. Duh. Very easy. Ready set go. If you need further convincing, read Jason's poem "Moby Dick" below the jump, originally published at Ken's No Posit. READ MORE >
Smiles of the Unstoppable is a 60-page collection of 34 poems, each one about a page to two pages long. It's a really nicely designed book. Magic Helicopter Press released it on January 1. (Magic Helicopter, of course, is the press run by HTMLGiant's own super-productive Mike Young.) At first glance the cover image appears to be a kid mid-puke, but if you keep looking you'll see what it actually is — a kid bobbing for apples. The poems are similar. READ MORE >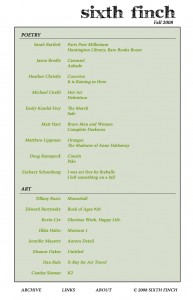 SIXTH FINCH is a new (to me at least) online journal, whose just published a new issue. It has work by Jason Bredle and Zachary Schomburg and several others.
In addition to poetry, they also feature a whole section of art, which is a nice twist on the usual poetry journal I think. More sites should vary outside of the fiction poetry land. The art in the current issue is weird and modern looking, I would look at it and stuff.
I feel really tired. Thinking about being mean has made me tired. I am ready for boobs friday to close us out and go back to the week of week.
Uncategorized /
9 Comments
October 16th, 2008 / 8:03 pm