December 8th, 2008 / 9:40 pm
Uncategorized
Jimmy Chen
Yankee Pot Roast: Guest Editors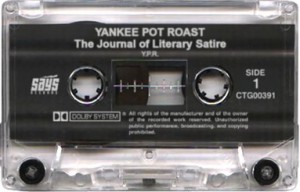 Fortunato Salazar, who is 19 and really funny, solicited the editors of Yankee Pot Roast asking if he and I (he volunteered my name) could guest edit YPR during their usual holiday down-time; basically run it. And run it we will, hopefully not into the ground. Fortunato is taking the reigns, though I will also be involved.

So this is a call for submissions, w/ the knowledge of recent editorial usurpation until January. Now is the time to submit — for indiscretion shall be rampant!
For those who don't know, YPR is one of the oldest humor-satire type journals, back when the internet was this new crazy odd beautiful thing. It's wonderfully designed, and the content always delivers. Here's what I'll be looking for: literary pop-satire, like a journal entry from Hemingway's Mojito; Kafka's guest appearance on The Office; or a transcript of e.e. cummings and Georges Perec on Wheel of Fortune — you know, pretentious brainy stuff that won't get you laid.
We'll be looking in their queue, but for good measure send to BOTH of us:
fortunatosalazar@gmail.com
jimmy.chen@ucsf.edu (My work email, so my supervisor thinks I'm doing work while reading your awesome submissions.)
Salazar and I will figure out the details, but basically, if you get rejected, it's him. If you get accepted, it's me. Toss my salad and I'll supply the ranch (see that's just gross, but that's my taste — fuck, another pun!)
Thank you editors Josh Abraham & Geoff Wolinetz for such trust, graciousness, and possible negligence. Enjoy the holidays, and we'll see you when you get subpoenaed.
(Oh, and if I'm on the HTMLGIANT down-low, you know what I'm doing.)
Tags: call for submissions, fortunato salazar, literary satire, Yankee Pot Roast
8 Comments