alissa nutting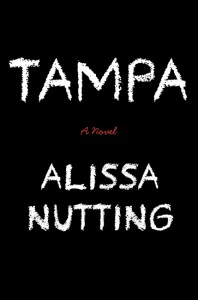 Tampa
by Alissa Nutting
Ecco, July 2013
263 pages / $25.99 Buy from Amazon or IndieBound
Page 0
Tampa is covered in fur. Cheap fur. Velour almost, but even cheaper. Even though Tampa, amazingly, is a hardback book. It's the dust jacket that is covered in rough-to-the-touch synthetic fuzz.
Except for the title, which is scrawled into it in white like chalk scratched across a blackboard. A fantastical blackboard. A sexy blackboard.
Page 2
We all know what Tampa is about. There have been reviews. (A lot of them, encouragingly, for a younger writer whose first collection came out from Starcherone.) And if we didn't read those or the flap, the narrator tells us right away: in marrying her husband,
I hoped his wealth might provide me with a distraction, but this backfired—it left me with no unfulfilled urges except the sexual. I could feel my screaming libido clawing at the ornately papered walls of our gated suburban home.
Celeste's sole sexual urge is for teenage boys, a crystallization of her first sexual experience and the immortality it implied. We find out immediately that her entire career path—middle school teacher—has been focused around fulfilling that urge.
There is no coquettishness here. No clever lead-up to the announcement of her particular obsession. The book is about one thing and one thing only: the wholehearted pursuit of sex with 14 year-old boys.
Page 28
Celeste is as systematic as she is direct. This grates, at first. Her character appears one-dimensional. The plot appears to mine for shock value without much at all to say. I wondered, after a bit of this, how closely this depiction came to Nutting's real-life inspiration for the story (and Nutting's high school classmate) Debra LaFave, or any of the other cases that came out around the same time across the country. Did these sex offenders set out so consciously and feverishly to do what they did? Does any mind work so singularly?
Page 80
But the readerly experience subsumes all of this. By page 40 I had found myself entering into an almost meditative state: Celeste masturbates furiously on her classroom desk; Celeste stalks her ideal student; Celeste keeps Jack after class and interrogates him about his sexual history. The book begins to feel like a thought-experiment in how long narrative can run on the fuel of a single motivation. And it works: the smut of it runs together into a bizarre, relieving, single-minded stream. Once we become sure we will have no last-minute changes of intention, no inward ethical dilemmas, we can sit on Celeste's shoulder as she describes in exacting detail the steps through which she goes to secure Jack's compliance in an affair. By page 80 I was so fully in Celeste's mind that I wrote in the margins: "Am I crazy? Obsessive? Unfit for the world?"
Hey, have y'all seen and heard this Story Tapes project that Eliza Smith and Faith Gardner have put together? They have a sweet logo, and they post interviews/audio/video of writers reading their own stories, or swapping and reading another writer's stories, and it's all really nicely produced and soundtracked.
Stories by people like Scott McClanahan, xTx, Delaney Nolan, Dylan Nice, Alissa Nutting, Mary Miller, Sarah Rose Etter, Amber Sparks, Matt Rowan, Lauren Becker, Casey Hannan, Tania Hershman, and some cool new-to-me people like Alicia Mountain, Sean Schlemmer, Josh Denslow, Owen Poindexter, Molly Laich, Megan Kruse, Berit Ellingsen, and more.
More people should do stuff like this. Is this a thing? Are lots of people doing well-designed and steady video/audio reading series things like Story Tapes? Can you post some links in the comments?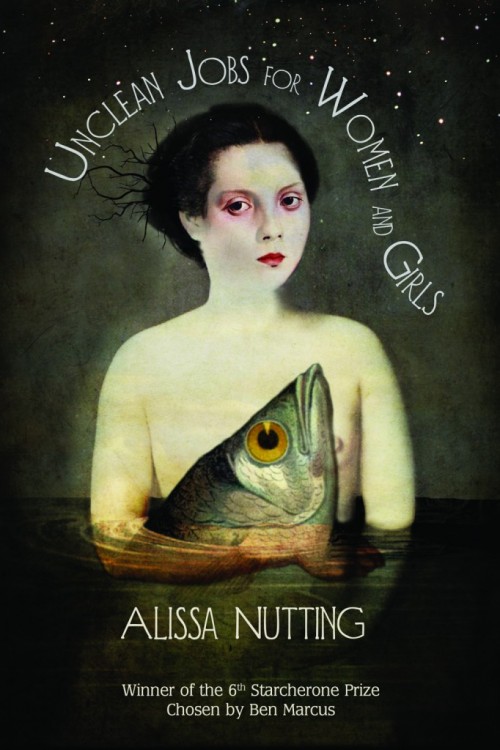 I love a book with a good title. I love good titles in general. When I'm bored, I sit around writing titles, placing each one in its own Word file so when I feel like writing but want to work on something new, I just need to look at all those empty, waiting documents, pick the one with the title that intrigues me the most, and start writing. Ever since I first heard of Unclean Jobs for Women and Girls by Alissa Nutting (Starcherone Books), I have been charmed by the title and I finally had the chance to really sit down with the book. I ended up reading it one sitting because it was one of those books you literally cannot put down. The stories in this collection are smart and imaginative and strange and fearless in their execution. It is readily evident why this book won the Starcherone Prize for Innovative Fiction. A great deal of care and handling went into these stories.
In Contemporary American Novelists of the Absurd, Charles Harris writes, "The absurdist vision may be defined as the belief that we are trapped in a meaningless universe and that neither God nor man, theology nor philosophy, can make sense of the human condition." As I've read about Unclean Jobs for Women and Girls over the past couple months, I've often seen references to the writing as absurdist fiction. I would disagree. While many of the stories have a surreal, almost absurd quality to them, the stories by no means imply that they are a response to a belief that we are trapped in a meaningless universe because so many of the characters in these stories are clinging to the hope that there is, indeed, some meaning in the universe. In each of these stories, Nutting is, above all making beautiful sense of the human condition.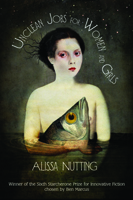 Sarah Falkner wins the 7th Starcherone Prize for her novel Animal Sanctuary, selected by Stacey Levine. It sounds quite look-forward-to.
Last year's winner, Unclean Jobs for Women and Girls by our own radical Alissa Nutting, selected by Ben Marcus, is coming out October 1st! It's going to eat your hair. You can preorder it now from Starcherone or wherever great books are. Here's a taste, from Fence.
Presses
/
Comments Off

on Starcherone Prize 6 & 7
August 23rd, 2010 / 2:44 pm