carina finn
A couple of days ago, the latest installment of Action, Yes made its debut.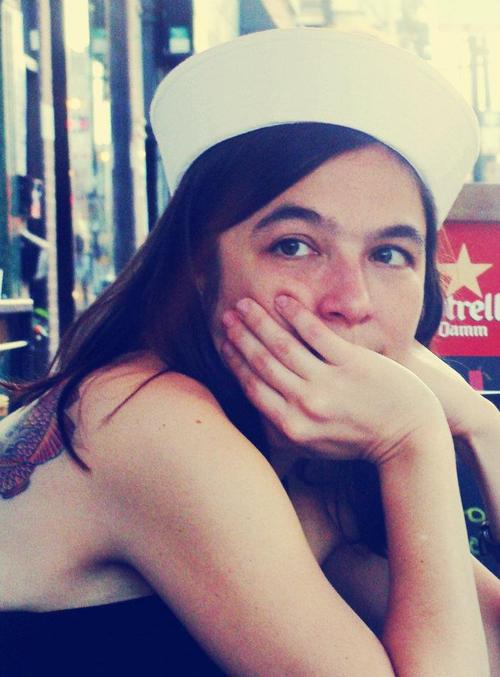 For those of you who aren't already aware, Action, Yes is the online journal wing of Action Books, a pugnacious press operated by Johannes Göransson and Joyelle McSweeney, who happens to be the reigning brunette bombshell of 21st-century poetry.
Also, Action Books has published one of the most outrageous collections of poetry ever — a collection that manipulates language to enchanting extremes. This bold book is entitled Maxium Gaga. Its author is Lara Glenum.
Back to this edition of Action, Yes… it has many notable participants. I'm going to supply some of them with outfits.
First, I'll dress the editors, Carina Finn and Jiyoon Lee.
The approach of Hurricane Sandy has already altered the entire course of me and my friend's lives. On Sunday, I was supposed to shop for vintage sweaters and attend a poetry brothel. These would've probably been some wonderful moments. But Hurricane Sandy put a stop to all my hypothetically marvelous adventures.
Instead my friends and I were bunkered in our apartment in Alphabet City.
What were we to do?
If we were VIDA, then we could count the number of times a masculine pronoun appeared in this week's NYT Book Review and then compare it to the number of times that a feminine pronoun appeared in this week's NYT Book Review and then get really angry about it and channel all of our anger into a neat and tidy chart.
If we were overly anxious New York Jews then we could close down the subway system at 7 PM, hold press conferences using folksy idioms like "up and about," and dress like men who spend a great deal of time in well-off subdivisions of Connecticut.
Also, if we were male homosexuals, we could have sex nonstop sans condoms.
But my friends and I aren't any of those things. So, in lieu of that, we chose to hold an academic conference that had an awful lot of relevance to our current predicament. Our conference, which was held last night  (28 Oct. 2012),  was called The Unstable and [de] Mutable Boundaries Between Meteorological Atrocities and Human Political Economies with Bodies-as-Subjects Coming Into Being As They Are. This conference has already been compared to some of the most vivid and vivacious academic conferences ever held.
Here's a summary:
Craft Notes
&
Events
&
Technology
/
Comments Off

on A Summary of Our Academic Conference, The Unstable and [de] Mutable Boundaries Between Meteorological Atrocities and Human Political Economies with Bodies-as-Subjects Coming Into Being As They Are
October 29th, 2012 / 12:27 pm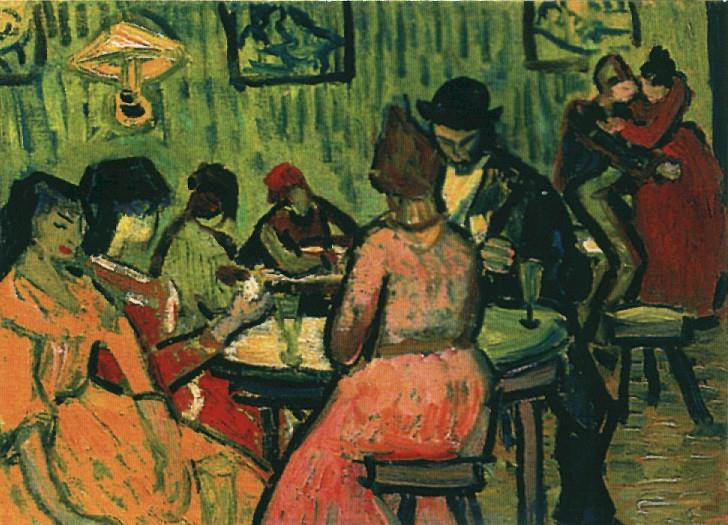 On Sunday there will be a Poetry Brothel.
It will be held in The Back Room at 102 Norfolk Street, which is in the Lower East Side.
The Brothel will start at 8 and end at 1.
There will be masks, music, tarot readings (which I don't believe in, but still), burlesque, magic, and lots of poetry.
All guests may purchase private readings with the poets, which include the splendidly shrill Dorothea Lasky and the plucky Harlem princess Jennier Tamayo. Also available for a private reading is Carina Finn (the East Village princess behind The Bratty Poets), Ariana Reines (if you haven't read Mercury then you don't have proper priorities), myself (Ann Romney 2012!), and lots more.
Throughout the evening, each poet will also give a public reading.
Please come and support poetry that is theatrical and fabulous.
Stephanie Berger is the madame of The Brothel. This is what she looks like: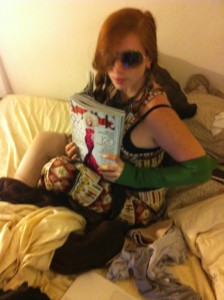 For further information or to purchase tickets in advance please click here.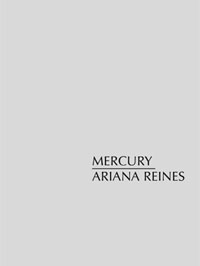 Mercury
by Ariana Reines
Fence Books, 2011
128 pages  / $16.95  Buy From Fence
Three falls ago, I was in one of my first legit poetry workshops (that particular workshop during which I realized that poetry was going to be one of those things that would be part of my life for forever, like Lyme Disease or an eating disorder) and I was freaking out about being a girl and wanting to write a particular kind of poem and feeling that I wasn't allowed to do so. My professor, who was/is this very wise man, a carpenter as well as a poet and probably a prophet of some kind, told me I might be interested in reading Ariana Reines. Since I was at the time a very eager and diligent student I went to my room and read every one of her poems I could find online, and as it was right before Christmas I sent my mom the following e-mail that night:
re: christmas list
Carina Finn
11/30/09
to Debra, debiallied
Also every book ever written by Ariana Reines instead of just the one. There aren't that many and they aren't the expensive because she's only 26. In fact there are only two, Coeur de Lion and The Cow, three if you count her translation of My Heart Laid Bare by Baudelaire which I would also enjoy. Feel free to pass this along to anyone you know who's in the market for a Christmas present for me. Those books are now the most important things on my list because they are the most important books that have been written in a very long time.
Because my mother has always bought me any book I have asked for without question, I did get these books for Christmas and I spent all of winter break that year reading them and re-reading them. Since then, because of a lot of happy cosmic circumstances, I've had the chance to read her work in graduate classes, write about it, see Ariana read it, and talk to her about it. What follows is a rendition of Facebook messages and e-mails between Ariana and me about her new book, Mercury, which was just released by Fence Books and can be purchased here.