dreams
Hello, I'm Norma Chan, Tak-Lam, S.B.S., J.P., Chief Executive, Hong Kong Monetary Authority (HKMA). I have a publishing business worth 47.1m USD for you to handle with me. I need you to assist me in executing this project from Hong Kong to your county.
Look at these cute golden retriever puppies. They're probably dreaming. That's cute. I like that.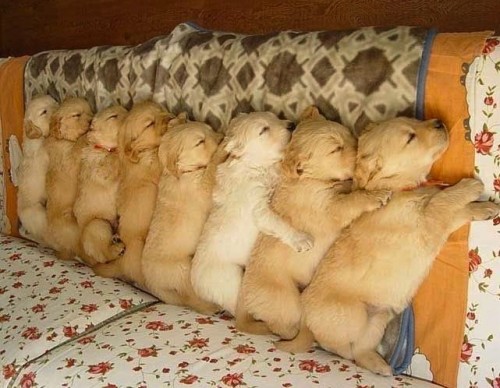 But this post is not about golden retriever puppies.
Yeah, so last night, I had a dream. I died, but it wasn't bad. I went to some version of afterlife. I went down an elevator (cliche, anyone?). Someone tried to escape by jumping out at sub-level 8. I don't know what happened to that person. I think he looked like Mike Kitchell crossed with Adam Jameson. And when I got out of the elevator, I definitely wasn't in heaven.
I had a vivid nightmare—it involved a member of my nuclear family turned into a little person with a suction cup mouth.  The mouth had tiny teeth around the inner rim.  The family member was coming to hurt me and grab me with its little hands.  I thought Why did he ever buy the new mouth? because I knew that installing that on his face was what had changed everything.  And I had to go up a narrow tower staircase and close a trap door behind me.
I woke up raining sweat.  I was literally vibrating.  The feeling of authentic fear was also a kind of exhilaration.  Related to the feeling of having escaped.
(Is there a word, perhaps a German word, for the vertigo one feels when waking up from a dream and realizing it wasn't real?  That is, the terrible disappointment of waking from a dream of finding millions of gold doubloons buried just under the dirt of your back yard and realizing you're still broke—or the glorious relief of waking from a nightmare of losing limbs or being humiliated, only to realize it never happened—or the guilty rush of waking from a dream of murder to think: Whoa… I got away with it.  Because I've had all of those.)
I realized I hadn't had that feeling in a long time—hadn't had a nightmare that felt so real it scared me.  I saw my heart beating fast through the skin of my chest.  People pay money for that feeling.  Then I realized I hadn't been scared, genuinely scared like with a quickened heart rate, by a book or a film in recent memory.
Do you lose that susceptibility as you age (and read/watch more)?  Because I know it happened to me more often as a young reader.   Off the top of my head I tried to make a list of Shit that Actually Scared Me: