internet browsing habits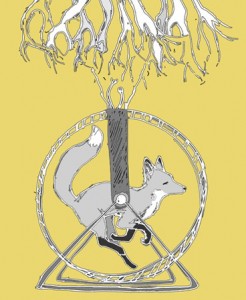 The second issue of Fou is up. I've never seen a website that conceptualized the innate scrolling aspect of the internet so well. The entire issue is on the main index page, braced by a rather tall tree. One immediately scrolls down, having nowhere to click. Various animals reside on segments of the tree. One reaches a cluster of birds, each marked with a writer's name. A click on a bird throws you off a branch, falling virtually, to each respective poem.
This sounds annoying, the way many journals are self-suffocated under flash and other cumbersome scripts, but there's something light, intuitive, and fresh about this.
Brad Soucy, who I assume is the designer, has taken a usually boring trait (scrolling) and transcended its medium into something viscerally evokative.
(Btw: if you try to view this in internet explorer, you have major issues.)
Uncategorized /
16 Comments
November 4th, 2008 / 2:44 pm