Kill Marguerite and Other Stories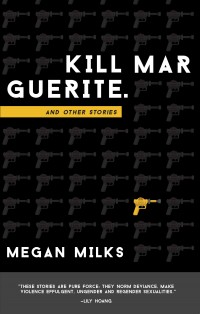 Kill Marguerite and Other Stories
by Megan Milks
Emergency Press, 2014
240 pages / $15.95 buy from Amazon or Powell's
Rating: 8.5
A few weeks ago I was made vaguely aware of a Flavorwire article about trigger warnings. Later on, as I read Kill Marguerite I found myself writing "trigger warning" in red pen before almost every story in the collection. I know that for many the argument for TWs is to save pain and suffering for those who spend day in and day out struggling to avoid triggering material—it's just common internet courtesy. I very much respect that, but I'm left thinking about how these warnings prevent the dialogue that the content often necessitates.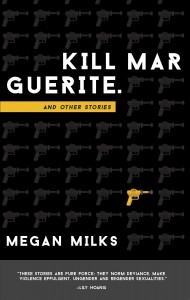 Kill Marguerite and Other Stories
by Megan Milks
Emergency Press, March 2014
240 pages / $15.95  Buy from Amazon or Powell's
The possibility of Sweet Valley High twins Jessica and Elizabeth Wakefield having incestuous sister-sex with each other never occurred to me when I was a kid and living for those books, even though half the joy of reading them was a desire for violation when faced with all that phony perfection. I always wanted something sexual or terrible to happen, more than a kiss or someone having her bikini top untied in the pool. (The other half of the appeal was jealousy—oh to be 5'6", blond, and have sparkling aquamarine eyes and a twin sister! Pulchritude amplified.)
So, I am grateful to author Megan Milks, who in her debut story collection, Kill Marguerite and Other Stories, writes in a letter from Elizabeth to Jessica, "I want to spend the evening watching you get yourself clean. I want to shave my head and lie in bed with you all day long. I want you to tell me you love me more each time you look into my eyes. Tell me I'm what your hands were made for, what your mouth was made for." It's hilarious, wonderful, mixed-up, and just how I–and probably all the other dirty-Barbie-players out there–feel about these icons. Do we want to be them, fuck them, destroy them? All at once?