Lynn Xu
Lynn Xu and I are married, and we're also poets. For the past year we've lived in an interdisciplinary residency in Germany, in a community of artists and all sorts of people we don't usually get to hang out with: architects, new music composers, choreographers, filmmakers, even a chess Grand Master and a video game sociologist. Soon we will return to the States and to the small vacant lot in West Texas that we call our home. In order to continue conversations we're having, and to drag art further into our life together, we've come up with a project called Architecture for Travelers. At its center is a collaboration with our friend Alan Worn, with whom we're designing a house and a cottage where we can host residencies for creative people. There will also be poetry, photography, and a long journey involved. We're not crowd-funding, but we are taking pre-orders for limited-edition photographs and books to help out with expenses. ( For more detailed info, visit our website.)
Beginning in November, I'll spend a month or so walking 700 miles from my birthplace on Galveston Island to our property on Galveston Street in Marfa, sometimes accompanied by family and friends. Today Lynn and I went on a practice walk, and for the first time incorporated another aspect of the planned trip across Texas: taking photographs each hour on the hour (5 today, about 240 in Texas). We set out from our studio at the Akademie Schloss Solitude and four hours later arrived at Schloss Ludwigsburg. This is the second time I've traveled between these two castles on foot, the first was this past winter with friend, collaborator, and artist Charlotte Moth. Robert Walser wrote "A walk is always filled with significant phenomena, which are valuable to see and feel," and both trips from Schloss to Schloss have lived up to this proclamation. During the first some of our ideas were dreamed up, and this time some details became clearer. Here are the five photographs from today's walk, along with written sketches about our time on the road.
***
1.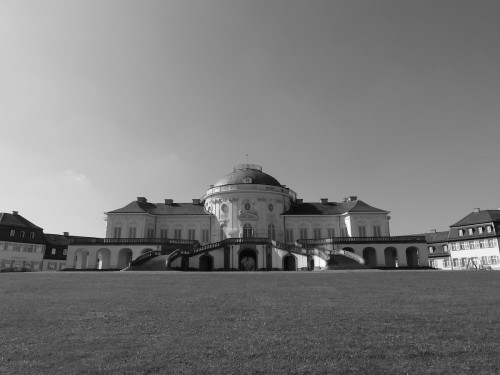 We left at eleven this morning. Heading down the big hill Schloss Solitude sits atop, we could see the straight-as-an-arrow path we'd be following stretched out for six or seven miles, after which it disappears over a wooded hill. I turned around and photographed our starting point. It made me think of Wallace Stevens's "Anecdote of the Jar": "It made the slovenly wilderness / Surround that hill." Despite a forecast of showers, the weather was perfect and the skies were blue and clear all day long.
2.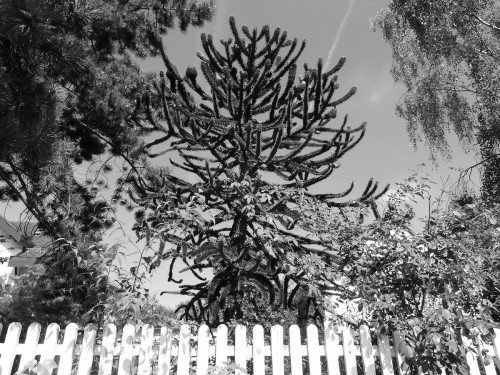 At the one-hour mark we were crossing through the outskirts of Stuttgart. There was some interesting architecture to be seen, but as the clock tolled the best thing around was a tree that Lynn spotted in a front yard behind a white picket fence. It was terrifying. It looked both totally out of place and too perfect for the suburban landscape. As we walked on, we talked about the best way to display the 240 photographs that we'll have at the end of the Texas journey.