Molly Gaudry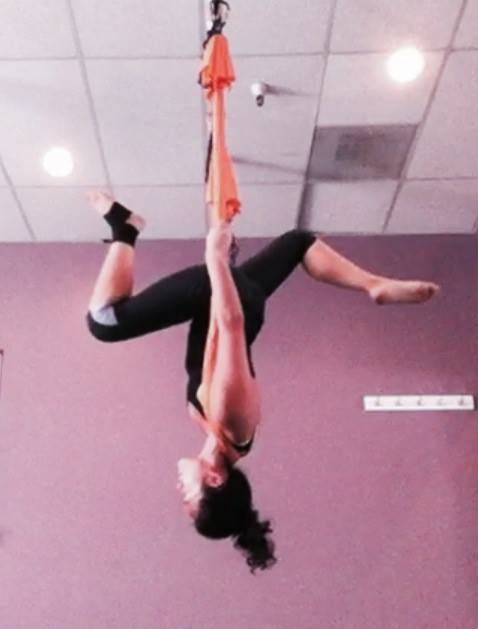 As part of Summer Reads, Molly Gaudry shares what she's planning on reading this summer.
***
My first year as a PhD candidate at the University of Utah is behind me. Classes ended in April, and for the entire month of May I've mostly been hanging upside down at Imagination Place (our local AntiGravity Fitness studio here in SLC). As an instructor-in-training, working toward certification, I haven't had or made time to read since the end of the term, and it's been a relief to work the body for days and weeks on end instead of the mind (even if I don't necessarily believe in such a distinction, preferring instead to think of the body as the mind in motion). But this morning, for the first time in over a month, I cracked open a book. Marguerite Duras might have said this particular book was screaming at me from its place on the shelf. Who knows why a book screams when it screams.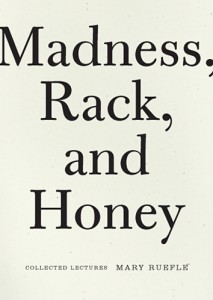 The book was Mary Ruefle's Madness, Rack, and Honey (Wave). First I reread one dog-eared passage about Sappho, the moon, and lyric poetry. Ruefle supposes that "stars were the first text, the first instance of gabbiness; connecting the stars, making a pattern out of them, was the first story, sacred to storytellers. But the moon was the first poem, in the lyric sense, an entity complete in itself, recognizable at a glance." I love that she thinks this, that she wrote this. I look at the moon sometimes and am filled with wonder: Who else is looking at this moon, tonight, right now, like me? Did you know that May's full moon was a "flower moon" and that June's will be a "strawberry moon"? Do you remember Calvino's story about the moon: "I could distinguish the shape of her bosom, her arms, her thighs, just as I remember them now, just as now, when the Moon has become that flat, remote circle, I still look for her as soon as the first sliver appears in the sky, and the more it waxes, the more clearly I imagine I can see her, her or something of her, but only her, in a hundred, a thousand different vistas, she who makes the Moon the Moon and, whenever she is full, sets the dogs to howling all night long, and me with them." In a "Music and Mantra" workshop I took a few weeks ago with mostly yogis, I decided I liked one yogi in particular and made a mental note—what the hell—to take her next "full moon yoga class" outside, in a park, under the night sky. I'm into the moon, I guess. And I was attracted to this woman's gentleness, how kind she seemed, and how, surprisingly, she wasn't all that "woo-woo" for a yogini who teaches a full-moon yoga class in a park every month. I wonder, What is your story about the moon?
In Ruefle's title essay, a fair bit of time is spent puzzling out a three-line poem attributed to Hafiz:
I shall not finish my poem.
What I have written is so sweet
The flies are beginning to torment me.
"It is so simple and clear," Ruefle writes, "the 'figurative' sweetness of the author's verse has become honey, causing 'literal' flies to swarm on the page or in or around the author's head. This is truly the Word made flesh, the fictive made real, water into wine. That is the honey of poetry: the miracle of its transformation, which is that of creation: once there was a blank page—scary!—now there is something in its place that is attracting flies. Anyone who has not experienced the joy, pleasure, transport, and sweetness of writing poems has not written poems. If it has never once been fun for you, you probably haven't experienced what we talk about when we talk about poetry."
Comments Off

on Molly Gaudry's SUMMER READS
June 6th, 2014 / 10:00 am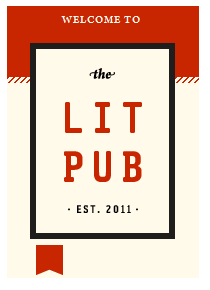 The Lit Pub came out today, so I asked Molly Gaudry, it's pioneer, what the fuck it is. Take a look at the website, then read our interview.
Can you explain what The Lit Pub is in 25 words or less?
Book publicity company / online bookstore.
Okay, how about in six words or more. What do you mean by publicity company?

This is hard to answer. What we (Chris Newgent and I) are trying to do, I think, is new and not quite like traditional publicity. It's actually Matt Bell who helped make it all come together by suggesting focused, month-long discussion, to take place on TLP's website, about individual books. Kind of like an online book of the month club, with individual publicists focusing on books they've selected. Actually, Matt once put it into this context: TLP is a bookstore, and for an entire month it will hold front-table events on its home page for three lucky authors/publishers.
Can I hire you to manage publicity for Sean Lovelace's amazing book, Fog Gorgeous Stag?
Maybe. It depends on if I also think it's amazing, and if you can afford me. If you can't afford me, you can try Chris who has micropress-friendly rates, and hopefully he will think it's amazing. If he doesn't, or if you can't afford him, then you can still be a guest publisher, which at this point is just a matter of securing a spot, and right now we're booked through March 2012.
Blake Butler
—
The very generous Brad Green has offered to award a copy of Molly Gaudry's We Take Me Apart to an HTML Giant reader of choice. Because the book is so persuasive in the way it links childhood space with food and movement of time, comment with a food that evokes some long memory of yours. A selected winner gets the book late tomorrow evening.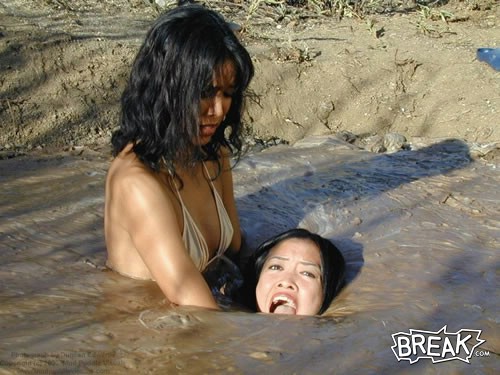 I woke up in the middle of the night, took my face off my keyboard bringing to life the monstrous beast that is my computer, named Zoroaster because it will smite you, no shit — and there in my inbox was an email from J.A. Tyler. It said, "I've been up all night typing this email to say you can order the next six months of MLP stories."
So I did.
Between July and December I'm going to receive in the mail the books with the stories I could have read on the Internet. But these I can read on the john. You can too, and you oughta.