punk van gogh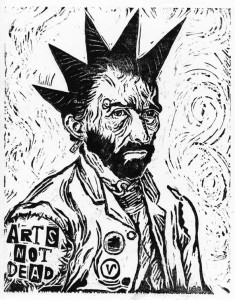 Punk Van Gogh image by your friend and mine, Jim Ruland.
Want that on a t-shirt? Beginning tonight at 9pm, you can order it from TeeFury. 24 hours later, a new design will take its place and you will be the only HTML Giant reader/contributor/or commenter without one. And then we will all point at you and laugh. Point and laugh at first, and then possibly talk about you when you leave.
Because we are HTML Giant. And we are totally clique-y. And mean to outsiders. And insular. And hip. Really very hip. It's rad being us.
Want a song? Looks like you could use a song. Here, have a song:
READ MORE >