Rachel Fershleiser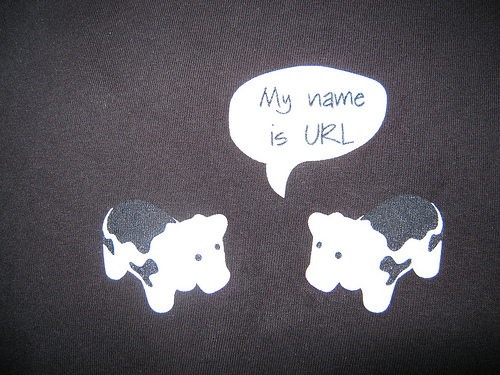 Josh Cohen double shot! If this doesn't get you out of bed, it'll put you back in. JC considers The Sabbath, among other Jewish contributions to the science of keeping Time.
Shmita

The Torah ordains every seventh year a Sabbatical Year, as it says in Leviticus 25: "Six years thou shalt sow thy field, and six years thou shalt prune thy vineyard, and gather in the fruit thereof; But in the seventh year shall be a sabbath of rest unto the land, a sabbath for the Lord: thou shalt neither sow thy field, nor prune thy vineyard." This septennial respite is known as shmita, Hebrew for  "release" or "freeing." After seven of these seven-year cycles, Leviticus declares a Jubilee, a special fallowing during which all debts are forgiven and all slaves must be manumitted—two tenets not currently observed in the State of Israel, though the  agricultural component of the shmita year still is.
And "Thirty Six Shades of Prussian Blue," which I think was previously mentioned in the Triple Canopy post the other day.
At the Bombsite, Susie DeFord interviews (new to me) poet Damian Rogers.
At Moistworks, noted fictionist and writer-on-music Ben Greenman remembers Alex Chilton of Big Star. This is a short, affecting piece that is worth reading. Also, there are some mp3s to download there.
I remembered beginning to date the woman I'd later marry, playing lots of Chilton's music for her, and trying to figure out his secret: the way his try-anything-once aesthetic was both forthright and evasive, how he could combine an anarchic sense of humor and an unironic ability to convey pain, his addiction to the brilliant throwaway, his graceless grace. He drew lines back to Slim Harpo and Ronny and the Daytonas and Danny Pearson, so many it seemed he'd get trapped in the tangle. He escaped, again and again–but escaped to what?
And finally, I had always heard that SxSW was some sort of music festival, but apparently it is some sort of international conference for the dork industry. perennial home-girl Rachel Fershleiser and her partner-in-brevity Larry Smith present a flickr album of the nerdiest tee shirts at SxSW, which for some reason is also being referred to in some place as SxSWi. No idea what that's about but please, don't anyone tell me, as I'm finding the ignorance very soothing. The picture up top is drawn from their album, as is this one here, which happens to be my favorite of the lot, and on which note I leave you.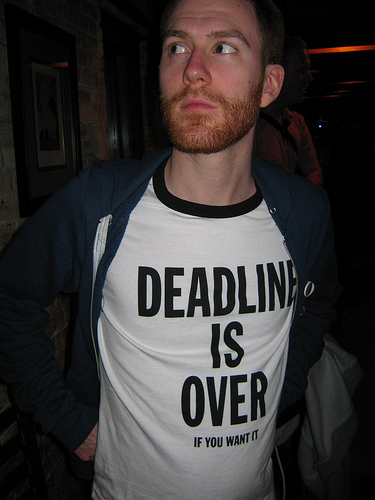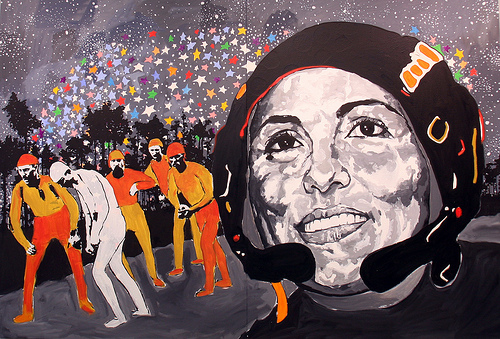 Okay, I'm being a little dramatic, but seriously, Michael–a Long Island iced tea to end the night with? You're an animal. My kind of animal. ANYway.
The Rumpus has an interview with the artist Jake Gillespie (worksample above), whom we in Poetryland know as "the guy who did that cool cover (and interior) art for Mathias Svalina's Destruction Myth."
The Second Pass celebrated their 1-year anniversary recently (hey, cheers!) and they mark the occasion by taking a break from the newer-newer-now pace of publishing/culture to take a look at some very untimely (and in some cases, unavailable) books. "Tales of the Unread." I was especially intrigued by Jacob Silverman's discussion of Past Continuous, a 1977 novel by the Israeli author Yaakov Shabtai, and Matt Weiland's discussion of Killings by Calvin Trillin, a 1984 true-crime book from more or less the last person on earth you'd ever expect to produce a true-crime book.
Speaking of things you've never heard of. Over at The Daily Beast, Elif Batuman introduces the Tolstoy-weary Russo-phile to four "alternative Russian classics" by Shklovsky, Platanov, Mandelstam, and Kharms.
Random
/
Comments Off

on Massive Hangover, Massive Roundup
March 18th, 2010 / 11:58 am
Justin Taylor
—
Justin, my love, I'm not sure what to say about Tuesday's event at the NYPL. It's at the NYPL. The big, main one, with the lions. Patience and Fortitide, bitches! It's our only big event in celebration of I Can't Keep My Own Secrets, the only Six-Word Memoir book written entirely by 13-19 year olds. We'll read from the book, talk about the project, show videos, take questions, and lead the room in a six-word slam. The best part will be the young writers who will share their six-worders and the stories behind them. They are brave. They are 13. They make your spring chicken ass look as old as Philip Roth.

Our facebook page for the event says: The ultimate six-word memoir slam — Larry and Rachel, friends and fans, teens and adults alike take the venerable New York Public Library by storm for a celebration of all things six. Share your stories and support the amazing teen writers braving the stage to tell theirs.

The library says:
http://www.nypl.org/research/calendar/eventdesc.cfm?id=5829

I say: Peeps should come. Support the youngest readers and writers in their debut publications. I'll bring candy.

Love,

Rachel



When you think about it, the title of this post really asks two questions. The answers, as near as I can tell, are, respectively, nobody and nothing. But Felicia Sullivan (author of The Sky Isn't Visible From Here and former everything-in-chief of the venerable & lamented Small Spiral Notebook) isn't so sure. Over at her blog, she takes on what she calls "the culture of entitlement" within the literary world today. Then, in the comments section,  Rachel Fershleiser (of Housing Works,  Smith magazine & co-editor of the Six Word Memoir books) raises some questions about the assumptions underlying the arguments of the post. Things get pretty heated pretty quick, between the two of them and a third commenter named Les, who seems more interested in critiquing Rachel's grammar than listening to what she says. (Felicia, on the other hand, dives in head-first). It's an interesting back and forth between two smart people (and Les), who actually seem to be talking TO each other at least as often as they're talking PAST each other, which in internet-thread terms is basically a miracle of loaves and fishes. I am still sorting out my exact thoughts about this debate/discussion, but forget about what I think for a second. WHAT DO YOU THINK?