rejections
A new book. Is it comforting to know that other people are rejects too? There's that great Merwin poem, "Berryman," that describes Berryman's writing advice to the poet. Lines on rejection:
as for publishing he advised me
to paper my wall with rejection slips
his lips and the bones of his long fingers trembled
with the vehemence of his views about poetry

he said the great presence
that permitted everything and transmuted it
in poetry was passion
passion was genius and he praised movement and invention
Socrates Adams-Florou and Crispin Best just started a new online magazine. It is called Rejection Digest.
If you have written something that someone has rejected, we want to read it. Send it to thisstoryhasbeenrejected@rocketmail.com as soon as you can. In order to qualify for submission, we also require a copy of a rejection e-mail of some sort. There is a special rule. If you can provide us FIVE rejection e-mails, we GUARANTEE publication. If you have less than five, we do not guarantee publication.
Dare you.
Over the past 5 years I've amassed quite a hunk of You Suck paper. This is not in addition to electronic You Suck paper, but just the places so far behind the times they still force you to kill trees and lick sugar paper. Here's a rough sketch of my paper rejections spread into a half-light, see how many from Conjunctions you can find!: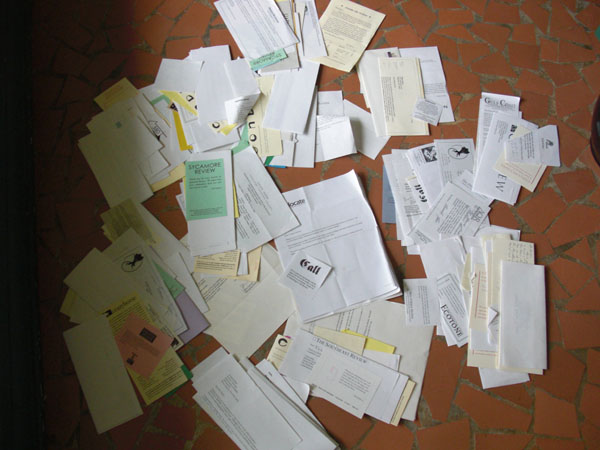 So yeah. What you got? The best commented/linked/submitted photo of creatively arranged paper rejections by end of Friday wins a prize package of books and magazines, like a bunch.